Citrix launches a "BYO" marketing campaign which is actually pretty cool
BYO: "Bring your own" as in "bring your own computer." We've written about this concept before on BrianMadden.
BYO: "Bring your own" as in "bring your own computer." We've written about this concept before on BrianMadden.com, and Citrix has embraced it for awhile. But just a few weeks ago they raised the bar, launching a "BYO" ad campaign centered around Dilbert. They even commissioned Dilbert creator Scott Adams to create a custom comic strip to launch their campaign: (In other news, how cool is it that you can hire Scott Adams to create a custom Dilbert strip?)

Citrix also created a "BYO" microsite and is pushing the citrix.com/byo link: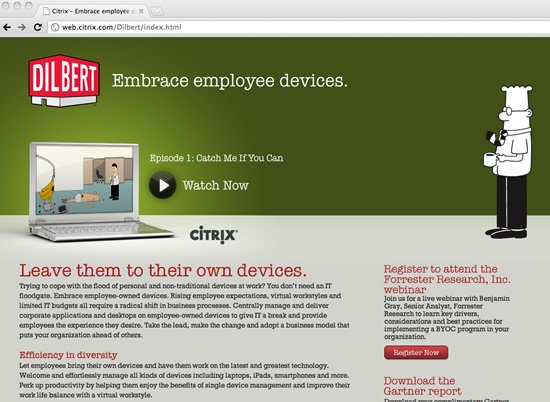 Citrix has really been doing a lot around BYO over the past few months. They've released updated versions of their receivers for Android and iOS in the past week or so. They've announced the Project San Francisco series of efforts, and previewed a few pieces including Project Golden Gate. And of course they've released XenClient. And on the SaaS/HTML5 side of things, Citrix recently previewed an HTML5-based client and just launched OpenCloud Access.
Citrix also recently launched a website called "iPadsAtWork.com" which is targeted towards end users. The purpose of the site is for people to sign up with their Facebook or twitter accounts to "support" the movement, with a page dedicated to helping end users explain to their IT folks how they can make their iPads work in their corporate environments. This site is also a cool idea, although I didn't sign up for it because when I started to enter my twitter information I was told that I had to give the site full access to my twitter account, and that scares me. (@BrianMadden 10:42a "Boy my Citrix(r) HDX(r) Receiver on my Apple(r) iPad(r) is great. I love Citrix(r) lol!!!") And of course I know IT folks just love it when end users tell them how to do their jobs. (Did I tell you I emailed our Exchange admin to tell him we should go to Google Apps?) But the idea is cool, and obviously the momentum is there to take iPads mainstream, so Citrix might as well embrace it.
So all things considered, it looks like Citrix is pretty legitimately tackling this "BYO" computer thing, and in this case both the iPad at Work campaign and the Dilbert comics are actually pretty coo.