Citrix is creating a mouse?!? (And it's awesome!)
This week at the Summit 2015, Citrix announced a prototype of a mouse.
This week at the Summit 2015, Citrix announced a prototype of a mouse. (Yeah, that kind of mouse!) There's not much info on it yet, but here's what I learned from people who attended Summit this week.
Called the "X1 Mouse," this thing is a Bluetooth mouse you can use with your iPad so you can have a real mouse with your remote Citrix desktops and applications. This is a big deal because Apple doesn't support using a mouse with an iPad. So the Citrix X1 mouse talks to the Citrix Receiver iOS app and sends your mouse movements up to the remote session.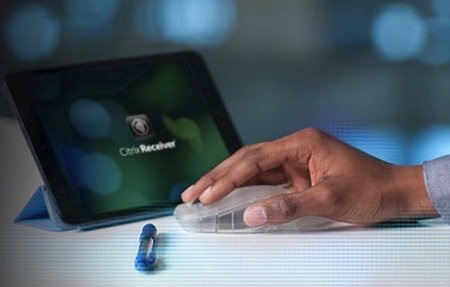 The current user experience for remote Windows desktops and apps from an iPad is pretty clunky, because you have to give up valuable real estate from your 10-inch screen to use a virtual keyboard and/or virtual track pad. Even if you configure the Citrix client to use your finger as a pointer, it's still tough because your finger tip is much bigger than a mouse pointer, and it's really hard to hit the tiny buttons on the screen.
Even if you configure your iPad to work with an external keyboard (which Apple supports and works fine), you still have to touch your iPad with your fingers for mouse movements. There's another option to use your iPhone as a trackpad (with your iPad as the display), but that's also really clunky as your phone slides around the desk and then it's awkward to answer calls.
So anyway, using a mouse with an iPad is kind of a Holy Grail scenario for Citrix Receiver. (Funny that Apple could solve this in two minutes if they wanted to, but alas...)
By the way none of this is an issue if you use an Android tablet since Android supports Bluetooth mice, but the problem there is that whole "Android tablet" thing. (How many white collar non-IT professionals use Android tablets for anything other than reading? Exactly.)
Previously you had to use an on screen track pad, but that's clunky
It would be really cool if this mouse had some smarts in it to be used as a two-factor authentication token. No word on that though.
Congrats to Citrix for creating something that I immediately said "Wow!" to. I imagine this will be tremendously popular. Hopefully they can get the cost down enough that they could throw this into their platinum software bundles. (Or at least cheap enough that we can all get one as a Synergy attendee giveaway this month.)
Citrix is planning to release the X1 mouse in the second quarter of this year. (Hey.. Synergy is in the second quarter of this year. Fingers crossed!)