Citrix Cloud revenue is now over 10% (Citrix Synergy 2019 preview)
Citrix Cloud actually looks to be gaining a foothold and shows a promising revenue stream for Citrix while overall growth remains minimal.
With Citrix Synergy 2019 quickly approaching, we decided to comb through Citrix earnings reports from the last few years to see if we could get a better idea about Citrix Cloud adoption.
Originally called Citrix Workspace Cloud, it was announced back in 2015. Jo Harder wrote in April 2018 that full adoption of Citrix Cloud services was in the "scant single digits" and that Citrix's "customer base hasn't fully embraced it." Then, in her more recent article on troubleshooting in Citrix Cloud, she said that there was a "massive migration" and "adoption has suddenly increased exponentially."
This made us curious what Citrix themselves were saying about Citrix Cloud revenue.
Digging into earnings reports
Luckily for us, Citrix is a public company, so we have access to their earnings reports and transcripts from investor calls to determine for ourselves whether the numbers bear out Citrix's claims. Overall revenue growth for Citrix sits at 3%, but how well was Citrix Cloud doing?
Up until Q4 2018, Citrix wasn't consistently transparent with revenue contributed by Citrix Cloud, which got reported alongside ShareFile up until Q2 2017, when they renamed the product breakout and Citrix Cloud disappeared from their Revenue Details reports. Additionally, while Citrix Cloud would fall under SaaS, it wasn't the only Citrix product that would, making it a little more difficult to clearly identify its revenue—but it gives us something to go off of. Through Q2 2016, Citrix Cloud, ShareFile, and Podio were grouped together in Revenue Details reports.
Citrix later changed the product designation in their reporting from Cloud to Data and then eventually to Content Collaboration, when they renamed ShareFile. After changing the product grouping name in earnings reports, Citrix Cloud didn't make an appearance at all until Q4 2018 when Citrix acknowledge it needed to make it easier for investors to understand the SaaS/Citrix Cloud numbers. They started to clarify earnings from SaaS again in Q4 2018, with Andrew Del Matto, former executive VP and CFO, saying: "We'd like to provide more transparency into the SaaS portion of our subscription revenue. This will make it easier for you to track the progress of our Citrix Cloud revenue stream over time."
2016 to 2018 Citrix quarterly earnings reports
In addition to reviewing the financials, we also looked at how they talked about Citrix Cloud during their calls with investors.
2016:
SaaS revenue in Q1 was $31 million, with every following quarter showing a little growth: $33 million, $35 million, and $36 million, respectively through Q4. During this time Citrix Cloud and ShareFile were grouped together in financial reports, so it's less clear how much Cloud impacted revenue at this point. Additionally, they don't mention Citrix Cloud in calls until Q3 and Q4, merely showing up on highlight slides using the phrase "Citrix Cloud progress," which could have meant revenue or perhaps just improvement around the technology.
2017:
SaaS revenue, which still includes ShareFile, continues small quarterly jumps: $39 million, $42 million, $46 million, and $50 million. During this period, Citrix Cloud disappeared from the Revenue Details reports, making it more difficult to be sure how it was doing. Adoption was likely still pretty low at this point, especially when you look at the 2018 graph further down.
In Q2, Citrix mentions "strong momentum" for adoption and that they had nine $1 million+ Citrix Cloud deals. The Q4 earnings call only mentions that hybrid cloud customer strategies were driving Citrix Cloud adoption, and no mention of newer deals.
2018 Q1-Q3:
Citrix once again changed how they reported their financials, making it even more difficult to understand. Citrix does reveal that 20% of their large enterprise deals for this quarter were cloud related. They do explain that they first focused on net-new customers for Citrix Cloud, but were transitioning to target their existing customer base looking to either go completely cloud or wanting a hybrid deployment.
Early second quarter is when Jo first wrote about sparse Citrix Cloud adoption. Here, Citrix says that Citrix Cloud was driving sales and that all of the top 10 deals were more than $1 million. It also starts to look like Azure integration helps drive conversions.
For Q3, they only say, "transition to the cloud continues to gain momentum, driving our Q3 revenue growth rate, which about doubled over last year."
2018 Q4 and 2019 Q1:
Here is where we finally get a better idea about Citrix Cloud revenue. During the final quarter in 2018, they revealed that Citrix Cloud-related offerings accounted for over 9% of their yearly revenue ($270 million), with $78 million from Q4 alone. The numbers from the recently released 2019 first quarter earnings paint an even rosier picture, with quarterly revenue growing to $85 million (43% YoY increase), boosting SaaS percentage to nearly 12% of total revenue. This is nearly a 58% jump in SaaS revenue compared to Q4 2017.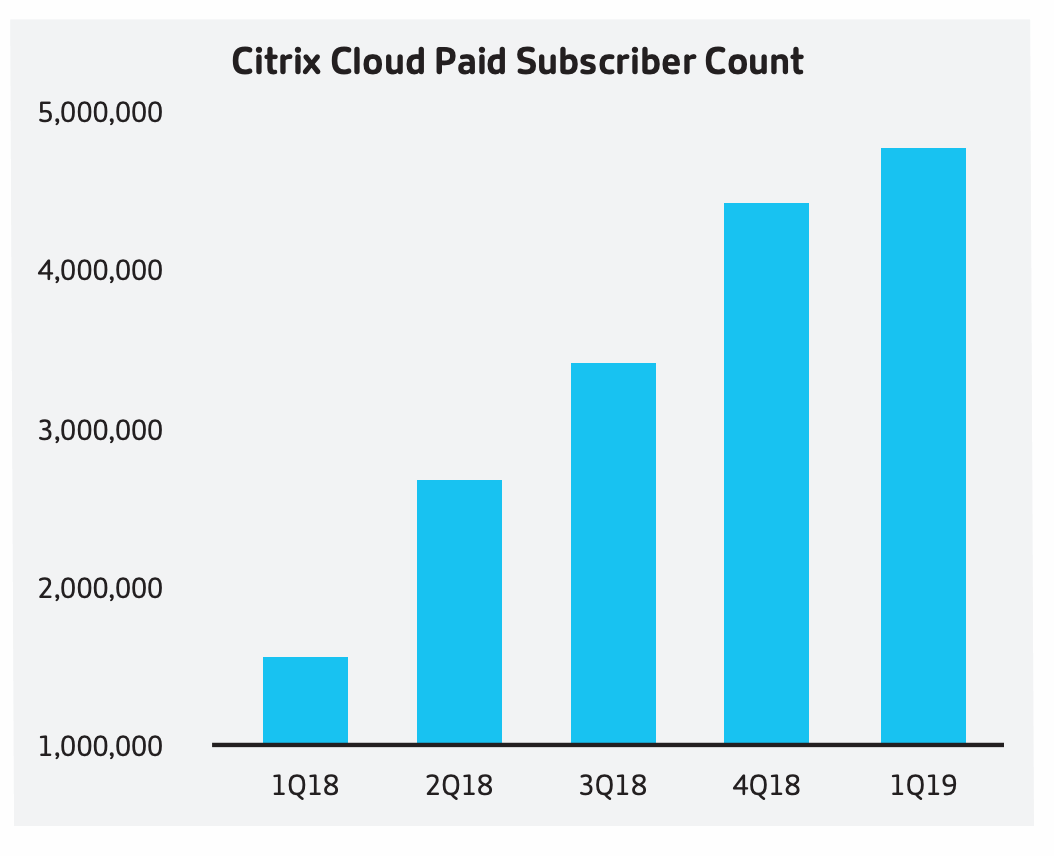 Citrix Cloud gaining momentum
The revenue around Citrix Cloud should be cause for celebration for the vendor, given that they're facing struggles overall. That said, they are still seeing overall growth, so it's not time to sound the alarms or panic yet.
Citrix Cloud also helps with Citrix's unbilled revenue numbers since customers sign three-year deals billed annually. It also helps that they wrap up over a dozen SaaS services underneath this umbrella term, including Virtual Apps and Desktops, Endpoint Management, Gateway, Analytics, and Content Collaboration.
Partnering with Microsoft seems like it was the smart move as new customers have shown interest in adopting Citrix Cloud because it works with Azure. This is in addition to their move to potentially be more like a systems integrator as they look to resell Microsoft 365 and Azure.
Citrix continues to say that their fiscal goals are to have 60% of new bookings by 2020 and 75% by 2022 be due to Citrix Cloud. Given how much Citrix Cloud and related Workspace services seem to be buoying Citrix, I'm curious to see what announcements Citrix makes around it to keep up the momentum as we rapidly approach 2020.