Check out the list of sessions we selected for BriForum 2014 Boston (July 21-23)!
What follows is the session listing for BriForum Boston (July 21-23) and is the result of several days worth of deliberations.
As we did last year, we chose the sessions for BriForum London and BriForum Boston at the same time. What follows is the session listing for BriForum Boston (July 21-23) and is the result of several days worth of deliberations. If you don't know from past years, the process to select sessions begins with an anonymous first pass made by Brian, Jack, and myself. We each choose sessions we want for sure, might want, and don't want based on title and abstract alone, then compare our results.

Download this free guide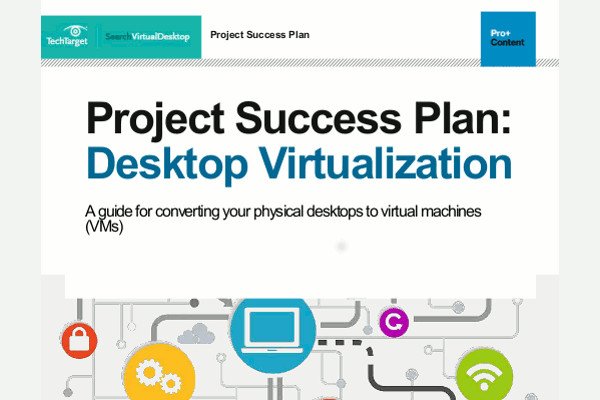 Demystifying desktop virtualization technology
In this guide we tackle some of the biggest head-scratchers facing VDI admins to help you get things straight. Save this PDF for tips and tricks for each phase of the virtual desktop migration process.
After the first pass we had 133 sessions that at least one of us said we for sure wanted at the show, and we had to whittle that number down to 55. We do that by looking at speakers and topics. For instance, this year we had many sessions submitted about PowerShell, SCCM, and App-V, but were forced to only pick a few in order to save room for other sessions. When we finished, we had to turn away over 2/3 of the submissions, 78 of which we would have classified as having a "good chance" of making it! It sucks, because this process is like cutting hard-working kids from a football team, but it's a good problem to have in terms of content. We don't take the selection process lightly–we very much appreciate the time and energy everyone spent creating submissions, and we encourage every single one of them to do so again next year!
Also, since we record every session and make the videos available to attendees as soon as we can after the show is over, we make an effort to have each show be as unique as possible. There will be some key sessions duplicated between London and Boston, but for the most part these sessions are unique to Boston. (You can see the sessions for BriForum London here.)
Here's the list of sessions. Keep in mind, titles may change to be more descriptive, but the content of the sessions won't. Also note that there will be sessions from Brian, Jack, and I that aren't on this list mainly because we tailor our sessions based on the other content at a show. We also have one session that is being held back because the speaker is not yet allowed to talk publicly about it. For more information on BriForum (it's our ten-year anniversary!!!), visit BriForum.com. We should have session descriptions posted shortly.
| | |
| --- | --- |
| Speaker | Session Title |
| Aaron Parker & Shawn Bass | How folder redirection impacts user experience and breaks applications |
| Aaron Parker | Hands off my gold image! |
| Andy Paul | Where to stick it: VDI Storage Considerations |
| Andy Paul | DIY DaaS: Creating your own Desktop as a Service |
| Benny Tritsch & Shawn Bass | New test results - virtual desktop performance on HTML5 clients |
| Benny Tritsch | RemoteApp 101: delivering seamless remote applications |
| Brian Katz | OK, We're mobile, now what? |
| Carl Webster | A Deep Dive into Webster's PowerShell Documentation Scripts |
| Chetan Venkatesh | Coming Storage Apocalypse : What's after the big bust and how it will change your VDI and other applications. |
| Chetan Venkatesh | Building HAL - the journey to a true artificial intelligence (AI) - what it takes and how we will get there. |
| Claudio Rodrigues | SBC Round Up 2014. An overview of many of the RDS/SBC add-ons and how they stack up. |
| Claudio Rodrigues | RDS-O-Matic: From Excel to a full RDS 2012 environment in one click. |
| Dan Allen & Nick Rintalan | VDI High Availability and Why Persistent Desktops are the Devil!!! |
| Dan Brinkmann | IdP, SAML, OAuth - new acronyms for a cloud world |
| Dan Shappir | Google Chromebook for the Enterprise: Yeah or Meh? |
| Dan Shappir | WebSockets Everywhere: the Future Transport Protocol for Everything |
| Dane Young, Jarian Gibson & Shane Kleinart | Battle of the Private Clouds: An Independent View of VMware, Microsoft, and Citrix Solutions |
| David Stafford | Solving the "Data Ingestion" problem |
| Denis Gundarev | How to build a Citrix Infrastructure in Amazon Cloud |
| Dwayne Lessner & Steve Poirtras | VMware View vs Microsoft RDS - The Land of Good Enough |
| Dwayne Lessner | Advanced Graphics and Audio with VMware View |
| Henrik Johansson | Showdown: AWS vs Azure for desktop delivery |
| Henrik Johansson | Unleashing the power of NetScaler |
| Ian Parker | Automated performance analysis of SBC workloads. |
| Ian Parker | Crash debugging for beginners |
| Jason Conger & Warren Simondson | Build Your Own Enterprise Mobile Application: It isn't as hard as You Might Think |
| Jim Moyle | Replace Your SAN! How the New Storage Improvements in Microsoft Hyper-V Help Your Desktop Virtualization Project |
| Jo Harder | Maximizing Monitoring Data from Built-In Citrix Tools |
| Joe Shonk | Intro to Microsoft Hyper-V over SMB 3. |
| John Whaley | Virtual Datacenter Infection: Attacking VDI from the endpoint |
| Kevin Goodman | Intro to VDI |
| Kevin Kaminski & Nicke Kallen | The Configuration Manager 2012 R2 Application Model in Painful Detail |
| Mark Knouse | Virtual Rescue: Saving IT and the Enterprise from VDI Disasters |
| Matt Conover | Dealing with Realities of Malware in Virtual Environments (Dr Strangelove: How I Learned to Stop Worrying and Love Malware) |
| Michael Thomason | Automation Workflow in the Datacenter |
| Mike Nelson | A Crash Course in Hyper-V for VMware Administrators - 2014 Edition! |
| Nick Rintalan & Dan Allen | Profile Madness: Roaming, MS UEV, AppSense, UPM – WTF Should I do??? |
| Nick Rintalan & Dan Allen | The Worst Citrix and Microsoft "Best Practices" of All Time |
| Pierre Marmignon | Back to Enterprise Desktops Reality: VDI, EMM, MD, BYOD are overrated! Most of the desktops are good old physical one and nobody cares about them! |
| Randy Groves | Deep Dive into PCoIP |
| Richard Agnew | Strategies to Optimize Your VDI O/S Gold Images |
| Rick Dehlinger | Orchestrating Cloud Hosted Desktops - the Citrix way...? |
| Rory Monaghan & Ryan Will | Sequencing for Success |
| Rory Monaghan | You're paying for MDOP anyway…make the most of it. |
| Ruben Spruijt & Jeroen van de Kamp | Direct from the performance labs: best practices for VDI, a Virtual Reality Check |
| Ruben Spruijt & Jeroen van de Kamp | CTO's Perspective on Tomorrow's Workspace |
| Shane Kleinert & Jarian Gibson | Desktop Virtualization Monitoring Bake-Off Part 2. Updates and More! |
| Shawn Bass | High Definition eXperience (HDX) or Have no iDea eXperience (HDX)? |
| Steve Greenberg & Jared Cowart | Anatomy of an Aerospace VDI Project: How to implement a Large Scale VDI 3D GPU Project |
| Thorsten Rood | The Citrix mobility stack uncovered |
| Tim Mangan & Patrick Mangan | A Look at App-V Performance |
| Yury Magalif | Tips and Tricks on building agentless Antivirus scanners for Virtual Desktops. |