Check out all these enterprise mobility management announcements from MobileCON
I spent Wednesday and Thursday this week at MobileCON 2013 in San Jose, California. MobileCON is a business and IT-focused trade show put on by the mobile industry group CTIA-The Wireless Association.
I spent Wednesday and Thursday this week at MobileCON 2013 in San Jose, California. MobileCON is a business and IT-focused trade show put on by the mobile industry group CTIA-The Wireless Association. This was my first time at MobileCON, and the word from previous attendees is that it was a little sparse compared to past years. (The organizers claimed 8000 attendees, but it felt like a lot less.) Also, most of the breakout sessions at the show were vendor-sponsored and fairly sales and marketing oriented.

Download this free guide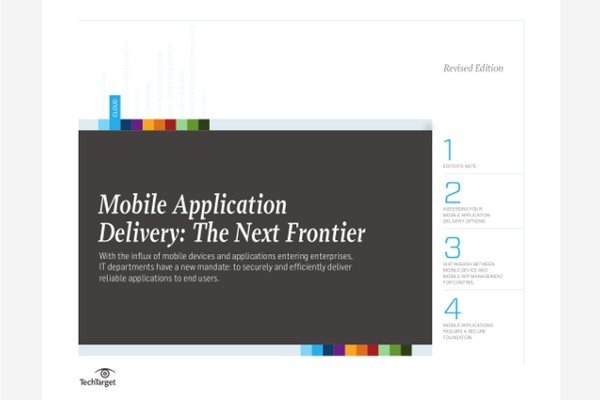 Download: Our 17-Page Mobile Application Management Report
Inside this exclusive report, industry experts reveal commonly overlooked best practices for mobile application delivery and management to help you tackle the influx of mobile devices, new applications and data security demands in your enterprise.
None of this bothered me, though, because the show was still a great chance to talk to a lot of different people and vendors. (Seriously, I've never been in one place with so many different EMM vendors all at once!)
There were a lot of announcements, catching up, and getting to know new solutions, so I'll just go down the list in alphabetical order.
Amtel
Amtel provides MDM combined with telecom expense management, and last week they announced a "locked workspace" product for Android. They weren't demoing it at this show, but I'm going to try to take a look soon.
Good Technology
Good Technology had a big presence at the show, and has had several announcements recently, including updated features for Good Dynamics (their mobile app management platform and SDK) and integration with Veracode to assess security in apps created with Good Dynamics.
For a long time, Good has put out quarterly Mobility Index Reports, which track the landscape based on their customer device activations. Now for the first time the most recent report includes statistics about app activations, too. This is interesting because it allows us to into the question of who is using mobile app management, and how much it's getting used. The report says that Good's customers have now built 1000 custom apps with Good Dynamics. In general, I was told that over half of their customers are using some form of Good Dynamics.
Globo
Globo is a maker of a MAM-like secure workspace container app (previously more well known outside of the US.) They recently acquired Notify, an email syncing and MDM vendor, to create a combined MAM plus MDM solution. I wasn't really aware of either company before, but they have aggressive plans to make their mark in the EMM space. (They had a huge booth at the show, too, just as big as the Good and AirWatch booths.) They're just starting the process of integrating the two products, but we should definitely expect to hear more from them soon.
HP
HP was there showing off HP Modern Applications, which was actually launched earlier this summer. HP Modern Applications isn't a full EMM solution, rather it comprises a mobile app that's used as a gateway to HTML5 apps. HP has lots of resources for back-end integration and management of these apps.
Other app reputation vendors
Speaking of mobile anti-malware and app reputation, there are several other vendors out their talking about it. I've written about Appthority several times in the past, but at MobileCON in addition to Webroot I was able to learn about RiskIQ and FireEye. This space is definitely one to watch, and I'll be doing a lot more digging into the subject over the next few months.
Other EMM vendors
There were plenty of other familiar names at the show that we've covered in the past, including AirWatch, AppSense, Dell, Fiberlink, MokaFive, and Symantec. While none of them had any specific announcements at the show, there was still a lot of good information and learning about enterprise mobility management going on.