Check out Samsung Knox 3.0, Knox 3.1, and the new DeX dock
Knox 3.0 brings a new architecture, unifying Knox and Android enterprise MDM APIs.
On Sunday, Samsung announced the Galaxy S9 and S9+ at Mobile World Congress in Barcelona. The new phones have all the usual attractions: a better camera, updates to the Samsung apps, a headphone jack, and Android 8.0 Oreo at launch.
But of course, we're interested in the enterprise angle: Samsung is continuing to refine the hardware and software for DeX, their take on phones that can power desktop UIs. And like with the Galaxy Note 8, Samsung is offering the S9 in an enterprise edition with guaranteed security updates, handset availability, and Knox Customization.
However, the most important Samsung enterprise updates actually got a soft launch about a month ago. The newest major release of Knox marks a major architectural change: Samsung Knox 3.0 will unify the mobile device management APIs for Knox and Android enterprise.
Knox 3.0 and unification
Ever since Android enterprise was announced, there's been a bit of confusion between it and Knox. At one level, the question is "what's the difference?" and at the next level, it's "which do I choose?"
Knox has always had a range of hardware and software features that differentiate it from Android enterprise. But as Android enterprise has matured, there are plenty of MDM and work/personal features that are new duplicated in the platforms. For example, if you want mobile app management, do you choose an Android enterprise Work Profile or a Knox Workspace?
To address the latter issue, Knox 3.0 is intorudicing what they're calling Unification. (Remember the last big number release, Knox 2.0, also brought architectural changes.) For all the Android enterprise and Knox APIs that are very similar, EMM platforms will just use the Android enterprise APIs. The redundant Knox APIs will still be around for a while, but eventually they will be deprecated.
To use additional Knox features on top of Android enterprise, you just activate a Knox Premium license, and off you go. (When you activate the Knox license, the Android enterprise briefcase app badges will change to Knox shield badges.) All this applies whether you're talking device-centric MDM controls or profile/workspace-centric MAM controls.
The result is that there's no more "which do I choose?" because there will be no more competing or redundant APIs or containers. As before, Knox will continue to be differentiated by assorted hardware and software features, some of which require the license. We'll have to dig into the APIs and documentation a bit more before we can put together a comprehensive feature matrix.
Knox 3.0 unification is rolling out with Android 8.0 Oreo, so it's available on the S9 and S9+ now, and will be available on other Samsung Galaxy devices when they get their updates. Samsung anticipates that EMM vendors will update their agents to support the combined APIs, and update the way policies are presented in their admin consoles. On devices, the upgrade from from 2.x should be seamless, because as mentioned, the previous APIs will still be in place. (Samsung has also published details about how the upgrade will work for existing Android enterprise Work Profiles and existing Knox containers.)
While Google recently announced Android zero-touch for out of box device provisioning, Samsung is sticking with their existing Knox Mobile Enrollment, Knox Configure, and Knox Customization programs. They already have all their carrier and distributor relationships established, so they don't want to change all that right now.
Overall, unification is is a vote of confidence for Android enterprise as a time when a lot of other good things are happening for Android, too. And naturally, this also means that Samsung can avoid redundant work and concentrate its efforts on other features.
DeX and Knox 3.1
Today with the S9 and S9+, Samsung is introducing a new smaller DeX dock called the DeX Pad.
It's flatter, which allows you to use the phone as a trackpad or keyboard while it's docked, plus it keeps the headphone jack exposed, unlike the previous dock. You still have to use a dock for DeX mode, and like the previous dock, the new DeX Pad has a fan in it, but Samsung is envisioning a future with various docking options.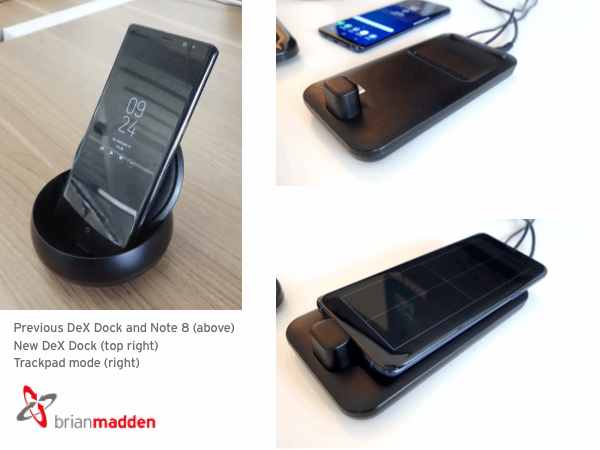 On the software side, DeX now supports higher resolutions (it will do 2560x1440, 1920x1080, and 1600x900). The S8 and Note 8 will support new DeX features once they get Oreo.
Knox 3.1 has more MDM controls for the DeX environment, including app shortcuts, customizable branding, screen timeout, network management (i.e. prefer wired network when available), and controls for what apps pop up on the big screen when a phone is docked. Knox 3.1 also has some general features, including more fine-grained control over permissions in the work profile.
As I've been saying about Samsung DeX all along, it's the best phone/desktop hybrid I've tried, and it passes the straight face test. Some people get really excited about the idea of using this when they travel and leaving their laptop at home, but personally I don't buy into that idea. Instead, suitable uses cases are more along the lines of retail, law enforcement, or healthcare, etc., where field workers are mobile for much of their day but occasionally stop at fixed stations that can be kitted out with docks.
In my first review last year, I wrote that one important question would be whether or not Samsung continues to put resources behind this idea. They have, so good on them.
The next important question is if any customers in the wild evaluate DeX against other options (i.e. having a phone and a laptop, thin client, or other device) and commit to meaningful deployments. Samsung says they have pilots running in multiple industries, and I have a request in for references when they become available. If you're considering rolling it out at your company and want to talk, let me know, but for now I'm still considering the answer for this question to be pending.
More important, though, is that Samsung is working on DeX in the context their large, comprehensive, and successful Knox program, as well as the context being a top global smartphone maker.