CeBIT 2005 Round Up: Day One (now with photos)
This week I'm writing live from CeBIT, the largest technology tradeshow in the world with over 6700 exhibitors and 600,000 attendees.
This week I'm writing live from CeBIT, the largest technology tradeshow in the world with over 6700 exhibitors and 600,000 attendees.
First of all, there are no words that can even begin to possibly describe this event. Basically every manufacturer in the world of any device that takes (or makes) electricity is here. So while there is a large IT presence (enterprise hardware, software, and services), there are also thousands of exhibitors showing off RFID technology, music players, televisions, home theater stuff, cameras, robots, copy machines, cash registers, fuel cells, printers, navigation and telematics equipment, and about a million other things I'm forgetting.
The CeBIT Experience
Before I take a look at the specific cool things I saw, let me try to explain just how big this show is. First of all, it takes place in a convention "center" that's actually made of up 26 individual exhibit halls. Each of these halls is probably as big as a "standard" convention center by itself. Driving to CeBIT is like going to a large sporting event or an amusement park. There are several exits from the highway just for the show, and you're guided to your parking spot over acres and acres of grass fields via people wearing orange vests and waving flashlight wands.
During the walk from the car to the hall (about 15 minutes), I saw several airplanes pulling banners for various IT vendors and a few helicopters taking off and landing from the show.
The main hall for CeBIT is Hall 1. This hall is actually dedicated to CeBIT, (i.e. it's never used the other 51 weeks of the year), and the exhibitors permanently buy their space there. The exhibits are then permanently installed and only used for one week per year.
Now, let me try to explain to you what these vendors can do with a permanent exhibit. All of the exhibit "booths" (or whatever you call them) are at least two stories tall, and many have their own elevators, cafes, and seating areas. They're built out of metal and glass and carbon fiber and other long-term materials and have more lights, technology, and plasma screens than I've seen in my entire life. Imagine the interior of a very trendy retail store, times one hundred.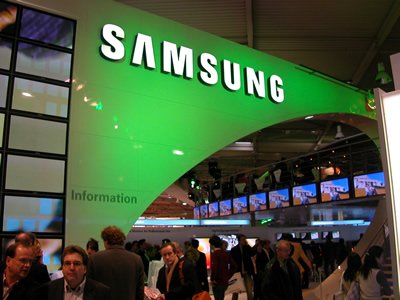 One of the hundreds of multi-level permanent booths. Note the second-level
cafe above the horizontal row of monitors. That cafe was part of the booth!
One thing that quickly became clear to me was that it would take a solid week just to walk by each exhibitor, so that meant that I needed a strategy. I found that my strategy felt more like surfing the web than visiting a trade show. I would sort of wander around and see something that interested me, and that would cause me to look up related technology and exhibitors and then seek them out. I was able to find exhibitor stand locations in the conference directory, which I'm not kidding you is a 1.5" thick hardcover book that must weigh 5 pounds.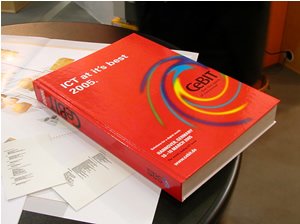 The CeBIT conference guide and directory
As you walk around, you're barraged with over-stimulation. Visual experience-wise, this place makes the Las Vegas strip seem like a cornfield in Iowa. People dressed in Disneyworld-like character costumes, girls, mimes, clowns, dance shows, Segways, cheerleaders, sports stars, musicians, artists, magicians, and IT dorks all mingle and push their way through the aisles. One thing is for certain—3.4 million square feet is not enough to hold this many people.
The final and best part of the CeBIT experience is the lodging situation. There are probably not enough hotels in Germany, let alone Hannover, to hold all the people who attend this show. Therefore, to accommodate out-of-town visitors, all of the neighboring suburbs appeal to their residents to open their homes to guests. It's all managed centrally, with the CeBIT conference acting as a matchmaker and hooking up visitors and host families. My two hosts (Frank Roth and Bernhard Tritsch from visionapp) and I all stayed together as guests at the house of a family of four. I personally slept in the bedroom of a German high-school girl who had smartly chosen to stay with an out-of-town friend for the week.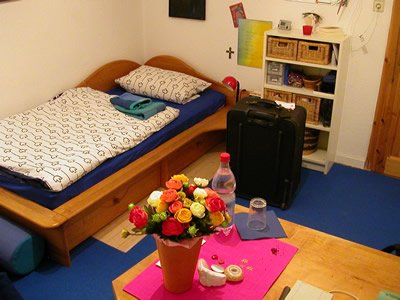 My guestroom
Any Server-Based Computing Info from CeBIT?
My real purpose for attending CeBIT was because I was invited by visionapp to give a series of guru talks with visionapp SBC evangelist and fellow author Bernhard Tritsch. I figured that I'd make the most of my time and see what technology I could find that was related to the SBC field. It was actually kind of difficult to find the SBC vendors in the CeBIT sea of technology, although I did find a fair number of them in Halls 1 and 3.
Citrix has a very large booth (almost 3000 square feet) and was showing off their entire product line. Since this is a generic IT show they didn't really have any announcements to make, instead focusing on educating the public as to their capabilities in the access space.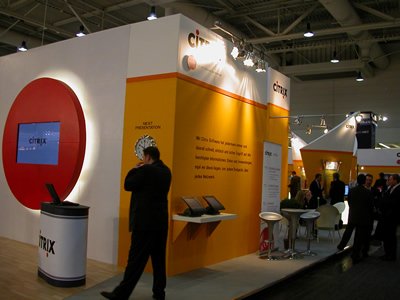 I did ask some folks from the online division about the availability of GoToWebinar (2006) and talked to Brad Peterson for quite a while about the new Citrix Access Gateway. (For those of you who are wondering, I did finally manage to order an Access Gateway (thanks Accelera Solutions in Virginia!) and I'll be testing that out when I return home in a few weeks.
Anyway, Brad was one of the top guys at Net6, and he's very knowledgeable about their products. Everything I've seen seems to point to the fact that these gateway devices will be superior to a lot of standard SSL-VPNs (more on this in future articles), although it remains to be seen how well Citrix can integrate this into their suite of offerings (also more of this in future articles).
In addition to Citrix, HOB and Jetro were also at the show, as were several thin client device vendors. I also learned about something called the "European Thin Client Forum" (ETCF)—an advocacy group made up of thin client software and hardware vendors whose mission is to push the adoption of thin client technology in Europe. As is increasingly typical these days, the ETCF is made up of every major vendor in the space except for Wyse, who feels there is no benefit in them joining the group.
Now, for the fun stuff
Being the geek that I am, I was completely unprepared for the amount of random and cool things that I would see, and I have to admit that I've spent most of my time here with my jaw on the floor just staring at cool things, including:
Fuel cell-powered laptops. There were several vendors offering several different solutions and form-factors. Most of these were cartridge-based (i.e. use up a cartridge and return it for a full one) and could fully power a laptop with an operating wireless card for 10 to 50 hours.
Toshiba had a tablet PC that featured a detachable screen. This is nothing like HP's tablet with a detachable keyboard, rather, the Toshiba device left the processing in the base unit (like a normal laptop), and you could detach the screen which would then act like a thin client display device and communicate with the base via 802.11.
Samsung was showing off the world's largest plasma TV which measured 102 inches diagonally. (!) No word yet on pricing, although the booth people hinted it would be over $100k.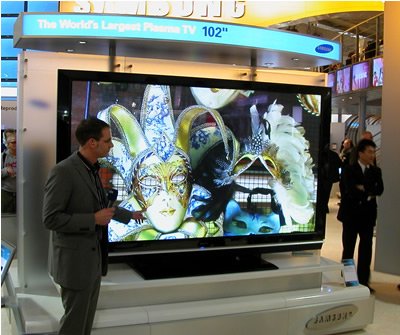 Kodak had a bunch of photo kiosks set up in their booth, and anyone could take a memory card from a camera into their booth and print out photos from the show. This was offered as a service for free which was pretty cool, especially since I'm not really sure what else Kodak does these days. (Although maybe this gimmick didn't work because I did make use of this service but I still don't know what Kodak does these days.)
Several vendors were showing off Mini-SD format memory cards. (You know, as if a regular SD card is too big.) These Mini-SD cards are about one square centimeter and can hold up to 2GB of data.
There must've been a dozen different vendors showing robotic CD and DVD duplication systems. While I have no use for these whatsoever, they are very cool to watch. A little robotic arm takes a blank CD from a stack and inserts it into one of a bank of burners. When a CD is done, the drive ejects it and the robot puts it into a normal CD-ROM drive to test the disc. If it tests out okay the robot arm then puts the CD into a printer that prints the label. When the printing is done the robot then drops the CD into a stack of "complete" CDs. Imagine this whole process happening with a single robot arm serving a half-dozen burning drives and a few printers. It's really cool.
I saw a few different 3D displays. These looked like normal LCD displays except that it looked like the people in the video were actually little people running around inside the box. (So it was 3D in the sense that the image went back "in" the display. It didn't jump "out" at you.) The only thing that was weird about these 3D displays was that you would notice a flicker unless you were perfectly centered in front of the screen. I asked one of the booth people about this and he said that it had to do with the focal length of the two images that were geared for each eye, and that the image is also affected by how far away from the screen you are and how far apart your eyes are. He then pointed me to another demo unit that did not exhibit any of these problems. It turns out that that unit has two cameras attached to the screen that detect where your eyes are, and it updates the 3D image splitting and processing dynamically in real time to make the image look good to you.
The folks who make that cool Robosapien toy showed off several new toys, including a dinosaur and a dog. They also had an 6-foot tall Robosapien which was really cool and not for sale.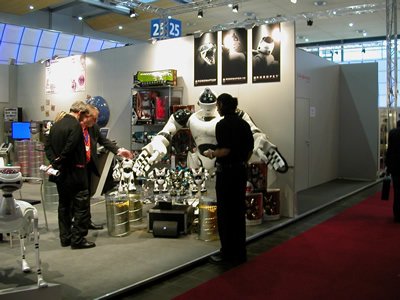 The future technology area of the Siemens stand featured a display that was projected from a tiny box onto a solid surface kind of like those IR laser "virtual" keyboards you can use with a PDA. The cool thing about this Siemens product was that you could interact with the display that was projected onto the surface of the desk, i.e. you could draw or manipulate the screen in real time as it was being projected onto whatever surface you wanted. Imagine this like an LCD projector combined with a touch screen, then shrunk down to the size of a pack of cards and powered by batteries.
The ceiling of the O2 booth was made up of thousands and thousands of glass tubes that extended up into the darkness. Each of the tubes was hooked up to an RGB LED source and could change color, and so the tips of these tubes worked together to make up moving video images that stretched across the ceiling of their entire booth.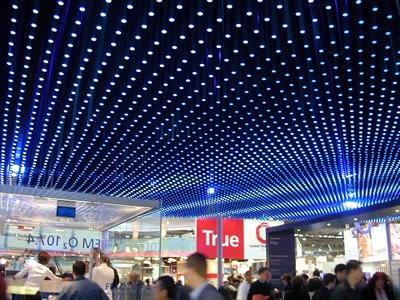 Actually, there were quite a few cool booths. The biggest I saw was T-Mobile's which was over 100,000 square feet alone, but even most of the "normal" booths had bars and cafes, and the booth people invited you to sit down and have a chat with them in their booth while they fed you. Since this show is in Europe, they don't have the same smoking laws as we do in the US, so people can smoke anywhere they want. It's interesting to see people sitting in a booth smoking cigarettes as they wait for people to come by.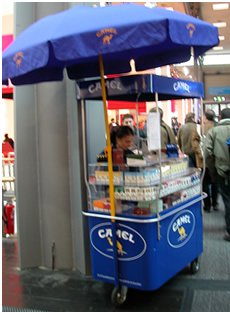 In addition to being allowed to smoke, there were many carts selling cigarettes moving through the convention halls