Can Microsoft SA be a cheaper option to VDA for thin clients? If the stars align, maybe...
It's not about skirting SA/VDA, but more about trying to find the most cost effective licensing program when using non-Windows clients.
Somehow, both Brian and I were on a licensing kick this week, and I was surprised to see his article yesterday about Windows Server 2008 as a way of skirting the SA/VDA requirement at the same time I was knee-deep in Microsoft licensing fun. For me, it's not about skirting SA/VDA, but more about trying to find the most cost effective program when using non-Windows clients.
Ask most people about what you need when using thin clients, and you'll hear "Thin client…yeah, that's VDA." I was talking to Jack last week after a conversation he had with ClearCube (yeah, they're still around…just a bit quiet outside of high security environments), and they had an interesting offering with their thin clients where they'd either:
Sell you a thin client that you'd have to buy VDA for
Sell you a thin client with a real Windows license that has SA
The first option is the no-brain answer. Since the device doesn't have Windows and/or wasn't purchased through the normal channels, you wind up having to buy VDA for each device at $99/yr.
The second option is interesting to me. Essentially, you're buying a Windows license for which you'll buy SA (at 29% of the cost of the license every two years), and throwing that license in a drawer somewhere since you're not actually going to install Windows on the thin client. It sounds crazy when you consider the acquisition costs ($99 for VDA, or ~$200 for a Windows license + SA), but it might be the most cost effective way to get your devices access to Windows VDI images. While the initial cost would be higher, the year over year cost would be lower. Please keep in mind that the pricing here may not represent what you actually get from Microsoft, and that anything I've come up with is essentially a SWAG - Scientific Wild-Ass Guess. I tried :)
What ClearCube is doing isn't all that groundbreaking, but it's a unique take on a problem that plagues everyone in this space - making sense of Microsoft licensing. I decided to take a look from a generic perspective, looking to use any device that does not currently have SA as a VDI client. I made two charts, one with retail pricing for Windows 7 Professional, gleaned from Amazon.com, and another with estimated pricing for Windows 7 Enterprise. I'm leaving the hardware costs out of the picture, since those are what they are. This is only to compare two ways you can get SA privileges to run/access Windows virtual machines.
Chart 1: VDA vs SA, Retail Pricing, Windows 7 Professional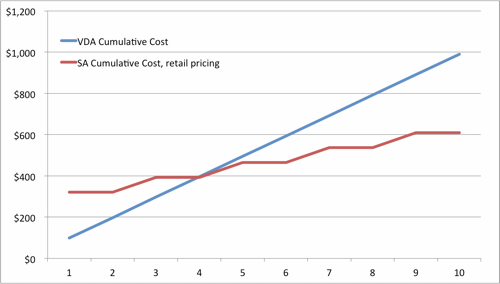 This assumes a Windows 7 Pro price of USD$249, with 29% of that due every two years for SA. This is a bit of an oddball solution, though. From what I understand, you can buy SA for a retail copy of Windows, but each copy has to have its SA subscription activated and maintained separately, as opposed to part of an agreement. So, while there are visible cost savings after four years, there is a lot of administrative overhead maintaining the subscriptions.
Chart 2: VDA vs SA, Agreement Pricing, Windows 7 Enterprise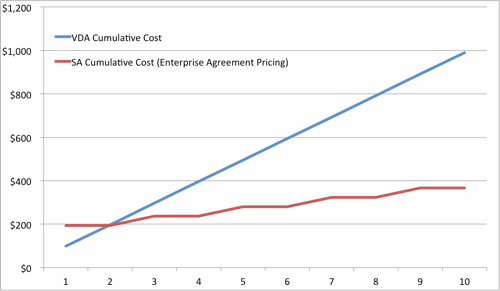 This assumes a Windows 7 Enteprise price of USD$150, with 29%, or USD$43.50, of that due every two years for SA. Of course, to get Enterprise, you need to have an Enterprise Agreement with Microsoft. Maintaining the agreement is already being done, though, and the cost per license is significantly less expensive. If you have an EA, this is for sure the way to go.
There's one other option that perhaps thin client manufacturers could use, and what I suspect ClearCube uses: The COA license. The COA, or Certificate of Authenticity, is relegated for system builders. Now, you can go to Amazon and buy a COA license of Windows 7 Professional for $139.99 (only slightly less than my estimated Win 7 Enterprise cost), but you'd only be allowed to use it if you were building a machine from scratch (and, I believe, for resale). Still, this is something that thin client manufacturers could offer to help their customers avoid purchasing VDA. And, since the OS would never actually get installed, it could be whatever the lowest (cheapest) possible edition of Windows is that allows SA.
While you can't technically get COA licenses for all of your VDI clients, thin client manufacturers could, I think, help out with that by bundling them with their devices. I'm reserving the right to be totally wrong on this one, though :). I believe that there is some sort of restriction that only allows you to buy a Windows license with SA for a device that can actually run Windows (even if it doesn't run it, it has to be able to run it), too, which means you probably can't get away with buying a COA (or any other Windows license) for your Xenith thin client.
So what does this all amount to? It's pretty obvious that buying SA is significantly cheaper than buying VDA after a relatively small amount of time. Even against retail pricing, the cost savings start to appear in Year 4. Against OEM pricing, though, the savings are almost immediate, and tangible in Year 2. The savings of having SA instead of VDA after four years in the OEM scenario nets a savings of $159 per user. Stretch that out to six years, and the savings is $314 per user ($594 for VDA, and $280 for SA).
The question is, how doable is this? A lot has to happen for this to pay off, it appears. To get the huge savings, you need to be operating under an enterprise agreement, have clients that can run Windows (even if they don't actually run it), and be able to acquire the Windows licenses for those devices. If you can satisfy all of those, you can save a lot of money on licensing. This is also helpful for planning out your thin client deployment, because purchasing more powerful devices could end up costing less money in the long run if they can run Windows and save you the cost of VDA.
Let me know what you think. I could have this twisted in my head, but I've tried to go over a few times. I certainly wouldn't be the first to get confused by Microsoft licensing...