BrianMadden.com has migrated to the TechTarget platform
It's been eight years, but we're finally moving off our old, antiquated web platform and on to something modern and mobile-friendly.
I guess the title says it all. After joining TechTarget in 2008, we're finally moving over to the same platform that runs TechTarget's 120 other websites.

When TechTarget bought BrianMadden.com, they didn't have commenting on their websites, so when the question of platform came up, we politely said "no thanks." We had just moved over to a new platform (Telligent's Community Server) earlier that year, so at the time we felt our existing platform was better for us than TechTarget's 2008 platform.

TechTarget continued to enhance the features of their platform, and by 2012 or 2013, they (we?) had all the features needed to support moving BrianMadden.com over. Unfortunately for us, we sort of missed our slot in the migration schedule, so we've been trying to get back in line since then. As time ticked on, the 2008-era BrianMadden.com platform started to show its age, so about 6 months ago we were able to get scheduled and TechTarget's internal product development team was able to build the new site and the migration plan from our existing site.

I'm not sure that I 100% love the design of the new TechTarget BrianMadden.com site, though to be honest I think that's because I'm old now and I don't really love the design of any websites. :) The key though is that it's functional, it's responsive and mobile-friendly (a first for BrianMadden.com), and, more importantly, it will now be a "normal" TechTarget network site which means we'll get regular updates and I'll no longer have to RDP to the web server to add BriForum countdown clocks.

So really this is just kind of an FYI in case you find that the site is down today and since you'll obviously notice the new look and feel. I'm bracing for the "Oh no, I can't believe you sold out to TechTarget!" response, (which I've gotten over the years, and to which I respond, "Yeah, I became an employee of TechTarget in 2008, so I promise you that this new website doesn't mean our content is changing.) As I've written in the past, TechTarget has been extremely supportive of us, allowing us to quite literally write whatever we want. (I wrote articles like "F*** the SAN" and "Why Microsoft is screwing the industry" since working at TechTarget, and no one said a thing about them or has ever tried to control what we write.) So while I don't love the layouts, meh, they're fine, and I respect that TechTarget doesn't meddle when it comes to content.

I think the only real feature we're going to lose is the ability to show how many views each article has. We tried to get that, but aggregating and showing that data is just not part of TechTarget's content management system and there was no way it was going to happen. In the grand scheme of things, that's fine, because really who cares, but still it was fun to see the unexpected 3k page views within the first 24 hours of a popular article. Oh well.

A history of BrianMadden.com

Earlier this year I did a podcast about my life story, so I figured since we're migrating sites that it might be cool to do the story of BrianMadden.com.

1998

I registered the BrianMadden.com domain in May 1998 after reading the Tom Peter's August 1997 "Brand You" cover story in a Fast Company magazine that I found in the bathroom at S.E.A. Group, the Microsoft consulting company I was working for at the time. For the next few years, the website wasn't much more than my online resume. It was static HTML and I'm pretty sure that I did it in FrontPage.

2002

I wrote by first book about Citrix MetaFrame XP in 2001 (published in January 2002), and at that point I switched BrianMadden.com over to be a marketing site for the book. Still all static HTML. This image, and all the images in this post, are from archive.org, since of course I didn't think to actually save anything at the time. Here you see the first BrianMadden.com logo: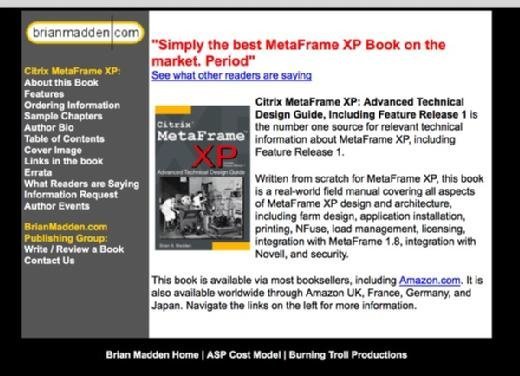 I released an update to the first book in November 2002 (the silver book with the orange on the cover), and I updated BrianMadden.com to reflect the new book. Again the website was essentially just a marketing site for the book, all static HTML: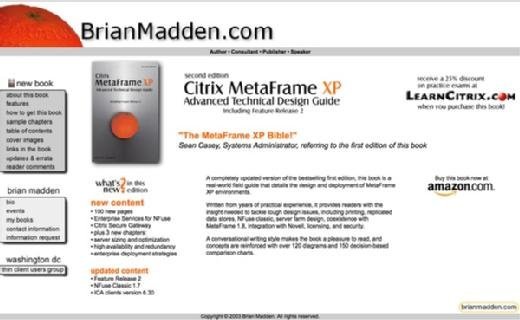 2003

2003 was the year I decided to quit my job (at HP) to become an independent consultant. When I did that, I also updated BrianMadden.com. This is when the site first included a blog. (It wasn't even on the home page—you had to click through to see it.) I wrote the blog engine myself in ASP 3.0 with an Access-based database. I actually had a copy of the .mdb file locally and would add my articles to it and then I would FTP the entire .mdb file to the server to "post" new articles. Crazy!

Here's a sort-of working image of that, again thanks to archive.org because I didn't know any better. This is when I switched to the red oval BrianMadden.com logo. Note that you had to click on "thin client computing resources" to get to the blog.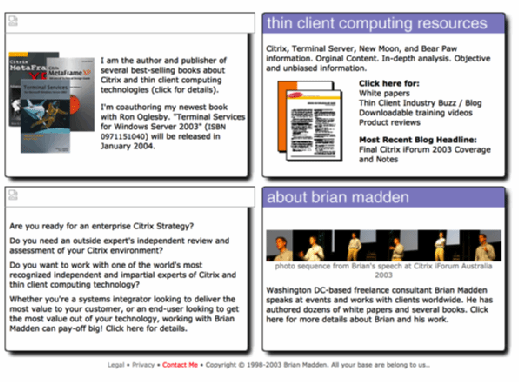 2004

In 2004, I rewrote the web engine from scratch, this time using a real SQL database (and Macromedia Dreamweaver). I added content types, categories, ratings, page views, "what's hot", upcoming events, and a bunch of other things—all completely written from scratch, by me, because it was 2004 and that's how things worked back then. (I also learned what a "SQL injection" was. :)

Again here's a kind-of working version of it from archive.org. The big black area with what appears to be six Greek temples was a yellow navigation bar. Note the tagline of "Your Independent Citrix, Terminal Server, Server Based Computing, and Thin Client Resource", which is not too far off from our current one, "Your independent source for desktop virtualization, consumerization, and enterprise mobility management."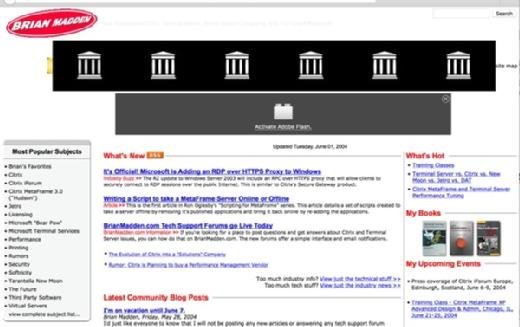 2005

In 2005 we launched BriForum and got the new (still current) BrianMadden.com logo. We slightly modified the colors of BrianMadden.com, though it was still based on the ASP 3.0 platform that I wrote in 2004. The blue bar was the menu bar, though I don't know what happened to the words.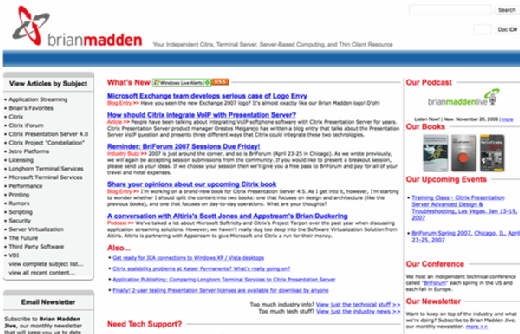 2007

Eventually we realized that building our own website was a huge amount of work and a distraction from our actual jobs as Citrix consultants, so in 2007 we hired a bunch of guys in Brazil (via a Gus Pinto hook-up) who developed and maintained our new site. Again this was a completely home-grown solution, now based on ASP.NET. Here's how the website looked during BriForum 2007 Amsterdam: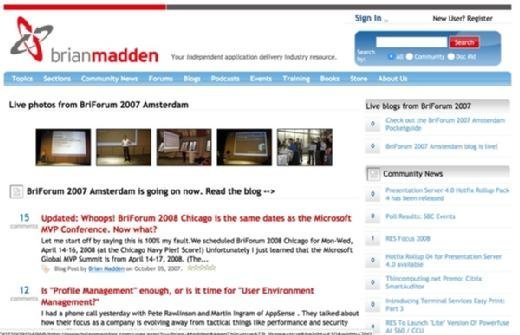 2008

We used our own CMS for about a year and a half. It was awesome, but expensive. Again we sat back and thought "why are we reinventing the wheel? Do we want to be in the server-based computing consulting business or the website development business?" So we decided to cease development on our home-grown platform and go to a normal commercial software product. We settled on Telligent Community Server, and here's what the site looked like when we launched it in 2008: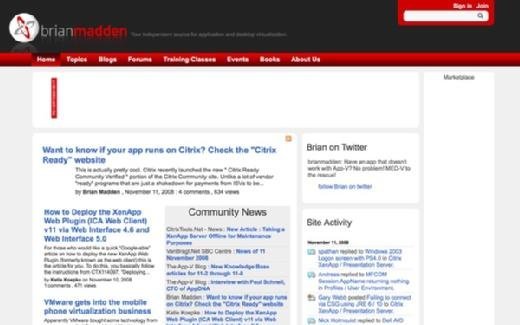 2016

In late 2008, we were acquired by TechTarget, which brings us to today. Here's the home page of BrianMadden.com on April 19, 2016: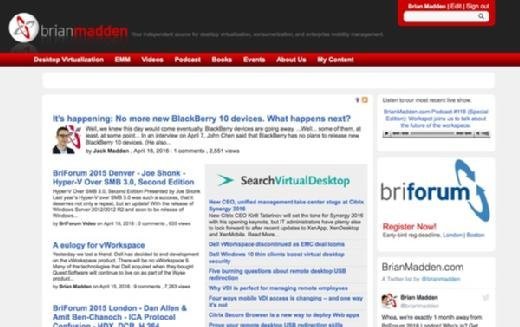 It's funny how much this looks like 2008! (And in fact as of April 19, 2016, we're still running Community Server 2008!) For any independent consultants out there who want to know what it's like to work for a large, publicly-traded company, just take a look at this post. From 2002-2008 (when we were independent), we had a new website every year. From 2008-2016 (when we were with TechTarget), we had the same website. I'm not saying that's good or band, but let's just say that people working at giant publicly-traded companies don't get their quarterly bonuses for taking risks. :) (In fact the only reason we got the upgrade today was because I played up the angle of how risky it was to be running on such an old platform.)

With that, I'm really looking forward to getting the new site out there, if for nothing else than the fact that it's modern (in terms of responsive layout and how it works with Google and integrates with the rest of the TechTarget universe). So thanks for hanging in there with us over all the years. Hopefully we'll be better at taking screenshots in the future, and we'll be back later this week with more stories once we figure out how to get on the TechTarget VPN to post them!