BrianMadden.com Zeitgeist 2011
Taking a page from Google's annual Zeitgeist metrics, we decided to compile some of our own for BrianMadden.com.
Taking a page from Google's annual Zeitgeist metrics, we decided to compile some of our own for BrianMadden.com. (Actually we did this a long time ago, though it looks like we haven't since 2004.)
We posted 447 new articles & videos in 2011 (including BriForum sessions). Brian wrote 113, Gabe did 43, and Jack wrote 12. We created a word cloud based on all the words in the new articles from 2011, which looks like this: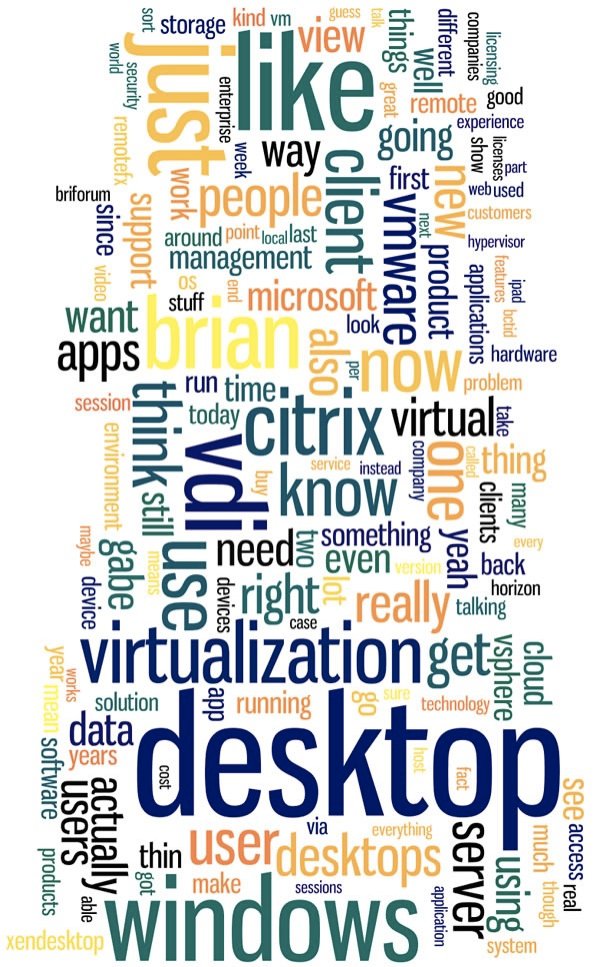 Of course what makes BrianMadden.com really fun is the user comments. Brian posted 53 comments in 2011, Gabe posted 33, Jack wrote 3, and Justin wrote 1.
In terms of the ability to attract comments, Brian's articles drew 840 new comments in 2011, Gabe drew 190, Jack drew 23, and the videos Justin posted drew 21. We also created a word cloud based on all the words of all the comments of 2011: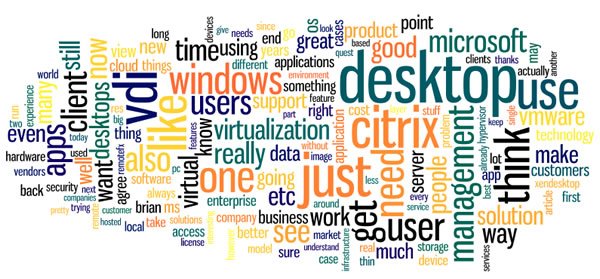 We all wrote a combined grand total of 144, 093 words across all of our articles for the year. (For comparison purposes, Brian's Citrix MetaFrame books were about 220,000 words.) More interesting, the number of words in all of AppDetectives comments were 16,973. (In other words, AppD wrote more than 10% of our entire site content in comments alone!)
Most popular articles written in 2011
Here are the top 5 articles, based on page views, that were written in 2011:
What's really interesting about this list is that Gabe's Chromebook article, while the #1 article written in 2011, was actually the 14th overall most-read article that was read this year. In other words, the 13 most popular articles of 2011 were actually articles that were written in the past that were still popular this year. (The #1 article for 2011 is also our #1 article of all time: The 4GB Windows Memory Limit: What does it really mean? Published in 2004, this article has over 750k page views and was read 9x more than Gabe's Chromebook article in 2011.) All of the Top 13 articles were things like this that covered very specific things that lots of people find via Google.
Brian's Favorites of 2011
And since this site is BrianMadden.com, I figured that I'd share a list of my personal favorite articles from 2011:
You're too stupid for VDI
January 4, 6393 views, 7 comments
Citrix is motel art
March 15, 8610 views, 12 comments
VDI is like high school sex
August 15, 16725 views, 14 comments
XenDesktop: Terminal Server wrapped in virtualization wrapped in the cloud wrapped in a pizza
October 31, 424 views, 1 comment
Why Microsoft hates VDI
March 2, 12012 views, 22 comments
Why Microsoft is not getting serious with desktop virtualization in Windows 8
September 22, 8624 views, 8 comments
Desktop virtualization is not a "free pass" for lack of desktop management
October 18, 5719 views, 5 comments
Desktop Virtualization is NOT about cost savings or saving money
October 5, 9417 views, 15 comments
Thanks to Gabe for running the queries on our database to collect all this data, and thanks to Wordle.net for the online word cloud creation thing. And thanks to you for reading!