Brian Madden no longer "Some crazy kid"
It happens a lot the first time people meet Brian. "That's Brian?"
It happens a lot the first time people meet Brian. "That's Brian? I pictured someone older," they say. They find it hard to believe (since they don't know him that well) that he's someone in his twenties.
Well, that's all gonna change now. Today, Brian turns 30. Sure, he's still 25 years away from getting a discount at Denny's, but he's certainly no longer a kid (at least, they won't let him use the kids' menu anymore).
To prove that Brian is no longer a kid, I went through my photo library and found the oldest picture I could. I cropped out the other people in the picture so they didn't have to look and see how much hair they had (me...sigh) in 1999. Here for you to see, is Turn o' the Century Brian:

Clearly, he's changed quiet a bit over the years. I mean, he's started his own company, he worked from home for many years and is now "virtually homeless" (because it's a little of both!). The Brian Madden Company puts on two conferences each year, many training classes, and has quadrupled in size from it's humble beginnings in 2003. Brian's written three books, and a fourth is in the works. With that resume, we surely will see someone more sophisticated, well-rounded, and professional looking, right?
Nope...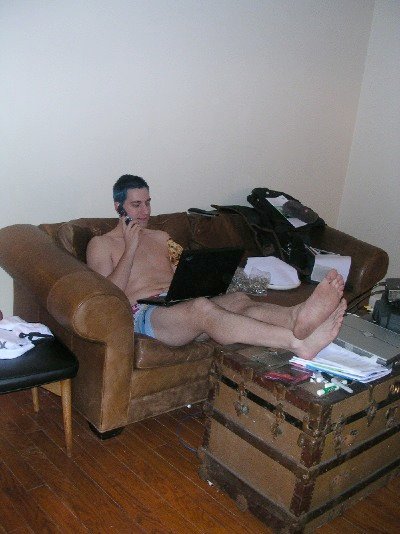 (Editor's note: Man, have I been waiting to use THAT picture!)
Kidding aside, we just figured we should wish Brian a happy birthday in a way that he'd enjoy. 30 years old is great, and considering we've been working with SBC for 10 years now, it means that a full third of his life has been spent dealing with Citrix, Microsoft, and countless other vendors; so it's only fitting that we post an article about it!
If you'd like to wish Brian a happy birthday (or not), feel free to post something in the comments.