App Layering is EUC's best kept secret according to VDI Like a Pro's survey results
The folks at VDI Like a Pro have outdone themselves this year with a comprehensive survey of all of EUC. The results have been tallied, and our first look into them is about Application Layering.
The results of VDI Like a Pro's State of VDI and SBC Survey are in, just in time for Citrix Synergy 2017! With data from the nearly 600 participants combined with data points from 800 ControlUp customers, the results of this survey easily qualify as one of the most comprehensive independent surveys ever done in the End User Computing space.
I mention EUC because, despite the name of the survey, there is data that goes beyond just VDI and RDSH. There is data on Application Management, Antivirus, Microsoft Office, Enterprise File Sync and Share, and even Enterprise Mobility, all in addition to desktop virtualization items like average login times, top global processes, which versions of Citrix Receiver are in use, and many more.
We have a lot to cover, which we'll break up into a few blog posts over the next few weeks, but for the launch I wanted to touch on something that I'll be speaking about at Citrix Synergy this week: Application Layering.
Application Layering, or Application Management, has become a hot topic in the last few years. Traditional application management practices (base image, SCCM, App-V, and similar tech) appear more cumbersome than ever when compared to modern platforms. VMware acquired CloudVolumes in 2014 because they needed a new approach to managing applications that ThinApp (which is more closely related to App-V) couldn't address. In the years on both sides of that acquisition, we saw other vendors like FSLogix, Liquidware, Ceedo, and others join the fray. Then, in case the space wasn't hot enough, Citrix acquired Unidesk earlier this year.
With so many options out there for managing applications, I was astonished to see that, according to VDI Like a Pro's survey results, the majority of corporations use nothing at all to help them manage applications.
Nothing!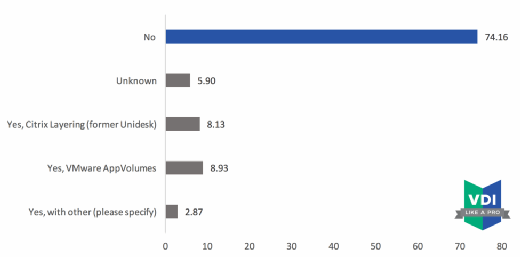 To be fair, another survey question asked about which application virtualization platform people used (I usually combine app virtualization and app layering into "app management" when I talk about them), but even then, the clear winner was "No application virtualization software is used" at nearly 40%.
I asked the team what the results were for "Other (Please Specify)," and the results were mainly Unidesk, FSLogix, Liquidware FlexApp, and Citrix AppDisks, with a CloudHouse and Verde VDI thrown in for good measure.
I'm a little surprised to see that Unidesk and AppVolumes have nearly the same penetration at around 8-9%, while nobody else makes a dent in the list. (Though I'm even more surprised to see that nearly 6% of respondents don't know what they're using, if anything!). We'll have to see if Citrix's numbers continue to be competitive after the dust settles, since it's safe to assume that a fair amount of the former Unidesk user base ran it with VMware Horizon.
Despite the fact that such a huge percentage of companies use no app layering at all, I'd still call the space hot. There is still a ton of room in the industry for application layering to grow, and if you don't believe me, consider that all of the Unidesk employees at Synergy this year will be wearing Citrix polos.
If you're at Synergy, check out my Meet the Experts session in Theatre II at Synergy Park on Wednesday, May 24, from 4:00 to 4:30pm where I'll take a deeper look into the application management landscape. Plus, stay tuned for more analysis of the data from VDI Like a Pro's State of the VDI and SBC Industry Survey. If you want to take a look at the data for yourself, head over to https://vdilikeapro.com/.