All the news from Citrix Summit 2016. XenApp/XenDesktop 7.7 & 7.8, lower CWC pricing, and more!
Citrix's annual partner conference is taking place this week in Las Vegas. Technically it's a non-public event (though honestly how "NDA" can something be when you announce it on stage in front of 3,000 attendees in this age of social media).
Citrix's annual partner conference is taking place this week in Las Vegas. Technically it's a non-public event (though honestly how "NDA" can something be when you announce it on stage in front of 3,000 attendees in this age of social media).
I was actually in Las Vegas yesterday (I was speaking at a Dell / Nvidia partner luncheon, not attending Summit), so I had a chance to talk to quite a few folks about the conference. Citrix also published a slew of blog posts, and twitter is full of stuff. So I took a few hours to read and digest it all, and here's what I came up with.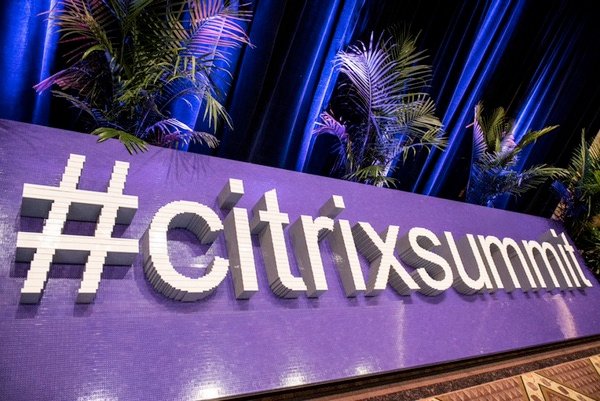 This sign is made of 24,000 Lego bricks. More on that tomorrow.
Citrix Workspace Cloud
Price drops!
I've written and said many times that I love CWC, but that it's just too expensive. (If you subtract out the value of the product licenses, what you're left with is still like $40 a month (per user) for Citrix to host a database and a few web servers for you. That's crazy.
Yesterday Citrix announced that they'll lower the price for the Virtual Apps and Desktops and Integrated Apps and Data packages in a few months. (They haven't announced what the new prices would be yet.) They're also going to make the Secure Documents (a.k.a. ShareFile) available as a standalone package.
CWC is also going to get volume discounts in 2016.
XenApp & XenDesktop 7.7
Citrix XenApp 7.7 and XenDesktop 7.7 are now available for download after they were announced a few weeks ago. There's no huge major changes, but rather a lot of little things, including:
Zones are back! This is something that used to exist in IMA (i.e. prior to XenApp 7) and it was one of the missing features when XenApp 7 came out. Zones pretty much let you group servers together they they mainly only communicate and load balance within their local zone, but you can failover for redundancy. Zones are right out of CWC (on premises zone versus cloud zone, etc.) and an example of a feature that is first rolled out to CWC and then back-ported to the traditional XenApp.
You can limit the number of resource-intensive apps on a single server. (In other words, you can publish an app for any number of users, but say, "I only want 2 instances of this app to run at the same time on the same server.) This is also something that was in XenApp 6.x and prior that vanished with XenApp 7.
PVS supports Windows 10. (Also, PVS is still a thing in 7.7, which is great news.)
Director (a feature of Platinum editions) can now consume SCOM alerts. It's always been possible to send XenApp and XenDesktop alerts to SCOM. This is the opposite of that, where a Citrix admin can get SCOM alerts from other non-Citrix things in their Citrix console. (The idea being they spend the majority of their time there.) This will be a Platinum-only feature. It's based on a product Citrix acquired from Comtrade.
Machine Creation Services can provision desktops to Azure. This feature confuses me a little bit because I'm pretty sure that's a violation of the Windows license agreement. (You're not allowed to run Windows 10 in the cloud -- only Windows Server.) Maybe that's how this feature works? I dunno...
XenApp & XenDesktop 7.8
In addition to the 7.7 releases which are available now, Citrix announced details of the upcoming 7.8 releases of XenApp and XenDesktop which will be out in the next few months.
App-V packages can be pulled into FMA, so you can deploy and manage them from Citrix. e.g. you don't need a separate App-V server and database.
Integration of Framehawk's technology into HDX
Single AppDisk packages can work across base OS versions.
AppDNA for AppDisk. (Platinum only) Basically this means you can use AppDNA to analyze the base image plus a bunch of AppDisk layers to look for issues.
Session Recording for virtual desktops (another feature that used to exist but was lost when XenApp went to 7.0)
Long Term Support Releases
Citrix announced a Long-Term Service Release ("service" / "support"… why does everyone have to have their own acronyms for this?) This is a trend in the industry where vendors are committing to supporting some versions of products for extended periods of time, meaning that customers can adopt it and know that nothing will change for like five years.
So probably you're thinking, "Isn't this just called XenApp 6.5?"
Boom! :)
The first LTSR versions have been announced as XenApp 7.6 and XenDesktop 7.6. Citrix has committed to supporting them for 5 years (bug fixes only, no new features) for everyone, and then another 5 years after that for customers who want to pay for extended support.
Skype for Business optimization pack
By now you probably know that Microsoft has renamed Lync to "Skype for Business."
You also probably know that getting Lync / Skype working in your Citrix environment (XenApp or XenDesktop) can be a challenge. There are several reasons for this, one of the biggest being that Microsoft didn't have a great API for the Skype client, so virtualizing it and breaking it into its core components was very different. (Citrix tried, and they had some success, but it was really finicky.)
That all changes now with the new Skype for Business optimization pack. In this v2 release, Citrix can deliver native Skype performance at the endpoint without killing the server -- all with the standard Skype interface that everyone already knows how to use.
The new Skype for Business support is actually a client-side improvement and works with XenApp 6+ and XenDesktop 7+.
Everything else that are not my things
Citrix announced NetScaler CPX which is an "app delivery controller for containers."
They sold CloudPlatform to Accelerite?
XenMobile 10.3, which Jack wrote about this yesterday. (Basically the big new thing is that it can be used to manage Windows 10 and Mac OS X devices in addition to mobile devices.)
So that seems to be the gist. What did I miss?