A look at HopTo's unique approach to app refactoring
HopTo isn't quite a mobile client, and isn't quite App Refactoring, but they could be the mobile interface to Windows applications that you've been looking for.
Over the past year I've had a number of conversations with HopTo, but for some reason I haven't written about them yet on BrianMadden.com. That ends today! HopTo has been around in one form or another since the late 1990's, and you may have come across them (if you're older than 35) as Graphon GoGlobal around that time. In 2013, Graphon changed their name to HopTo, and rebranded to focus on "mobile productivity solutions." (Graphon GoGlobal is still around, if you're wondering.)
HopTo's approach to mobile productivity is something I would stop short of calling "app refactoring," but it's hard to come up with another term that's as concise. Where traditional app-refactoring platforms (can there be such a thing this early?!) focus on creating a new, mobile-friendly interface for desktop applications, HopTo aims to preserve the overall UI that users are accustomed to (they leverage RDP and, soon, HDX) and add mobile friendly features. For the most part, these features revolve around linking a touch-friendly menu to keyboard shortcuts that are built into an application, but there are other enhancements as well that really help the user experience.
Features
The main feature of the MAX platform, MAX Control, allows you to take menu operations that use keyboard shortcuts and map them to a toolbar that is overlaid onto the user interface. This toolbar is customizable (via a control panel app called MAX Editor) and can contain three tiers of menu items or activities. Any more than three and it would take up too much of the UI.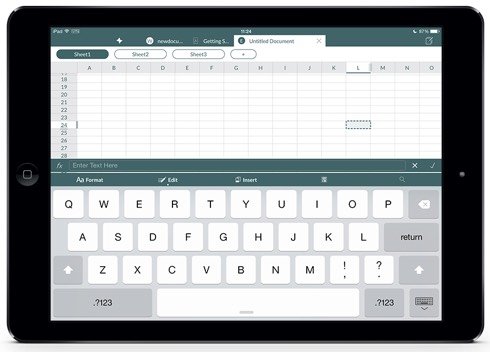 You can read a short walkthrough of how to create custom toolbars here.
MAX also includes some intelligence about what you're trying to do with an application. One feature, MAXCam, allows you to use the mobile device's camera to enter barcodes, QR codes, and photos. A shortcut button brings up the app's "Scan barcode" dialog, then pops up the camera and uses the built-in barcode reading functionality in your device's camera to read and place the barcode data in the form.
Another feature called MAXEdit makes editing text more intuitive. When tapping in a text entry field using a typical remote desktop client, the best you can hope for is that the client understands that you want to type something and brings up the soft keyboard. Even when that happens, more often then not the keyboard covers up the cursor, so you still have to swipe around or zoom to actually see what you're typing. MAX Control not only pulls up the keyboard, but also centers the cursor in the visible portion of the app so you don't have to.
Other MAX features include:
Users have the ability to tie their cloud storage accounts into HopTo, allowing them to open documents stored in those locations in their HopTo-published application.
Image insertion into documents can automatically pull from a Google image search
Intuitive, easy multitasking between applications (no disconnecting to switch or any of that nonsense)
You can watch a video comparing the traditional RDP client experience to the HopTo experience here. In it, you'll also see the process of setting up toolbars for an application.
Coming Soon: MAX IE
MAX IE, due in Q2, uses a virtual channel to send down HTML straight from IE, which is then rendered by Safari (well, WebKit), so the browser app is rendered in native controls rather than remoted down via RDP or ICA. By letting IE render the page and then taking that output and sending it as HTML to the client, dynamic content, including things like Flash, Java, and Silverlight also works on the mobile device.
When a user enters the information it's posted back into IE on the backend, so from an application perspective, it's as if nothing is different at all, but from the users' perspective it looks as if the web-app has been mobilized.
Coming Soon: Project Mobilis
You may have heard the news around Citrix Summit that HopTo had announced Project Mobilis. Until recently, MAX only worked when used in conjunction with applications accessed via RDP. With Mobilis, HopTo has partnered with Citrix to extend MAX functionality to HDX. I have not seen a release date for this, but I do know that HopTo is planning on demonstrating Mobilis at Citrix Synergy, so you can probably expect a release in Q2 as well.
Pricing
HopTo Work perpetual licenses retail for $99/named user or $149/concurrent. You can also subscribe monthly for $6.99/named user or $10.99/concurrent. HopTo Personal, which is aimed towards one-off users for accessing remote PCs from mobile devices, is available in the iOS app store.
Wrap-up
What sets HopTo apart is that while most of the other app refactoring platforms are best suited for forms-based, data entry applications, HopTo also works well for certain types of content creation. You're not going to edit videos with Premiere, but it does make it easier to use productivity apps like Office. On the other hand, if your app looks like it was made in the 1900's and has an interface that was made by a developer in a way that is only intuitive to a developer, you might want the full-on app refactoring platform.
Either way, there are options, and those options are not mutually exclusive of each other. The fact that we're seeing this kind of diversity is indicative of the market having problems that need to be addressed. I wonder which way will prevail, or what mixture of features will finally be the one to beat. For more information, you can view HopTo CEO Eldad Eilam's booth demo from BriForum 2015 on HopTo.com.