A brief look inside Citrix's Evaluation Virtual Appliances
Back when I worked for a channel partner, trying to spread the Citrix word, we always had one major problem with new clients -- convincing them that server based computing was at least worth a look.
Back when I worked for a channel partner, trying to spread the Citrix word, we always had one major problem with new clients -- convincing them that server based computing was at least worth a look. Most of the time I ran into someone who didn't have the faintest clue about SBC, they were so consumed with their daily job that they didn't have time to worry about evaluating the product, let alone bringing me in to do a proof of concept. Nine times out of ten, they called back a year or two later, after they'd attempted a Lotus Notes deployment or something.
That was a long time ago, but I'm sure some of those problems still exist for the partners. But now, thanks to some clever thinking by Citrix and Microsoft, channel partners, consultants, and time-conscious systems admins all over the world (with beefy internet connections) can get a taste of the Application Delivery good life in about 10 hours and 10 minutes.
Not long ago, Citrix released what they're calling "Evaluation Virtual Appliances", or EVA's. An EVA is nothing more than a pre-configured Microsoft Virtual Server VHD (Virtual Hard Disk) file that is configured to expire 30 days after it is "installed," which is a fancy way of saying "extracted for a bunch of gigantic .rar files." It runs as a Microsoft Test Drive virtual machine under Microsoft Virtual Server 2005 R2, and depending on the version of EVA you download, will run CPS Platinum or CPS Enterprise.
Before we get into what these look like, let's go over the different versions of the Citrix Evaluation Virtual Appliance:
CPS Platinum
The CPS Platinum EVA comes with just about one of everything. The Platinum EVA is designed to demonstrate most of the advanced features of Citrix's application delivery products. Included in the Platinum EVA are Citrix Streaming Server, EdgeSight, SmartAccess configurations (but no CAG VM), and Password Manager.
It actually consists of three virtual machines - a Domain Controller, a SQL Server, and a Presentation Server Platinum Edition. All the other server roles are spread across these three virtual machines.
Each of these machines is configured to use 512MB of memory, which means if your laptop or PC has 2GB, you're in good shape. The partners have a mobile tech lab, the system admins can run it on their PC at their desk, and the writers for the industy news websites can finally show their parents what exactly they've been doing with their lives!
In order to get all of these, you need to download fourteen(!) 700MB files from MyCitrix. That's a shade under 9GB! For the record, Citrix is working with Akamai to provide a method of downloading a single 8.8GB file, but for the time being you're stuck downloading them one at a time.
You Firefox users out there can type "about:config" in your address bar and change the "network.http.max-connections" preference to "16". This should allow you to download all 14 at the same time, so you don't have to babysit the downloads. For the record, this made my laptop absolutely worthless for 3 hours while 14 giant files downloaded. Fortunately I had a Mac I could use. Also, it's probably a good idea to change the setting back when you're done.
CPS Enterprise
Sizing up as a comparative welterweight, the CPS Enterprise edition EVA is only 2.5GB, and can be downloaded as one file. The reason for the relatively small file size is that the Enterprise EVA is only one server. There's no domain controller, just a Presentation Server running every role imagineable on a workgroup server. While it may not be best practice, it's fantastic for showing off technology in a quick and dirty way.
The CPS Enterprise Edition EVA comes with Presentation Server 4.5 Enterprise Edition, as expected. Also installed in this virtual machine is a Citrix License Server, Web Interface, Citrix Document Center, and all the appropriate management consoles.
A look inside
Before you get started, please download and follow the EVA Installation Guide. You don't even have to login to MyCitrix to get it, so I'm including a link here.
Enterprise EVA
First, let's take a look at the Enterprise EVA, since it's a quick and easy introduction. The install process is ridiculously simple - you extract the EXE file you downloaded from MyCitrix, and then execute the Citrix_CPS_Ent_EVA.part01.exe file. This will uncompress all four files that comprise the disk image and supporting files.
When the extraction is complete, you'll be left with a few files, of which the most important are the CTXS_CPSEE.VHD and CTXS_CPSEE.VMC files. The very large VHD file is the Virtual Hard Drive image and the VMC file is the Virtual Machine Configuration file for use with Microsoft Virtual Server. You'll need to spend a minute or two (that's all) configuring the VM network settings before you can fire it up. Refer the the aforementioned EVA Installation Guide for those settings.
Now that you've configured everything, you can fire up your VM. After you log on (credentials in the guide!), you're presented with the EVA server Desktop. Note that it is running a full-fledged Windows Server 2003 R2, SP2 build. While it says you have until, say, June 22, 2008 to use it (YMMV), it only means that the Microsoft Test Drive build will cease to work at that point. You won't get that long, however -- the Citrix EVA is still triggered to expire 30 days after you extract the files.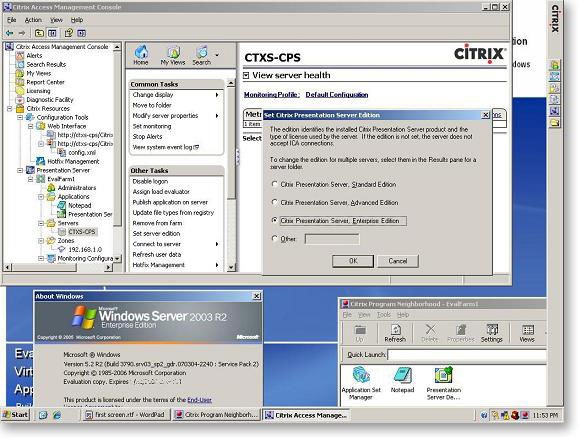 As you continue to look around, you'll see that you're running Citrix Presentation Server 4.5, Enterprise Edition. This is the same 90-day trial that you can get from your local reseller, as the pre-loaded license key shows.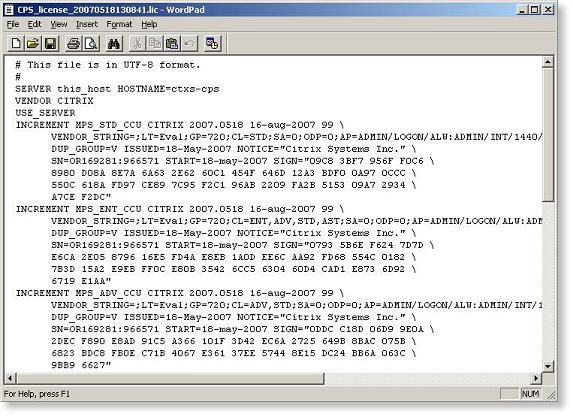 You are free to use/demo/beat up any of the features in the Enterprise EVA. You can even install your own apps to see if/how they work. For a lot of people, that's enough, but it can't show everything. It is definitely a great tool for people who have never seen Presentation Server and just want to see what it can do.
Platinum EVA
Up next is the Platinum build, which at 9 GB (uncompressed) is about as compact as this could get. You could try shoehorning everything into one server, but you'd be asking for problems (especially with EdgeSight and Password Manager). The three VM method also gives you a much better idea of what performance might be (although still limited by hardware). The Platinum EVA is designed to run as a standalone virtual infrastructure, but can also be integrated into your existing environment. If you plan on trying to integrate it into your current environment, take care to make sure you use IP's and other settings/services that won't step on anything in production. DHCP is configured by default, so be careful there.
Getting started, the extraction process is the same, but in the end you'll end up with three virtual machines as opposed to the one. Again, the VMC and VHD files are the important ones, and you'll have to configure the virtual network settings for each virtual machine per the EVA Installation Guide. For this EVA, the domain controller is configured with two nics so that you can bridge the networks and have internet access from your lab. The three virtual machines you'll end up with are CTXS_CPS (the Citrix Presentation Server), CTXS_SQL (SQL Server), and CTXS_DC (domain controller).
The first thing you'll notice when you log in to the CPS server in the Platinum EVA is that you're required to register with Citrix Password Manager. This is indicative of the many packages included with the platinum EVA. Once you've enrolled, you can fire up the Access Management Console and see all the goodies that Citrix included: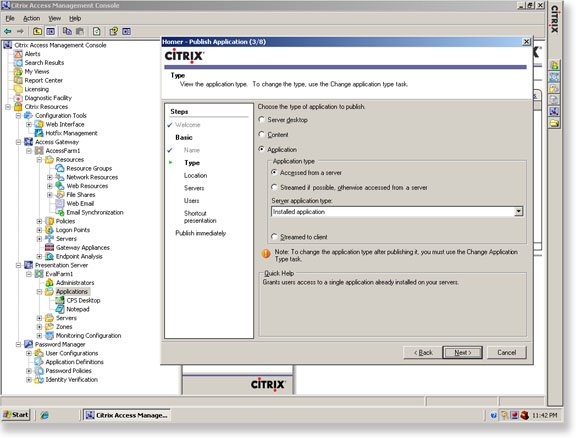 In the Publish Applications properties window, you can see that streaming options are there, and on the left hand side of the AMC window, you can see all the other options. Under Access Gateway are all the SmartAccess options you have (minus the gateway appliances section). The EdgeSight server is on on the SQL server, CTXS_SQL, and the Password Manager service is loaded on the domain controller, CTXS_DC. As with the Enterprise EVA, you are allowed to do whatever you want to any of these servers for 30 days.
Wrap-up
In the future, Citrix plans to release Evaluation Guides that will step people through evaluating specific products. The first guide to be released is supposed to be for Citrix Streaming Server, which will be closely followed by an EdgeSight eval guide. No word on a time frame, but look for them soon.
I should mention a few things about the use of Virtual Server for these EVA's. I asked the person in charge of the EVA project, Kurt Moody, about the use of VS instead of VMware, and the response was that Microsoft already had the prepackaged "Test Drive" evaluation virtual machines on Virtual Server (I should ask him again now that Citrix has XenSource...). The other thing I asked is about converting the VHD files to VMDK files using the VMware converter. The only response that I received was that it violates the EULA that you agree to before you extract the files. So, while it may be possible, here's your fair warning that it's not legal.
I think these will go a long way to exposing Citrix's products to people that don't have the time. It would be nice to see a virtualized Access Gateway in there, since we know it can be done. It would give everyone a chance to see the full SmartAccess capabilities that Citrix offers.
One last thing - there is a support forum at Citrix.com that has been set up exclusively for EVA's. If you run into issues, you can post there. It's not very active, but most of the posts have answers, so it's monitored pretty well.
Happy downloading...