60-second review; triCerat Simplify Suite v4
triCerat is a software company that used to sell several separate server-based computing products. They have recently combined all of their products into one suite called the Simplify Suite.
triCerat is a software company that used to sell several separate server-based computing products. They have recently combined all of their products into one suite called the Simplify Suite. In doing so, they join the competition of RES Powerfuse, Provision Framework Standard, and Appsense Performance Suite. However, the triCerat Simplify Suite also includes components printing and profiles solution which RES and Appsense don't have. Let's take a look how the product works.
Installation
The triCerat Simplify Suite needs a SQL or MSDE database to store all of its configuration information The installation of the product itself consists of a single MSI file. Although all components are listed in the feature selection screen, only the Console can be excluded from installation. The other components can not be changed at all. After specifying the SQL database server (or the MSDE database) and the method for database authentication, the components are installed.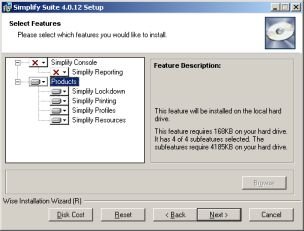 It is annoying that triCerat only places a shortcut to the console in the profile of the user which installed the Suite.
The triCerat Management Console
triCerat combined the previous consoles of their separate products into one console. You will become used to this console. It has three panes.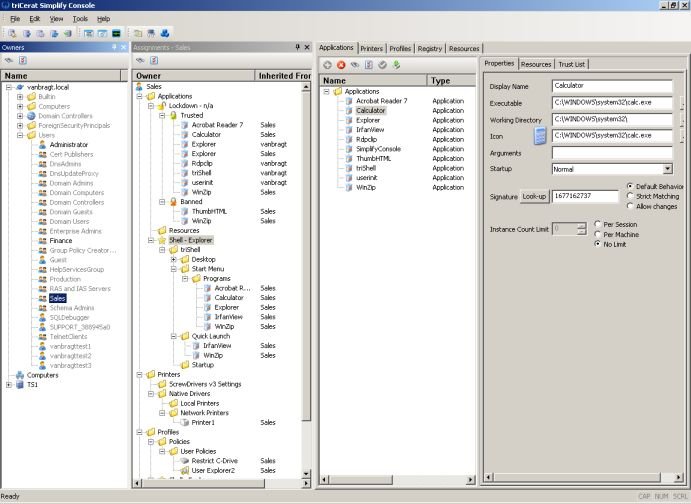 In the left pane you select the group, user, or computer for which you would like to set up a configuration. In the middle pane you see the selected owner (this is what triCerat calls the group, user, or computer). In the right pane you can select the settings for configuration. You configure all settings for all owners in the right pane. When you want to assign a setting to that owner you drag it form the right pane to the middle pane.
It's a bit strange that when selecting the component in the middle pane, the right pane (called objects) does not automatically change to a view of the available settings for that component. The right pane just stays on the same component you last clicked on in the object page.
The console also has several buttons which have no function. These buttons are reserved for upcoming functionality. I found this pretty annoying to see buttons in the console that just mentioned "Coming Soon."
Now let's go configure our environment.
Configuration
The configuration of the various components is divided into five tabs in the right-most pane: applications, printers, profiles, registry, and resources.
Applications Tab
This is the tab where you define certain executables on your server as "applications" that will then be assigned to users. You can also define per-application settings that specify how often the application may be used (based on session or machine).
Printers Tab
triCerat is perhaps most famous for their "Screw Drivers" printing technology, and this product is built into the suite. (A proper review of Screw Drivers would require its own article, but the short version is that its a driverless printer solution where triCerat uses their own metadata format to send print jobs to local printers over almost any connection.)
You can use this printers tab to configure which printers can be connected (network and/or local printers), set the default printer, naming convention, bandwidth limitations, and which options are available within the User Interface. The screwdriver options are used with auto created client printers.
In addition to ScrewDrivers, you can also enumerate all of your server printers and assign them to users or groups with their native drivers.
Profiles Tab
triCerat calls these profiles, but they are technically more like policies. This tab lets you configure predefined profile settings like Folder Redirection (just for application data, desktop, Start Menu, and My Documents), drive restrictions and some Explorer settings. It is not possible to add you own polices here, so you may have to define additional policy settings via GPOs or custom entries under the Registry tab.
For security and configurability purposes, triCerat offers their own shell (called "trishell") that can replace Explorer.exe (similar to RES Powerfuse and others). By using their own shell, triCerat can ensure that users won't find backdoor holes in Explorer that could let them exploit the server.
Registry Tab
This tab is comparable to functionality offered in profile products from other vendors. triCerat only supports saving, restoring, setting or deleting registry keys and values. Compared to other products this is just basic functionality--the advanced settings are not present in the triCerat Suite.
Resources Tab
The resource component in triCerat controls the CPU and memory usage of the Terminal Servers. The CPU management is based on priority level, so processes are lowered in process priority when the configured parameters are reached. The memory management is based on an application's memory usage hitting a configured limit and following a configured action (send alert, freeze application, or terminate application). You can also configure some resources settings on a per-application basis under the applications tab.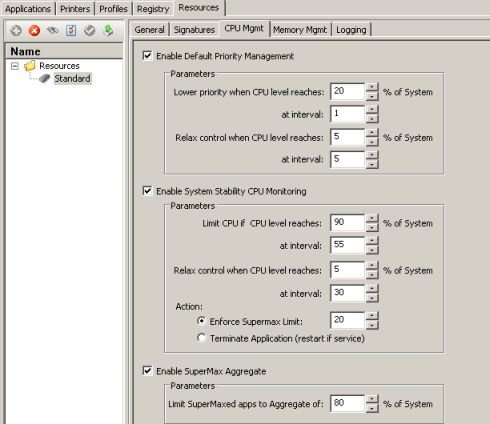 Assigning the configurations
Now that you've defined all of your configuration settings in the right-most pane, you need to assign your configurations to specific users. These configuration settings can be assigned to users, groups, domains, or computers just by dragging the configuration to the selected owner (assignments). All setting will be collected together and if there is a conflict then the setting closest to the user will be used. In other word the sort order is domain - computer - group - user.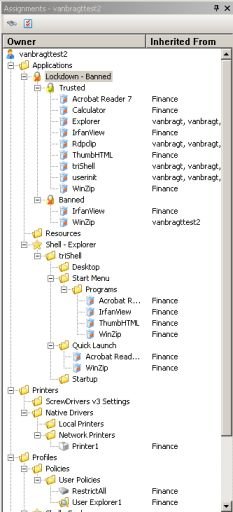 Applications can be placed in a trusted or banned list. Remember that you need to specify which list should be used by the suite, otherwise it would use the inherited setting which is standard no Lockdown.
You also use the center pane to configure several explorer settings, like desktop, Start Menu, and Quick Launch items.
This center pane has an "inherited from" column that lets you see where the configuration component is exactly configured (this can be more than one owner as mentioned before).

This center assignment pane also lets you define which shell will be used (the triCerat shell or the Microsoft shell). I tried to test both shells, but whatever I tried I always got the triCerat Shell. Using a different shell has some big advantages (security), but the biggest disadvantage is that some Windows functionality is not available within another shell.
Management
The triCerat Simplify Suite also contains two components used for reporting and monitoring.
The triCerat Monitoring tool is a graphical representation of the environment. A summary is shown of all monitored components at the point you are viewing the monitor. Some counters include a small historical usage display, comparable to Microsoft Performance Monitor (but only one counter per view in triCerat Simplify Suite). It's not possible to monitor all components for a longer period. Also, no reporting options are available for this component.
The triCerat Reporting component is used to make reports of the current configuration. triCerat delivers some standard report templates, but it's also possible to create your own report for a specific setting. Unfortunately this option did not function at all in my environment. I only got errors with no explanation or that the database was not available (which is strange, because I started the application out of the console which needs... a database connection. I guess I'll have to read the manual on that.)
Conclusion
triCerat made a good choice to combine all their products in one product and to sell it as one product. But it does not veil that the components are somewhat outdated if you compare them to the competitors' products. No part in the suite has any new innovative functionality and lots of other products offer more functionality than the triCerat Simplify Suite. Also, some parts in the suite does not function as expected like the Shell and the reporting functions. Besides, there are several small annoying things (like the shortcut, not usable buttons) within the product that give me that well known unpleasant feeling about this product.