60-second review: RES WISDOM 3
Several years ago, RES (Real Enterprise Solutions) released a product called "PowerFuse." Powerfuse lets you centrally configure, manage, and monitor all user application and Windows settings.
Several years ago, RES (Real Enterprise Solutions) released a product called "PowerFuse." Powerfuse lets you centrally configure, manage, and monitor all user application and Windows settings. Since PowerFuse focuses on user settings, the applications need to be already available on the Terminal Server or workstation before they can be managed. The administrator needed another way to accomplish the installation of Windows and applications. Now RES has developed a product called "WISDOM" to accomplish the management of the "machine part" of a Citrix Server, Terminal Server, or workstation.
RES says that WISDOM was developed with one key point--"Keep it simple and easy." They also claim that the product can be fully operational with three simple steps (which they call "Get Ready, Set, Go." Let's find out if WISDOM is that easy.
Installation
Logically the product needs to be installed first before you can use it. To me this is very black-and-white, although this "first" step is not mentioned by RES (or do they include that in "Get Ready?") The first installation should be done on a machine which will be used for managing the WISDOM environment. During this installation, the central WISDOM console will be installed on the machine from which all settings and configurations are set up. The installation itself is pretty easy--you can specify the destination directory and you'll need to accept the license agreement. That's all you need to configure, and because the installation file is MSI-based, this part can done unattended very easily.
Get Ready
After the first installation, the WISDOM environment needs to be built. This starts with creating a datastore (the database where all WISDOM configuration settings are stored.) Microsoft SQL Server is currently the only supported platform to create this database. All settings needed to create the SQL database are automatically filled in via the WISDOM Console by using this data everything is created on the SQL server. After creating the datastore, all system settings can be configured. These settings include creating additional WISDOM administrators (only full administrator rights are possible), licenses, and settings for the dispatchers like bandwidth and automatically discovering workstations and servers (more on this later).
WISDOM recognizes three types of machines: Consoles, Dispatchers and Agents.
Console. The console is the workstation or server being used for administration and configuration of the WISDOM environment.
Dispatcher. A dispatcher is responsible for carrying out the execution of the scheduled jobs and caches installation sources.
Agent. The Agent component is active on the machines on which the jobs are executed (such as Citrix servers, Terminal Servers and/or workstations).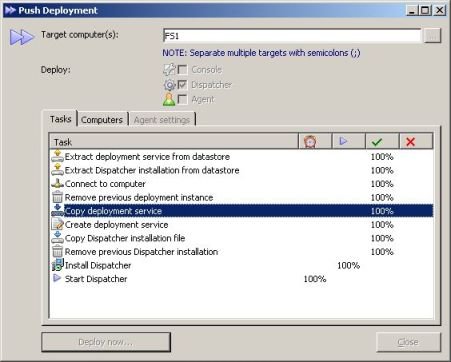 Within the 'Get Ready' step you can select one or more of these components and install them automatically on the system(s). It's also possible to install these components yourself by using the MSI files which are used for automated deployment. Again, because these are MSI files, unattended or silent installations are easy.
The last configuration option is to combine Agents into a 'Team,' which makes it possible to install jobs to multiple systems with a single click.
Set
In this step you build the configuration for all machines to be managed and maintained with WISDOM with the Agent component install. This configuration is made in a module. This module consists of one or more Tasks. Modules can then be combined to a Project.
The interface is very straightforward. Adding a new Module opens a configuration screen where Task(s) and/or Query(ies) are added.
The following Tasks are available in this view:
Apply Registry Changes. This task lets you can add or modify registry settings in the HKEY Local Machine key of HKEY Users key.
Change Computer Name Properties. WISDOM needs a basic installation of the operating system. With this Task the computer name can be changed or the computer can be joined to a domain, placed in the right OU, or have its description changed. There is no option to change the SID of the machine, so you need to arrange it yourself by using SYSPREP or Newsid or some other tool before deploying applications to the Agent server.
Change Service Parameter. This Task lets you change all settings concerning services, including changing the service account, service start-up, checking status, and restarting the service.
Download Resources. This Task can be used to download the source to the dispatcher or to download files which are needed by one of the installation tasks or for transferring files during off-peak hours.
Execute command. Execute command can be used to start a command on the machine itself using specified credentials and logging.
Install Microsoft update. Using this command a Microsoft hotfix or update can be installed on the machine silently and unattended.
Invoke Softricity client. With this option the machine settings of the Softricity client can be managed. The ability to preload the application cache is a wonderful option that enables applications to be configured and preloaded to a system. Publishing the application to the Start Menu and/or the desktop can also be configured here. Also the logging level can be adjusted and if needed, an extra Task can be made to clear the application cache.
Invoke Windows Installer. This Task is available to install applications on systems using a MSI based installation. Within this Task the MSI file is selected and instructed for what the Installer should do (Install, Upgrade, Patch, Repair or Uninstall). If necessary, additional MSIEXEC parameters can be filled in and MSI files can be added to the installation.
Perform Unattended Installation. If the software application or update being installed supports a silent/unattended installation using his own executable file, this option can be used to perform the installation automatically. Parameters can be specified to fine-tune the installation.
Set Windows Shell Configuration. An option designed especially for PowerFuse customers. PowerFuse can use its own shell in stead of the Windows shell. This Task sets the shell you would like to use.
Shutdown Computer. This Task makes it possible to reboot the system. Options available include the ability to display a message to connected users, force the closing of application, shutdown time limit, and the possibility to delay the reboot if users are logged in to the system. This Task can be used after the installation of an application or for periodic reboots.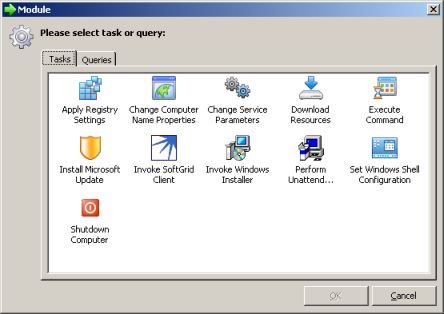 In addition to the above mentioned Tasks, the following Queries are available:
Baseline Security. Built-in integration with MBSA (Microsoft Baseline Security Analyzer). In this Query you can specify the security catalog (it can also be downloaded from Microsoft's website). This catalog can then be used to analyze the systems and report any missing updates and/or vulnerabilities. This Task also allows you to specify which vulnerabilities need to be searched for. MBSA and Agent need to be present on the target system.
Computer Inventory. This Query checks all kinds of computer attributes like processor, memory, manufacturer, display adapter, network adapter and so on.
Computer Name Properties. Simple Query, what is the computer name of the system.
Query Computer Uptime. Again a simple Query for the total uptime a machine has been running.
Query Disk Space. Query to monitor used disk space. If this Query is run regularly a chart can be created for analyzing the consumption of disk space.
Event Logs. A Wonderful option to view all the event logs from one console, already filtered by your specifications (warnings, errors, information, and security audits) based on the time parameters you desire.
File version/contents. This Query can check the file version for specified files (variables can be used) or content within a file.
Installed Programs. This Query checks which programs are already installed on the systems.
Query Registry Settings. Checks all values within a key or a specific value within the registry value.
Query Services. Query if a service is available on the Agent together with its parameters. It can not be used to monitor the status of specified services directly. However, this can be seen indirectly by navigating to all services queried.
Query SoftGrid client. This Query can be used for two purposes. The first is to Query the applications in the application cache of the machine. Second you can Query the Softricity SoftGrid client log for errors and warnings as well as reset the log itself.
Query TCP/IP Configuration. Exactly as the name of the Query itself implies. Running this Query shows the IP configuration of the system(s) queried.
Query Windows Shell Configuration. Queries the machine to find which shell is configured. This is also a special Query for the companies who also use PowerFuse.
Where necessary, within the Tasks or Queries additional credentials for carrying out the Task can be supplied, a module can exist of one or more Tasks. Modules can be combined into Projects. These Projects can be scheduled in the Job part in the third step. For example, you can put the installation and configuration (MSI install with some registry key changes) in one Module. This Module can then be placed in a Project that consists of an application set (for a specific target like Terminal Server desktop environment).
For all files be used for installation on the system, via the Windows installer or unattended installation, the installation source is added by using the resource tab. A resource can be placed within in the database of WISDOM or on a file share.
When you place the resource in the database, it is important to add all files needed by the installation to the database. Unfortunately this must be done file-by-file, it is not possible to select a complete folder or multiple files. If you use a setup with more than one file out of the database, all files must be available on the dispatcher. This can be arranged using the Task Download Resources. Because this is a time-consuming process, my advice is to install these types of installation sources via a file-share (except when there is bandwidth availability issue).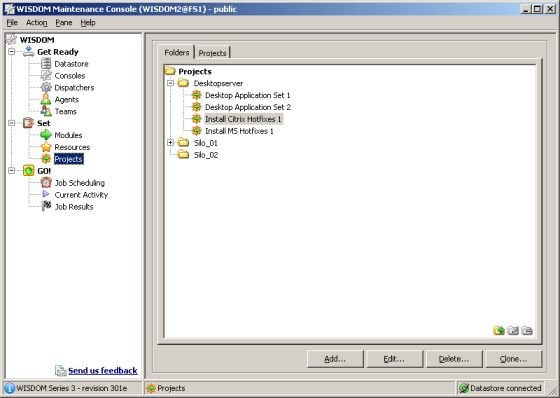 Go
After creating a Project in the Set phase you are ready for the 'Go' phase. Projects can be scheduled for execution in this final step.
Using the Job Scheduling feature, you add new Jobs. A Job can have four time instances of execution: immediately, scheduled, reoccurring, or after next reboot.
All options are clearly explained and have enough detail to execute the Job exactly how you as you instruct. Next you select the Project to be executed. Last you need to specify which Agents need to execute this Job. Here you can use the Teams created in the Get Ready step. When the Job is executed it can be monitored in the current activity tab looking the same way as the installation of a dispatcher of Agent installation (see first image in this review). If the Job is completed or failed it will automatically be moved to Job Results. The Job Results tab enables you to view in detail why the Job completed or failed.
If a Job failed because you made some error in building the Module, you need to create a new Job within Go. The changes saved in the Modules are not effective for Jobs which have already run i.e. it uses the content of the Modules which were available when the Job was first run. Only when creating a new Job are the Modules checked again for their (new) content.
Managing Wisdom
As described in the steps Get Ready and Go, the monitoring functions of the installations and/or Job executions are orderly and detailed.
Also when a Job fails the error codes are accurate enough to identify the source of the problem quickly. WISDOM's ability to directly log the installation of the MSI files themselves is a wonderful feature.
For every Object within WISDOM, an audit trail is maintained where all changes to one of these Objects are detailed. If you have seen PowerFuse, this concept will be very familiar. In PowerFuse, the login name of the user which last changed the Object is displayed. Within WISDOM all events concerning the Object are documented in the audit trail log.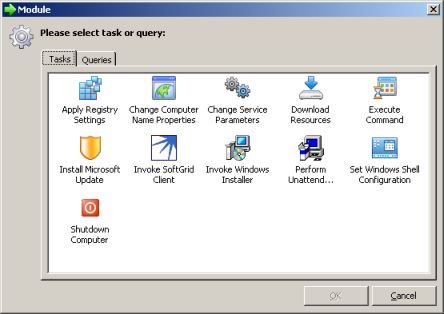 Conclusion
With WISDOM, application deployment becomes almost a blind man's buff. Also, centrally setting-up the installation and configuration of an application becomes a lot easier.
Logically you should know the parameters for installation, but that is true for every deployment system. Using enumeration of the Object to create one Project for execution is a nice and wonderful method. It's unfortunate that adding files to the resource can be time-intensive process and failed Jobs need to completely scheduled again if there is a configuration error in one of the Modules.
The Queries are most useable for workstation inventories. It would be nice if RES extends these Queries to a kind of monitoring system, which can be used for Citrix Servers and Terminal Servers. My last wish would be if RES to add a Windows installation (with PXE boot) to WISDOM. If they make this available the complete deployment can be done using one console. Till now you need another tool to install the operating system on the server or workstation.
In spite of these wishes WISDOM is already a wonderful, solid product for application deployment and configuration (system settings) and enrollment of Microsoft updates and patches. Also, the installation model is very competitive when compared with similar products.
Advantages
Easy and simple but solid and robust application deployment and configuration
Wonderful options available in the product like the Softricity integration, Event Log filtering and audit trails
WISDOM can be used for workstations, Citrix Servers, and Terminal Servers
Provides a good concise overview of Job(s) status with useful logging
Disadvantages
Adding files to resource Object(s) is time-consuming
Queries at this time are mostly aimed at workstation management
Service Query can not be directly used to monitor the status of Services