60 Second Review: visionapp Platform Management Suite
visionapp is a German server-based computing company.
visionapp is a German server-based computing company. (It's home to Dr. Bernhard Tritsch—Terminal Server book author, Microsoft MVP, BriForum speaker, PubForum speaker, and generally well-known guy.) Bernhard and the other visionapp consultants have developed a product called the visionapp Platform Management Suite (vPMS). The vPMS software is used deploy server images and software in large server-based computing environments. It can begin with "bare metal" by installing and configuring the base Windows operating system and all the applications (including Citrix Presentation Server). vPMS achieves this by leveraging several third-party products and its own extensive selection of software packages. By combining templates, variables, preconfigured settings, and prepackaged applications, vPMS will help you ensure that all your production servers in a silo really are identical and allow you to quickly add servers to existing silos.
Installing visionapp Platform Management Suite 2005
vPMS 2005 relies on several third-party software components to make everything work. This means that the installation process includes the installation of each of these individual components.
The first such component is Microsoft's Automated Deployment Services (known simply as "Microsoft ADS"). You'll need to download ADS yourself. For vPMS you can either install ADS on your own ahead of time or allow the vPMS setup routine to install it for you. (Just point the installer at the source files you downloaded and you're all set.)
The Microsoft ADS software is basically a server imaging product that uses a database (MSDE or SQL) to keep track of which images are deployed to which groups of servers.
To use ADS, you build one server that's used as a base template for others. ADS then images the server. At this point you bring the image into the vPMS environment by adding it into the visionapp Control Center (VCC). The VCC is a SQL database-driven management utility that's used to manage vPMS.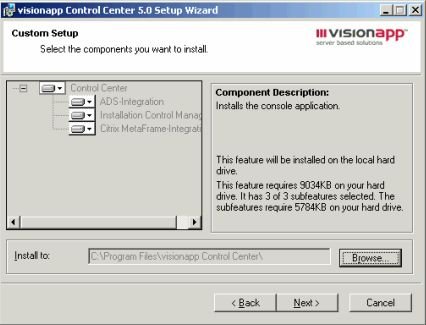 Although the installations seems quite simple, there are some things that could trip you up if you don't read the manual. Since vPMS consists of several components and depends on third party products like ADS, MSDE and/or SQL, you need to have a fair amount of hardware to get things up and running.
Getting the environment ready for deployment
The real work begins once the installation is complete. You'll first need to define your environment in the vCC and configure your settings for deployment. When you first fire up the vCC there are two tabs: Resource Store and Infrastructure Management.
The Resource Store page is further broken out into an Automated Deployment Services section and an Installation Control Manager section.
There's not too much to configure in the ADS section. You just need to specify your ADS server and the account information used to connect to it. This will allow vPMS to use those images for its deployment.
The Installation Control Manager needs some more attention. First you'll need to specify a Distribution Point Set (DPS). This is a location where you'll store your application packages. You can add as many DPS's as you want, although you'll have to ensure that the content is the same on each one—vPMS doesn't do this for you.
Next you setup installation scripts. visionapp delivers a set of preconfigured installation scripts for many common applications in a Wise format. (Not to be confused with thin client device maker Wyse, Wise is a software company that makes applications packaging tools.) For obvious legal reasons, visionapp cannot distribute the applications' source files. So instead they give you the Wise installation scripts for a bunch of different applications, and you just have to point those scripts towards each application's source files and reconstruct the "full" packages. visionapp has even developed a special tool just for this purpose, although using it means that you also need a license for Wise Installation System 9.
For the sake of simplicity, visionapp has built Wise packages for all the included applications—even the ones that have their own installation routines. They've has also created something called an "Installation Script Set" which is basically a grouping of multiple installation scripts. In this way you can, for example, create a set called "base applications" that includes Acrobat Reader, WinZip, and Office.
After adding all your installation scripts and combining them into Installation Script sets, the resources your environment needs are all set. The only other thing you need to do is to add your servers into the Infrastructure Management section of the vCC.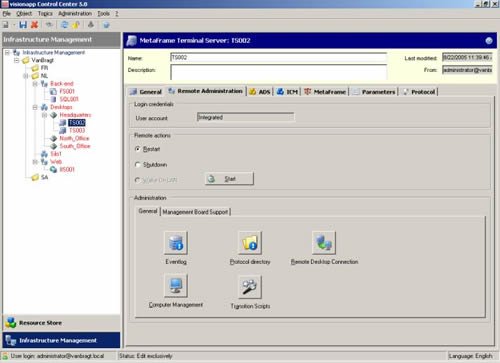 You use Infrastructure Management to organize your servers into logical groups and "farms." (A "farm," in this case, is a collection of servers with the same role.) visionapp has defined the following Farm types: MetaFrame Server, Standard Server, Terminal Server, and Web Server. Each farm has its own properties to configure. The "type" of farm that you select for a group of servers defines which options are available in the vCC configuration.
For example, if you specify that a particular group of servers is a MetaFrame farm then you can configure all of the MetaFrame installation parameters via vPMS. (A little exclamation mark even shows which configuration settings are mandatory.)
You can add as many farms in vPMS as you like, a feature which makes it very easy to configure multiple application silos in Citrix farms.
The final configuration step is to add your physical servers to each farm that you've configured within vPMS. You do this by associating the MAC address of the physical hardware to the server name. In doing so vPMS knows which hardware device is should send the various jobs to.
You then use the ADS tab to specify which ADS image needs to be deployed to the server. (You can also assign partition information at this point.)
Finally, you use the Installation Control Manager to specify which Installation Script Sets should be installed to which servers or server groups (farms).
Managing vPMS and your server infrastructure
The visionapp Control Center (vCC) can be used as a single point of administration for day-to-day tasks including EventLog viewing, accessing the Computer Management MMC, and starting remote desktop connections. You can also use it for remotely restart or shutdown servers. It will even integrate with the hardware's remote management cards.
Ever action vPMS performs is logged, including the deployment of the operating system and applications. With just a few simple clicks, you can see the deployment error logs and change logs.
From an administrative standpoint, you can customize the permissions of the vCC and give different people access to different components.
Conclusion
visionapp Platform Management Suite is robust product with a good vision. It's very obvious while using this product that it was created by server-based computing specialists. It's scalable, extendible, and easy to use (once completely configured). Like other deployment tools, the initial installation and configuration is the most difficult part. visionapp helps you with this process by supplying predefined templates, prepared Citrix installations, and prepackaged common applications.
In my opinion it's a pity that visionapp used Wise for the prepackaging process because you need to have Wise Installation Management to use these packages. Because vPMS is uses several third-party products, it's important that the IT department has thorough knowledge of these products in addition to vPMS itself.
If you have a huge server environment, then a tool like vPMS is absolutely critical for the management of the software and patches on your servers.
Advantages of visionapp Platform Management Suite
Flexible configuration via templates and variables
vPMS is Citrix "ready"
Predefined installation scripts and application packages
Single point of administration for deployment and day-to-day management
Support of various deployment tools (executable, MSI and CMD scripting)
Scalable and extendible
Disadvantages of visionapp Platform Management Suite
Dependency of several third party products
Big amount of hardware needed
Installation of the product is tough
Documentation is not 100% conclusive