60-Second Review: WTSProfiles
Claudio Rodrigues has just released two new products. One of them is a product called "WTSProfiles."
Claudio Rodrigues (www.Terminal-Services.Net) has just released two new products. One of them is a product called "WTSProfiles." This is a Terminal Server profile management product that enters a crowded market and competes with the Flex Profile Kit, triCerat's Simplify Profiles, and AppSense's Environment Manager.
Installation
Terminal-Services.NET's products are normally very easy to install, and WTSProfiles is no exception. The installation consists of a single executable which needs to be installed on each of your Terminal Servers. The only thing you need to specify during the installation is the destination location for the installation files. After restarting the system WTSProfiles is ready for configuration. Unfortunately the product comes with no manual, so I don't know whether it's possible to install the software in an unattended way.
Configuration
As soon as you start WTSProfiles, a screen appears that asks you to specify which kind of database you want to use for your configuration settings. You can choose Access or any other ODBC connection that you've previously configured on the server.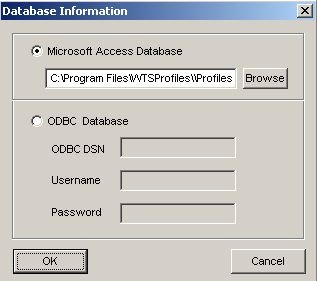 After choosing the database connection, the WTSProfiles configuration screen appears. You can make settings that area applied in for different ways: by user, group, client IP address, or client machine name. (Unfortunately it's not possible to use wildcards in the IP addresses or client machine names. This would be very helpful when, for example, assigning printers to IP ranges.)
I did not find any options to determine the order the filters are used to place the settings when a user logs in. You can only use default filters where user filtering is primary, followed by group, IP, and machine. If I am correct in my understanding then it seems only one configuration can be used, so if a group filter is found, no other IP settings will be used (even if IP corresponds with the IP of the client machine).
All four filtering options allow you to set exactly the same settings. There is a registry tab that lets you can set and delete or save and store registry keys. This is the main purpose of the other profile tools like Flex Profile Kit and Tricerat Simplify. Terminal-Services.NET added a couple of templates (Office, Internet Explorer, etc.) but of course you can also add your own registry keys. Unfortunately you cannot specify an entire key—you need to specify every value name separately. That is a disadvantage because this can cause a lot of work, and the other competing products can store these settings on a key level.
The desktop tab lets you specify how the desktop and Start Menu will be displayed to your users. You can disable icons (like My Computer, Network Places) hide Start Menu items (like Find, Help, Control Panel) and/or disable the right mouse button.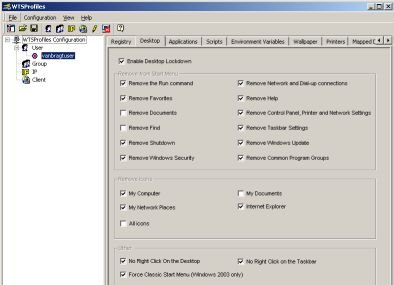 You can also use WTSProfiles to publish applications to the user via the desktop and Start Menu, and you can prevent access to other applications which are not defined. We found it annoying that icons always automatically are published on the desktop and the Start Menu, with no option to define another setting for this.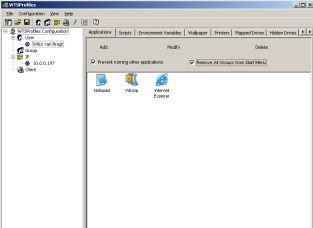 Other tabs accommodate settings which also could be set with GPOs. For example, the scripts tab lets you enable a logon script and remote access to several files (like IE Temporary File, IE Favorites, My Music files, and more). The Printers tab lets you add printers to the filtering group which are automatically connected in the user session at logon. The mapped drives tab lets you define mapping (just like in a normal login script) for the filtering group. Finally, the Hide Drives tab sets the well known registry setting to hide drives and restrict access to them. (It is a pity that this is an all-or-nothing option in WTSProfiles.)
Management
WTSProfiles offers no management tools for reporting or troubleshooting. If something goes wrong it's very difficult to troubleshoot the problem. Because all settings for the user are saved in the database, you can see if settings are created (for example the save and store registry keys settings) by looking at the database. WTSProfiles does not offer any log file and errors are not written to the Event Log.
User experience
Users will be pretty happy with the use of WTSProfiles. Their desktop is uniform on all Terminal Servers for them, they get their applications in their Start Menu, and printers can be automatically connected (if they are not traveling between floors and/or building continuously). Their settings will be saved and no profile problems will occur, so they will like this product (just like any profile product).
The only negative user experience will come from environments with lots of applications, because the users' desktops will be filled with icons.
Conclusion
WTSProfiles is another competitor on the profile product market. Just like the other products, it's basically a fancy GUI front-end to save and store user registry settings. Unfortunately this takes a lot more time to configure all these settings in comparison with Flex Profiles or Managed Profiles.
Like most commercial products, WTSProfiles requires a database to store the settings, but luckily you can choose any ODBC database connection and you do not have to buy Microsoft SQL server just for these settings.
It is regrettable (almost not acceptable) that the product is delivered without any manual. I also hope that the filtering options are extended since now it's only possible to use one filter technique (which means that all settings must be setup in the same filter so you need to assign all settings to that specific global group or IP address). It would be more usable if those filters were combined together. Also wildcards on IP and client machine filtering are needed to make the filter options a real value-add.
WTSProfiles costs USD $299 per server and can be purchased and downloaded from Terminal-Services.NET.