5 reasons it will be hard for Microsoft "win" the future desktop/tablet/Win8 race
We had three great articles this week on BrianMadden.com and ConsumerizeIT.
We had three great articles this week on BrianMadden.com and ConsumerizeIT.com talking about Microsoft, tablets, and applications:
All three of these articles danced around a central theme which is (1) today's Windows apps are desktop apps that are meant to be used be computers with keyboards and mice, and (2) apps and OSes that run on tablets are not desktop apps or OSes.
A lot of the uncertainty around the future of this whole space is based on what Microsoft plans to do with applications in Windows 8, and how/if those applications will work across form factors. As luck would have it, CES 2012 is in Las Vegas next week, and Microsoft is expected to announce more details of their plans for Windows 8, tablets, and ARM-based processors. (Remember that it was at CES a year ago where we first learned that Microsoft would build a version of Windows 8 to run on ARM.)
We'll have full coverage from CES. Jack Madden will be there along with our video producer Justin Meisinger. They'll also be joined by Colin Steele (the guy who runs SearchConsumerization.com and new blogger on ConsumerizeIT.com). Jack will attend Microsoft's keynote Monday night and share his thoughts with us on Tuesday. In the meantime, here's what Microsoft is facing and what we're hoping to hear.
But before we get to CES, let's back up for a second. I know a lot of people have been talking about Microsoft, Windows 8, tablets, ARM processors, the end of packaged software, the future of the desktop, etc., but let's make one single consolidated list right now. Think of this as "All the shit that Microsoft is dealing with in our space right now."
Everything that Microsoft is dealing with in our space right now
If we look at all of Microsoft's challenges, we can boil them down to five core areas:
1. Microsoft's platform dominance is based on apps and OSes installed onto desktop computers
Everyone talks about how most of the money Microsoft makes is from Windows and Office. The problem with both of those is that (1) they're both sold, licensed, and installed locally into a traditional computer. We all know about the whole "SaaS versus packaged product" battle. (But while it's nothing new, we still have to list it here as something that Microsoft is dealing with.)
You see Microsoft trying to combat that a bit by moving to subscription-based offerings, but those offerings today are just different ways to buy their old locally-installed software. (Like did you know that Office 365 is meant to be used with a copy of Office running locally on your computer too? It's really not at all like Google Apps which are 100% web-based.)
2. Microsoft's core money making products are for devices with large screens, real keyboards, and precision pointing devices
Jack wrote a whole article for ConsumerizeIT talking about how just delivering an application (or OS desktop) to a tablet isn't an ideal solution. (Even with virtual or Bluetooth keyboards, it's just a bad user experience.)
The problem is that Windows & Office are big money makers because Microsoft is a monopoly and people are locked in. So people endure these because they have to, not because they want to. But when it comes to devices that don't have keyboards & mice, Microsoft is in third or fourth place.
So if Microsoft creates a new Windows environment for touch devices with no keyboards and mice, that means developers are going to have to rewrite their apps for the new UI. And even if you have an existing traditional Windows app, if you have to rewrite it, are you really going to choose the Windows platform? Probably not. You'd just go with Apple or Android.
And frankly even if you had an app that did require a real keyboard and mouse, you probably wouldn't rewrite from scratch. So you can keep it running with minimal effort. So that's a "win" for Microsoft in that when people do use devices with keyboards and mice, people can get their existing apps. But that doesn't really forward Microsoft's position at all. (See #1 above.)
By the way, remember that if Microsoft does announce some amazing super-fast low-power statistics that mean Windows 8 tablets could perform as well as an iPad for the same price, keep in mind that ARM apps will be written separately. So even though Microsoft is calling it Windows 8, it's not the same Windows ecosystem.
As a fun aside, watch Intel make all sorts of announcements about how their new Atom stuff is better than ARM because you get existing app compatibility combined with a low power system-on-a-chip. If they do this, remember that all your old existing apps don't magically have a new Metro UI, and if all you want to do is run existing apps on a tablet then that's something you could have done ten years ago. The real problem is that "real Windows" is just too bloated. Any tablet which can run existing apps with any decent performance will have to cost $1500 and have 90min of battery life. You want cheap and long-life? Yeah, think about how well that worked out for netbooks. (But hey! You can run all your existing apps!)
3. Microsoft has to make money selling the OS and apps, and their device makers have to make money selling devices
If we think about how Microsoft could evolve their play beyond the traditional PC or laptop, we quickly run into a world where they'd have to compete with the Kindle Fire, iPad, potential Google tablet, Chromebook, etc. And as commenter Gary Schare pointed out on BrianMadden.com yesterday, most of these competitors can sell their devices at a loss because they can make up the money in content sales. (Ok, so maybe the iPad isn't sold at a loss, but that's easier to do when you sell 30 million units. And even so, Apple is still making a ton of cash from the content sales.)
This is something Microsoft has done with Xbox, which they can do, because "Hey! They make the Xbox hardware!" But if they just release Windows 8 as an OS that will go on other peoples' tablets, I mean what's the real opportunity here? Five bucks a unit? We're talking less than $1bn / year business. Tiny.
Or Microsoft could buy Nokia and build their own iPad-like tablet, but then they screw their OEM partners.
Or they could build out their own content licensing and compete head-to-head with Amazon, Google, and Apple. (Yeah, good luck with that!)
4. Microsoft is not a "tech titan" anymore
Ashlee Vance had a great story in BusinessWeek a few weeks ago where he talked about how the four leading tech companies were all encroaching into each others' areas and how they're going full-out against each other. The four big tech giants mentioned were Amazon, Google, Apple, and Facebook. (i.e. no Microsoft).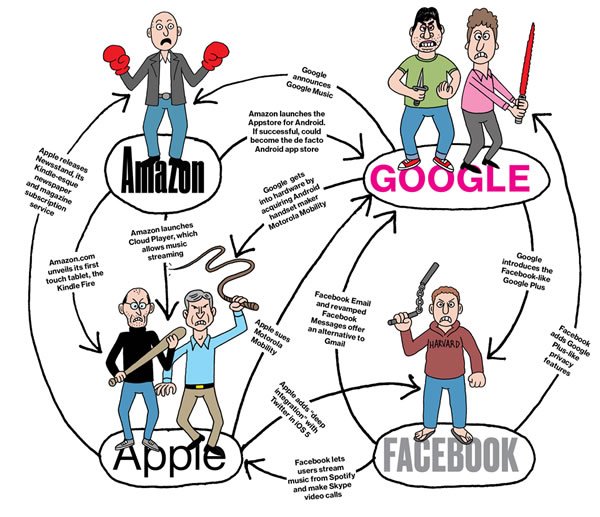 (click to enlarge)
Yikes! But it's true. Is there any room in this drawing for Microsoft?
5. Microsoft is way behind
Let's imagine that Microsoft blows us away with an amazing strategy and that people are actually excited about it. By the time they actually roll it out, another 10 million iPads will have sold. We already have huge leaders in the tablet space. People writing new desktop apps are going to make them platform-neutral, web-based, or just keep patching their old stuff.
Where will this all end up? Will Microsoft get it together? Who knows? I'm really curious as to your thoughts. They have a lot stacked against them right now. I'll definitely be watching Jack, Colin, & Justin for the news from CES next week.