2012 was a huge year for mobile...for everyone except VMware
2012 has been a great year for the advancement of mobile application management for many of the vendors in our space. All of them, that is, except for VMware.
2012 has been a great year for the advancement of mobile application management for many of the vendors in our space. All of them, that is, except for VMware. While other companies have developed, announced, and shipped tons of mobile products, VMware hasn't really done anything. What's going on with them?
What the industry has done in 2012
2012 opened with a decent number of mobile application management (MAM) and mobile device management (MDM) vendors. Most of the desktop-related vendors, however, weren't doing much with mobile.
But what a year it's been for enterprise mobility management since then! Now we think of MDM as a feature, not a product. More importantly, a clear picture of dual persona mobile app management has emerged.
Most of the classic MDM vendors have introduced MAM products or partnered with other vendors. Good Technology made acquisitions to beef up their file syncing and add app wrapping, and they partnered with BoxTone for device and systems management. MobileIron introduced a ton of app management features. Zenprise had just announced a new MAM suite before it was acquired by Citrix.
And then we've also seen players from the desktop and virtualization areas come into mobile, with Citrix as the prime example. Their first foray into native data on mobile devices came with the acquisition of Sharefile in 2011, and at their Synergy San Francisco conference in May 2012 they announced that CloudGateway would manage native iOS and Android applications. At Synergy Europe in October they unveiled native mobile secure email and web browser apps, showing they really understand the space. Most recently they delved into MDM by acquiring Zenprise.
Other desktop-related companies have been hard at work as well. AppSense introduced DataNow and acquired RAPsphere for app management. Dell/Wyse/Quest has put together an enterprise mobility management story. Symantec made some acquisitions and is rapidly building up their mobile offerings. MokaFive released an innovative file syncing product for iOS.
The list goes on: there's Enterproid, Bitzer, Openpeak, Apperian, and dozens of other vendors creating dual-persona MAM products, or components that are ripe for being combined into a solution.
And then there's VMware.
What VMware has done around mobile in 2012
A year ago, we thought VMware would be a leader in this space, too. They had been talking about virtualized Android for years, but by spring of 2012, all signs were pointing to native mobile application management from VMware.
Project Octopus was announced, the first version of Horizon App Manager had already shipped, and they were strongly hinting that native mobile app management was to come. In July when Zimbra 8.0 was released, VMware said that 9.0 would be coming soon and feature new clients, possibly including native mobile apps. We loved that since mobile email apps are a big part of many MAM ecosystems.
In August, shortly before VMworld US, I looked at Horizon Mobile for Android, VMware's mobile virtualization product. It was looking good and ready to go, and I was impressed, but two weeks later at VMworld there weren't any announcements. VMware announced a limited release in November for Japan, but nothing for the US. (Though to be fair mobile virtualization is tough because the software vendor has to get buy-in from the handset makers and the carriers.)
Of course the mobile virtualization conversation is never likely to include Apple, and VMware did announce mobile app management for iOS at VMworld, and that was great. It was later than other vendors, but I figured maybe they wanted to save it for the show and make a big splash, perhaps combined with other new mobile products.
Unfortunately there was no release date in sight—even after VMworld Europe came and went (and now, too)—and overall the mobile stuff was only given about 10 minutes near the end of the EUC keynote. There was also no mention of native mobile clients for Zimbra, which could have been a big part of a dual-persona MAM offering.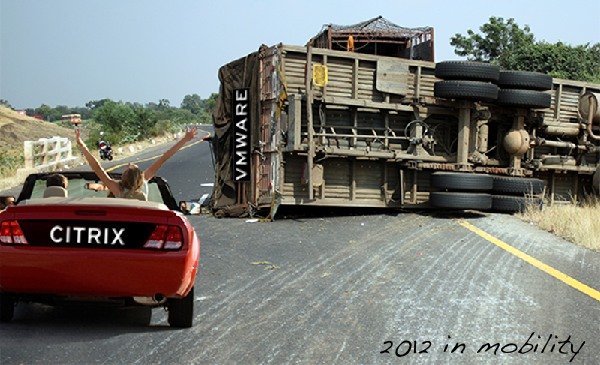 More bad news for VMware
In the meantime, Vittorio Viarengo, VMware's former VP of marketing for the end-user computing group, departed to MobileIron to be their VP of marketing in October. In doing that, he joined Noah Wasmer, the person at VMware behind Horizon App Manager, who went over to be MobileIron's VP of product management in February of this year.
So what gives?
At the beginning of the year everything was different. MAM was was already emerging, but it looked like VMware was about to jump in and become a dominant mobility vendor. But that hasn't happened yet. So what's the deal with VMware?