Wow! TS session-to-VM portability from Aussie startup Luflogix
Terminal Server session portability has been a fantasy of many Terminal Server and Citrix folks for years
This Article Covers
RELATED TOPICS
[NOTE: In case it's not apparent from the comments, this was an April Fool's Joke. The back story is here.]
Imagine the scenario where a user could start a virtual desktop session on a shared Terminal Server. Then after awhile, the user could "port" that session from the Terminal Server to their laptop, and take that live session with them offline running in a local Vista VM. This is what Brisbane-based Luflogix promises to deliver in the second quarter this year. (Which, by the way, starts today. So hopefully we won't have to wait long. :)

Download this free guide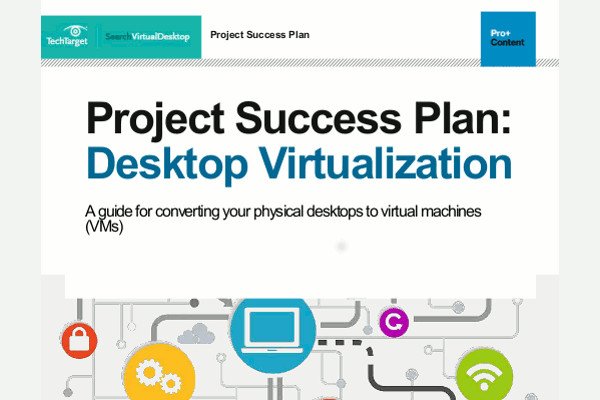 Instant Download: All-Inclusive 51-Page VDI Project Success Plan
When planning for VDI success, where do you begin? What options are available? What challenges might you run into? This expert all-inclusive VDI guide features 12 chapters to provide details on how to plan for a successful deployment, compare vendors and products, determine your ROI and much more.
By submitting your personal information, you agree that TechTarget and its partners may contact you regarding relevant content, products and special offers.
You also agree that your personal information may be transferred and processed in the United States, and that you have read and agree to the Terms of Use and the Privacy Policy.
Terminal Server session portability has been a fantasy of many Terminal Server and Citrix folks for years, and the ability to use a single VM image for online and offline use has so far eluded the big vendors. (Again, Pete, when can we take Ardence offline??)
There are a few key bits of technology that make the Luflogix thing happen. The first is somewhat similar to the way that VMotion can move a running VM from one host to another. When a user wants to take their remote VDI session offline, they click a button and the memory and disk delta file is copied from the server to the laptop. The idea is that an adminstrator creates the "master" Windows XP or Vista disk image which is made available to the VM host in the datacenter. Similar to Ardence, many VMs can share the same image at the same time. The master image is read-only, and the per-session writes are cached to a delta file.
The user can access their remote desktop via RDP or (soon) Net2Display. While they're using their session, the master disk image from the datacenter is copied down to their client in the background either via the remote computing protocol or via FTP or HTTP. (Or the disk image file can be pre-deployed via DVD, USB stick, etc.)
Then when it comes time for the user to take their session offline, the memory suspend file and the disk write cache file are copied to the client and off they go! (While these files could be up to 1GB in size, they can also be continuously copied down in the background, so only a small amount of data needs to go across the wire when the actual "take offline" button is clicked.) Also, an intial memory suspend file can be pre-deployed along with the master disk image.
So now the user can use their session 100% offline in a local VM, similar to something like Kidaro or VMware ACE.
Here's the crazy-cool part: When user reconnects to the network, they can take their VM back online and put it back into the datacenter-based VDI server. There are a couple of ways this can work. If the user "powers off" the local VM, then only the delta disk file needs to be copied back up (in which case the server will automatically power on a server VM instance and perform a "proper" log-off for the user, thereby maintaining the user profile, data, etc. sync changes before it destroys the delta file.) Futhre versions will actually allow the client to locally create a "sync file" which can simply be used to pump the user state back into the server.
Adding Terminal Server into the Mix
What's most amazing about the Luflogix stuff is that they can also do this whole user portability thing between Terminal Server sessions too! An "automatic" free use of their technology is to "suspend" TS sessions and resume them later, potentially even on another physical Terminal Server.
The real reason, though, that they did this, is because a Terminal Server is still the most efficient way to serve SBC applications (in terms of number of users on a certain amount of hardware). And Luflogix's technology allows a user to take a Terminal Server session offline, and to sync it with a VM running locally on a laptop. (This only works between Windows 2008 Terminal Servers and Windows Vista clients.) How did Luflogix handle the differences between Windows 2008 and Vista? Because both OSes were designed from the ground up with Terminal Server in mind, Luflogix can essentially simulate a fast user switching session in the local offline VM, and as long as the same applications are deployed to both the TS and Vista workstation, all is good.
Luflogix has a management console that integrates with the "Big 4" application virtualization solutions: Microsoft SoftGrid, Citrix Streaming Server, Altiris SVS, and Thinstall. As long as you're using one of these virtualization solutions to deploy the apps to the TS and the Vista workstation, then you can port live sessions back-and-forth no problem.
It seems that Luflogix has created the "holy grail" solution that so far has failed to be built by Citrix, Microsoft, or VMware. I don't think we're too far off from where we can finally just create one single image: online, offline, local, remote, and where this image can follow the user wherever they go.