Why do people use VDI? One reason!
At today's VDI 2015 seminar in San Francisco, there's a sort of joke slide Gabe and I use to talk about all the various goals of desktop virtualization.
This Article Covers
RELATED TOPICS
At today's VDI 2015 seminar in San Francisco, there's a sort of joke slide Gabe and I use to talk about all the various goals of desktop virtualization:

Download this free guide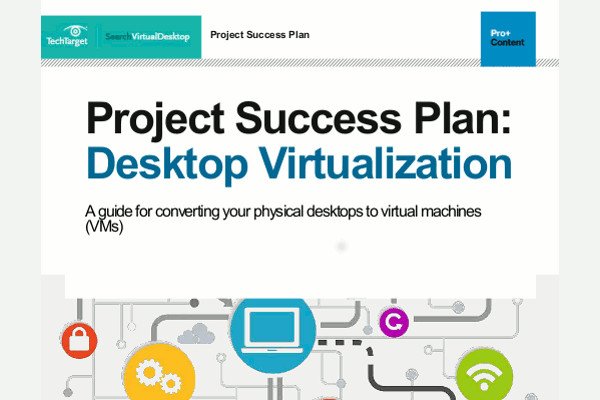 Instant Download: All-Inclusive 51-Page VDI Project Success Plan
When planning for VDI success, where do you begin? What options are available? What challenges might you run into? This expert all-inclusive VDI guide features 12 chapters to provide details on how to plan for a successful deployment, compare vendors and products, determine your ROI and much more.
By submitting your personal information, you agree that TechTarget and its partners may contact you regarding relevant content, products and special offers.
You also agree that your personal information may be transferred and processed in the United States, and that you have read and agree to the Terms of Use and the Privacy Policy.
All of the goals on this slide are "real" in the sense that they came from marketing material from people selling VDI as potential benefits of VDI. Whether these are actually real or not is not the point, a case made by the next slide where we say the "real" reason people use VDI is to solve "DWI":
"DWI" does not mean "driving while intoxicated," rather, it means "doctors with iPads":
The point is that you can make all the arguments about how VDI could improve your management or allow users to be more flexible or shorten down time, but when it comes down to it, a lot of people look to VDI for the simple fact that some doctor walks into the desktop admin's office, plops down an iPad, and says, "Make our apps work on here."
Of course not everyone has DWI as the exact reason they use VDI, but everyone has a "DWI-like" reason for VDI. We can discuss all the theoretical benefits about VDI till we're blue in the face, but at the end of the day, every company that uses VDI has some very specific reason for it. Your DWI reason might not be the same as my DWI reason, but we all have a DWI reason. (Otherwise we wouldn't be using VDI!)
This is nothing new. When I first started using Citrix in 1997, we had a help desks in Ohio and Texas, and a our help desk app was a typical client-server app that was horribly slow for the Texas help desk folks. So we used WinFrame to remotely deliver our app. We didn't argue about "the future of Windows" or a "desktop strategy" or anything like that. We had an app people needed to use in Texas. It was slow. We installed WinFrame. It was fast. The end.
I've often argued that if you really needed VDI, you'd be using it by now. It wouldn't be some future strategy. It would just be "the way." (This is based on one of my favorite movie quotes from Road Trip: "It's supposed to be a challenge, that's why they call it a shortcut. If it was easy it would just be 'the way'.")
At the end of the day, no ones boss storms into their office and says, "We need to manage our desktops better," or "We need to improve security by 20%." Rather, they storm in with their DWI reason, "We need to allow users to work from home," or "We need to allow Mac users to access this Windows app."
That's where VDI comes in. Not for some abstract huge list of nebulous benefits that may or may not be real, rather, for one specific DWI-like reason. Getting familiar with VDI means you can be ready for that moment when it comes. (And once you get there, of course, you'll be able to grow the use of your VDI environment to meet more and more needs.) But when it comes to getting VDI in the door, you'll have one reason. And whatever that reason is, it's ok.