Which new technologies will cause the next BYOD and COIT-sized headache for EUC?
Can we get ahead of the next disruption and avoid another battle with shadow IT? Here are some ways to think about these questions.
Yesterday Gabe wrote about Citrix and how they're thinking about virtual reality.
That article is a perfect introduction to a question that I've been contemplating a lot as we we head into 2017:
Of all the newer technologies out there, which ones are going to be a "big deal" for enterprise end user computing in the same why that bring your own device and the consumerization of IT were a big deal?

Download this free guide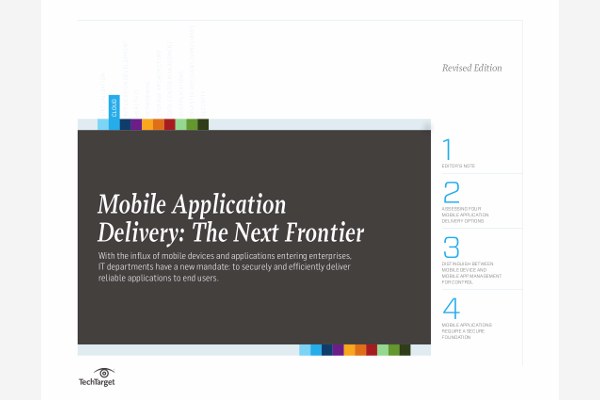 Download: Our 17-Page Mobile Application Management Report
Inside this exclusive report, industry experts reveal commonly overlooked best practices for mobile application delivery and management to help you tackle the influx of mobile devices, new applications and data security demands in your enterprise.
By submitting your personal information, you agree that TechTarget and its partners may contact you regarding relevant content, products and special offers.
You also agree that your personal information may be transferred and processed in the United States, and that you have read and agree to the Terms of Use and the Privacy Policy.

To illustrate what I mean by "big deal," let me talk about the effects of BYOD and COIT:
Five years ago, the EUC industry was abuzz with these trends, which were of course products of modern mobile devices and cloud apps. At the time, we didn't always know what to do about them or what the real effects would be, and there was a lot of hand wringing, panic, hype, and opportunity.
Today, we've come a long way with BYOD and COIT, in that we benefit from maturing tools and concepts for dealing with mobile devices and cloud apps. We have EMM and identity management. We're used to ceding more control to mobile OSes and having work and personal data on the same device. And we know that enterprise EUC is now much heterogeneous than the previous Windows-centric generation.
Most importantly, we know that mobile devices and cloud apps—among other possible trends, like VDI—proved to be a game-changing disruption for EUC.
As a result, I've always argued that mobile devices and cloud apps breaking us out of Windows-centric thinking was a one-time turning point. New types of devices and apps that follow should be (in theory) much easier to deal with. Of course these all have a huge impact on business; and for IT pros these are a lot of work and not trivial at all. But fundamentally we should be used to the new management concepts, or at the very least we shouldn't be taken by surprise when they come along.
Now back to today's question: Which new technologies will cause as much pain, change, and opportunity as mobile/BYOD and cloud/COIT, and disrupt our EUC IT world? Here are some of the technologies I'm thinking about, in no particular order:
Augmented reality
Virtual reality
Smart watches
Other wearables, like health sensors
Nature language user interfaces
Speech-based user interfaces
Digital assistants
Machine learning / artificial intelligence
IoT
Windows devices running on ARM chips
Windows Continuum, Nirvana phones, and 2-in-1 laptops
MDM for Windows
App stores for keyboard and mouse-based devices
When I look at the list, I try to evaluate each of these technologies in a few different ways:
Is the new technology something we can simply think of as another new type of device? (Then we have another set of management APIs to implement in our MDM or systems management platform.)
Is it another new type of app? (Another app to wire into our MAM, identity, and perhaps DLP platform.)
Is it another new type of business logic that apps can take advantage of? (So the apps, devices they run on, and data they produce can be managed just like before.)
If a new technology can fit into one of those above buckets, then great, we can figure out how to think about it and deal with it. It is not, by the above definition, a "big deal" like BYOD and COIT were. However, this model could be broken a number of ways:
The sheer scale of devices, particularly with IoT, could be like nothing before and force a new way to think about EUC.
A new technology affects the business so much that it affects IT management concepts, too.
A new growth of computing at the edge could change how we think about device and data management. (See the presentation "The End of Cloud Computing" by Peter Levine, currently of a16z and formerly of Citrix and Xensource.)
Likely, machine learning and artificial intelligence will have so much effect on all technology that we'll have to rethink EUC around them. (See the presentation "Mobile is Eating the World" by Benedict Evans, also of a16z.)
In a few years, perhaps, we'll be able to say for sure which newer technologies have had effects that compare to those of BYOD and COIT. For now, we'll continue to cover things on the ground in a practical way, but we can also use these questions to try to get ahead of the next EUC disruption.