VMware vSphere 4 versus vSphere 5 for VDI desktops licensing cost calculator
As you're well aware by now, VMware announced a new licensing model for vSphere 5.
This Article Covers
RELATED TOPICS
As you're well aware by now, VMware announced a new licensing model for vSphere 5. (Read our full analysis of all the gory details here.) I'm working on an article for tomorrow where I'm running a bunch of numbers to see just how VDI / datacenter-hosted desktop customers will be impacted by the pricing model change, and in doing so, I created a quick model in Excel, which you can download. (If you want to share this, please link to the page URL rather than the XLS file itself. The XLS file link will change as I update the spreadsheet.)

Download this free guide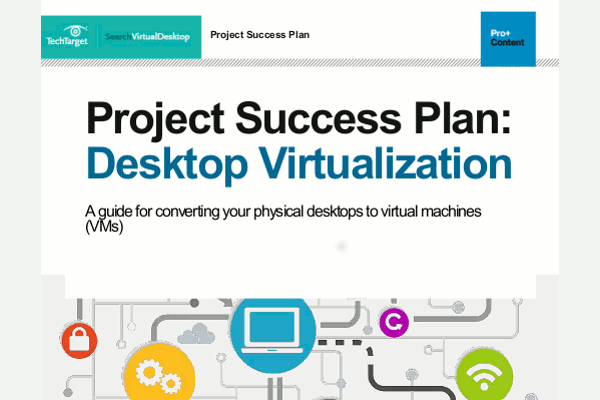 Instant Download: All-Inclusive 51-Page VDI Project Success Plan
When planning for VDI success, where do you begin? What options are available? What challenges might you run into? This expert all-inclusive VDI guide features 12 chapters to provide details on how to plan for a successful deployment, compare vendors and products, determine your ROI and much more.
By submitting your personal information, you agree that TechTarget and its partners may contact you regarding relevant content, products and special offers.
You also agree that your personal information may be transferred and processed in the United States, and that you have read and agree to the Terms of Use and the Privacy Policy.
The model is pretty simple. Just enter your number of users, how many users per processor you get (that's per processor, not core), and how much memory (in GB) you want to give each desktop. Also (new in V2), you can also enter the total processors you have in your farm. This is important because you probably have some excess capacity for HA and headroom, and that's something you pay for in vSphere 4 (since you pay per processor) but that you don't pay per se in vSphere 5.
Also, to be clear, this model is only relevant for desktops running on vSphere. It's not a general vSphere 4 versus vSphere 5 calculator.
Finally, for those who ask about my "How to lie with cost models" mentality, this doesn't count. :) Sure, it's easy to lie with cost models when looking at soft costs and other BS like that. But in this case, this is just a licensing calculator. Once you decide to use vSphere for your VDI environment, the licensing costs are objective, and this calculator shows what they will be.