VMware beats Amazon, launches Horizon DaaS for $35 per user, including persistent!
Today VMware announced the general availability of their Horizon DaaS offering based on the Desktone technology they acquired last year. While Horizon DaaS has been available from partners for some time now, today's release is where end customers buy the service directly from VMware via their vCloud Hybrid Service (vCHS).
This Article Covers
RELATED TOPICS
Today VMware announced the general availability of their Horizon DaaS offering based on the Desktone technology they acquired last year. While Horizon DaaS has been available from partners for some time now, today's release is where end customers buy the service directly from VMware via their vCloud Hybrid Service (vCHS). (VCHS is VMware's hosted VMs-in-the-cloud service which is kind of like AWS EC2 aimed for enterprises who are already running VMware-based datacenters.)

Download this free guide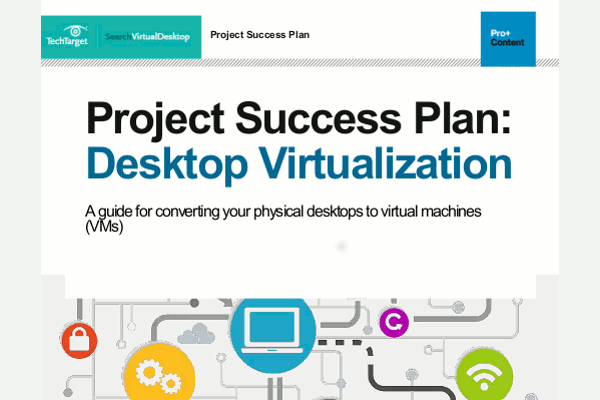 Instant Download: All-Inclusive 51-Page VDI Project Success Plan
When planning for VDI success, where do you begin? What options are available? What challenges might you run into? This expert all-inclusive VDI guide features 12 chapters to provide details on how to plan for a successful deployment, compare vendors and products, determine your ROI and much more.
By submitting your personal information, you agree that TechTarget and its partners may contact you regarding relevant content, products and special offers.
You also agree that your personal information may be transferred and processed in the United States, and that you have read and agree to the Terms of Use and the Privacy Policy.
Today's initial DaaS release offers desktops from VMware's three US datacenters (Santa Clara, Dallas, and Virginia), with Europe and Asia coming soon.
List pricing is $35 per user, per month for 1 vCPU with 2GB RAM, and $50 for 2 vCPUs with 4GB RAM. Both options come with 30GB storage available in either persistent or non-persistent disk types. The OS can be either Windows client or Windows Server.
Windows client OSes require that customers bring their own Windows client SA licenses. Horizon DaaS's Windows Server OS packages include the Windows licenses since VMware is able to provide RDS CALs via Microsoft SPLA. VMware stressed to me that these are list prices, and that standard enterprise discounts would apply which should see many enterprises getting them for $30 or less.
(As an important note, like Amazon Web Service's DaaS WorkSpaces, VMware's Windows Server-based option is not RDSH shared sessions, rather, it's a one-to-one user-to-VM model where the OS is Windows Server instead of Windows client. VMware plans to offer hosted packages for RDSH sessions later this year, most likely with pricing that's slightly cheaper.)
VMware Horizon DaaS is available on VMs running x64 Windows 7 or 8 today, with 8.1 coming soon. Server options are 2008 R2 or 2012 today with 2012 R2 coming soon. This entire offering is based on the Desktone platform, recently rev'ed and rebranded as VMware Horizon DaaS.
VMware's Horizon DaaS direct offering will have a minimum requirement of 50 desktops. Smaller customers can look to VMware partners who are offering similar services to smaller numbers of users.
I wrote last October that VMware's Horizon DaaS offering meant that they would be competing with their partners. While this is still true, VMware representatives mentioned that many VMware service providers were also planning to offer their own value-add services on top of VMware's hosted Horizon DaaS offering. In those cases VMware would run the infrastructure, but other partners could offer application management, support, file services, etc. on top of Horizon DaaS.
VMware Horizon DaaS options: direct versus partner-hosted
When VMware called me last week to brief me on the news that they were launching Horizon DaaS, my first question was, "Wait, I thought Horizon DaaS was out already?"
That's when I realized there's some confusion about the naming. "Horizon DaaS" is the name of the actual software platform (PDF data sheet) which was formerly known as the "Desktone platform." The Horizon DaaS platform supports VDI and RDSH desktops, published applications, multi-tenancy, interfaces with vCloud, and offers simple user provisioning. (On my call with them last week I asked if they could hook me up with a demo account on the new platform and they literally did that while we were on the phone. It's that easy.)
Anyway there are three ways end customers can get access to the VMware Horizon DaaS platform:
VMware-hosted, where desktops are sold directly to end customers and run on VMware's vCHS platform. (This is today's announcement)
Partner-hosted, where third party DaaS providers buy the software from VMware and use it to build their own DaaS clouds which they then resell to end customers.
On premises installed into customers' own datacenters. This is where customers can buy the VMware Horizon DaaS platform software in the traditional way (a one time fee to buy the licensed seats plus yearly maintenance).
That last on premises option is kind of confusing, because it sounds like their regular Horizon View product. It's different though. If you're an end customer who wants to build your own VDI, you have the option of buying either Horizon View or Horizon DaaS, either of which can be run on-premises. (Perhaps a future article should be, "So you want to build your own on-premises VDI. Do you choose Horizon DaaS or Horizon View?) I wrote in the past that I believe VMware Horizon DaaS will ultimately replace Horizon View. Since then I've had several conversations with VMware employees who basically said, "Well, it's not that Horizon DaaS will replace Horizon View, but we definitely don't want to have two products that essentially do the same thing. Moving forward we'll certainly look to pull the best of both products into a single platform and product." VMware employees have also said they're exploring a "harmonization" of licensing models, where you could pay per-user per-month even for your own on-premises Horizon DaaS environments instead of buying the licensed seats outright up front.
One of the cool things about Horizon DaaS is that a single front-end and connection broker can span multiple physical Horizon DaaS locations. So if you run Horizon DaaS on premises you could do the "cloud bursting" thing and have a single front-end and broker that combines your on-premises environment with a cloud-hosted environment.
VMware Horizon DaaS versus Amazon Web Services WorkSpaces
The timing of VMware's Horizon DaaS direct hosted release is interesting since it means that VMware has beat Amazon as the first big company to release their DaaS offering. Yeah, I know there are hundreds of other DaaS providers out there, but it's the dual juggernauts of VMware and Amazon that really lit the spark on the DaaS industry last year, and we've all been waiting for the release of both of these. So even though whomever's "first" won't matter in the long run, this is definitely a win for VMware.
Assuming Amazon launches their WorkSpaces DaaS product with the same specs that are currently listed on their website, the two offerings are similar, both with $35 entry points. The biggest difference is that VMware offers a Windows client OS option whereas Amazon is Windows Server only, so that's a win for VMware. On the other hand Amazon offers twice as much memory per VM at the each price points. (For $35 and $50, VMware is 2GB and 4GB, while Amazon is 4GB and 8GB for $35 and $60.) Amazon also offers more storage, at 50GB and 100GB for each level, while VMware is 30GB for both. (I'll do a full head-to-head comparison once Amazon releases WorkSpaces, because all this could change between now and the time they actually launch their product.)
All this activity is good news for customers and represents the first steps towards 2014 being the "Year of DaaS." If you're considering either of these solutions, be sure to read the book that Gabe and I wrote about DaaS. Only ten bucks on Kindle! :)