Head-to-head of Citrix XenDesktop, Microsoft RemoteFX, Quest vWorkspace, VMware View, and Wanova
Are you looking for an independent overview of the Server Hosted Desktop Virtualization (VDI) solutions and curious about the different features- and functions each Desktop Virtualization vendor is offering!?
This Article Covers
RELATED TOPICS
Are you looking for an independent overview of the Server Hosted Desktop Virtualization (VDI) solutions and curious about the different features- and functions each Desktop Virtualization vendor is offering!? Then this is the whitepaper you must definitely read. In the current market there is an increasing demand for unbiased information about Desktop Virtualization solutions.

Download this free guide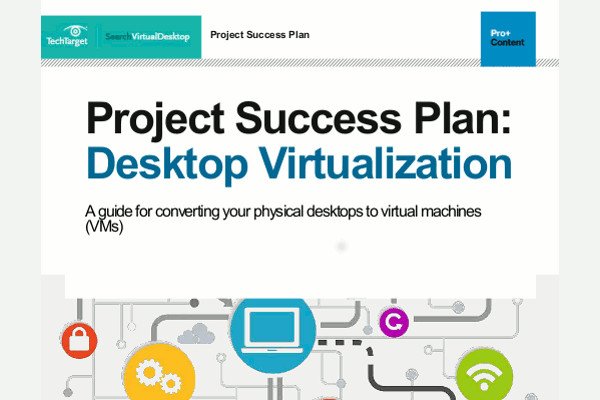 Instant Download: All-Inclusive 51-Page VDI Project Success Plan
When planning for VDI success, where do you begin? What options are available? What challenges might you run into? This expert all-inclusive VDI guide features 12 chapters to provide details on how to plan for a successful deployment, compare vendors and products, determine your ROI and much more.
By submitting your personal information, you agree that TechTarget and its partners may contact you regarding relevant content, products and special offers.
You also agree that your personal information may be transferred and processed in the United States, and that you have read and agree to the Terms of Use and the Privacy Policy.
This white paper is focused on solutions that are anticipated to have an important role in Application and Desktop Virtualization. An overview of available features of each solution has been created to better understand each solutions capability. The solutions included in the feature matrix are: Citrix XenDesktop 5.6FP1, Citrix VDI in a Box 5.0 (Kaviza), Microsoft VDI with RemoteFX, Quest vWorkspace 7.6 and VMware View 5.1; The whitepaper can be downloaded here. A Japanese version of the VDI Smackdown is also available.
The overall goal of the white paper is share information about:
Application and Desktop Delivery Solutions
Explain the different Desktop Virtualization concepts
Explain the pros and cons of Virtual Desktop Infrastructure
Describe the different Virtual Desktop Infrastructure (VDI) vendors and solutions
Compare the features of the various VDI solutions
Making applications available to the end-user, regardless of the technology being used, is the ultimate strategic objective of an Advanced IT infrastructure. The Virtual Desktop (vDesktop) is an essential component in the range of application and desktop delivery solutions and in essence, provides the following functions:
Flexibility: Detach the vDesktop from the endpoint; Several vDesktops next to one another
Access: vDesktop works independently of location, endpoint and network; Uniform workstation
Security: Server Hosted – VDI; data in the computing center
Freedom: Every user has their own desktop with administrator access when needed;
Management: Hardware-independent 'image'
Legacy: It is simple to offer legacy applications on a state-of-the-art platform
Sustainability: Power Management, handling the necessary resources in an efficient manner
The growing reality of the transition to a dynamic datacenter is causing many IT organizations to re-evaluate traditional IT operations, support, and management methods. Virtualizing the Desktop is a reasonable piece to support growing numbers of unmanaged desktops, external users, and other use-case scenarios. Managing the (virtualized) Desktop is an essential component in the complete stack. It's important to have a Vision and Strategy around Application and Desktop Delivery. Designing, building, managing and maintaining the vDesktop infrastructure using the right Technologies, corresponding vendors and products is an important last step. We see many organizations primarily focusing on features, products and vendors and lacking a clear and profound overall vision and strategy.
This approach isn't good or bad, it just depends on what the goal of the organization is. When the organization needs a point solution, the various vendors and corresponding products can help to solve this issue and fillin the demands. When the organization is investigating possibilities, advantages, use cases and functionality of the vNext "Optimized desktop", a profound vision and strategy should be in place. The following discussions and corresponding topics should be part of the vDesktop strategy.
The following themes should be part of the vDesktop strategy:
What are the use-cases? And does the usecase require Desktop Virtualization?
VD-why, what do I want to achieve?, lowering TCO?, business enabler, overall cost of ownership and cost reducer?
What is the Business-case? What do you expect as a ROI?
Are you investigating a tactical (point)-or strategic solution? What do you want to solve?
Is work shifting a key driver for the Optimized Desktop? How are the roaming/flexible and mobile users within the organization facilitated? How do you take care of Application and Desktop Delivery when the user has different Access scenarios?
How do you deliver applications to users in a Bring Your Own (BYO) or Choose Your Own (CYO) scenario?
What's your desktop delivery and migration strategy for Windows 7 and later Windows8?
What's the user experience using Multimedia, NextGen, Video/Voice, 2D/3D applications? What do users expect from the vDesktop?
Is Unified Communications and VoIP integration with VDI needed? Is it supported by the VDI and UC-vendor? Are you able to design and implement this scenario?!
What endpoints do we support and facilitate and what is the role of these devices in the end-user experience?
Secure Access and Secure networking ; SASN how do users, with a variety of endpoints (rich, thin or zero clients and mobile devices) connect to the vDesktop?!
What is the impact of Secure Access and Secure Networking solutions on mobile devices while connecting to the vDesktop? What is the user experience with these solutions?
Do we need to manage the endpoints?
Does the VDI solution needs a client/agent component on the endpoint? Is there a supported agent for the OS/endpoint? What is the User Experience with this agent? What is the feature and future roadmap of these agents? Is agentless via HTML(5) included and important?
Is image deployment and management part of the (virtual) Desktop Strategy? What is the role of User Environment Management in this strategy ?
How do we design, build and maintain the user's profile and his 'workspace'?
Do we need a vMachine based image management solution?
How do we design, build and maintain the (golden) Image(s)?
Do you need context awareness? Based on user/role, device, location and various settings is access to application resources controlled and enforced when needed?
How are Windows applications delivered within the vDesktop? Unattended or manual Installation, Application Virtualization or the applications are part of the (golden) image? What is the strategy?
Do you want to integrate and run local applications in the centralized desktop environment and present centralized and local applications in one single interface to the end-users?
Does the end-user needs the ability to install and update applications? Is User Installed Applications functionality needed? Does the user have the correct privileges to install or update software?
What is the performance and storage impact of Application Virtualization in combination with VDI? Is this important from a business-case or technology perspective?
Do you need local or centralized storage?
What is the impact on storage and how does it affect the business case?
Do we focus on stateless (non-persistent) and/or stateful (persistent) images? What is, for example, the impact on storage, manageability, security, legal and business-case?
What is the impact of client management solutions in a stateless VDI scenario? Is it supported?
Windows 7 or Windows XP as core vDesktop OS platform? x64 or x86?
How does the solution scale? What do we need from a scalability point of view?
How do we size the vDesktop and corresponding infrastructure and what are the best-practices for optimizing the vDesktop? http://www.virtualrealitycheck.net/
What is the performance and bandwidth impact on the network infrastructure; LAN, WAN, WLAN
Licensing; Operating System, Client Access Licenses and (Business) Applications
Do we need to backup (and restore) the vDesktops?
Is Antivirus needed? Inside the VM or as service module on the Hypervisor? What is the performance impact of Antivirus?
What is your site topology? Multi-site, multiple datacenters?
Is the VDI solution as a whole highly available? Is that built-in or are additional planning and solutions needed to get high availability? Is a highly available vDesktop needed?
Is the IT organization mature enough to support and maintain the new solution? What is the knowledge and skill-set of the IT-department? What subject matter experts are needed to get and keep the VDI solution up and running in production environment? Is this expertise available? Who has overview of the complete VDI solution stack?
Is the VDI deployment targeted for Small, Medium or Enterprise environment? Is the solution easy to deploy in SMB scenarios?
Is the VDI vendor a financially healthy organization? Is this important in evaluation of the vendor?
Is there a huge ecosystem with partners, consultancy, training and education around the VDI solution? Is this important for you?
Is separation of Operating System - Application - and User Preferences inside and outside the vDesktop part of the overall strategy?
Bottom Line: What's your current Desktop strategy?!
Get a head start! Download our complete, in-depth, and independent whitepaper. We did our best to be truthful and accurate in investigating and writing down the different features. When you see the need for improvements or fixes, please let us know rsp@pqr.nl or www.twitter.com/rspruijt
PRO+
Content
Find more PRO+ content and other member only offers, here.