Desktop virtualization: A rainbow of complexity!
"Brian's desktop vision is a rainbow of complexity!" What an accusation!
This Article Covers
RELATED TOPICS
"Brian's desktop vision is a rainbow of complexity!" What an accusation! This was tweeted in response to an image I use when I talk about the current state of the desktop virtualization industry. The image is used to desktop how today's desktop management has to combine traditional, terminal server, VDI, OS streaming, and client-based VMs:

Download this free guide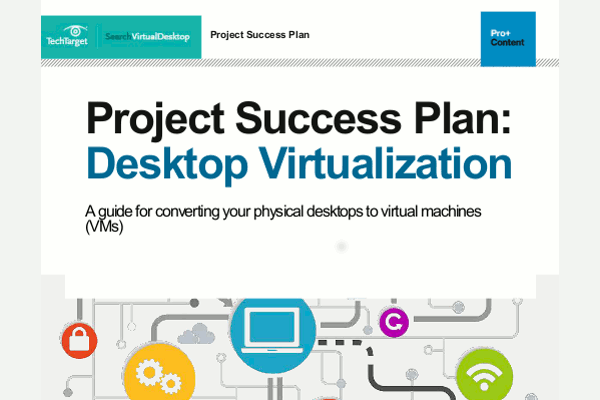 Download: Your 50-page VDI project success guide
Whether you're in the beginning phases of a VDI project, or already operating a fully virtualized desktop environment, this expert guide features 12 chapters that provide step-by-step details on comparing VDI vendors, hardware, staffing and budgeting considerations, post-deployment misconceptions and much more.
By submitting your email address, you agree to receive emails regarding relevant topic offers from TechTarget and its partners. You can withdraw your consent at any time. Contact TechTarget at 275 Grove Street, Newton, MA.
You also agree that your personal information may be transferred and processed in the United States, and that you have read and agree to the Terms of Use and the Privacy Policy.

In other words, I'm telling desktop admins that they have to create a complex desktop delivery environment.
Bummer!
But let's be clear on one thing: All these various desktop delivery methods are not the *cause* of the complexity. They are the *effect.* We're not the ones who decided that people want to be able to access their desktops via their iPads from the golf course. We're not the ones who need to be able to have thousands of users be able to work from home as easily as they can work from the office. We're not the ones who want to provide tens of thousands of college students with a consistent desktop environment they can use on their Mac laptops, campus labs, and the coffee shop.
So YES, this stuff is complex. But that's the world's fault. Not ours. If our business requirements in 2011 were the same as they were in 1995, then we could get away with a single image and a single way of working for about one-tenth the price of what we're trying to do today. But our business requirements have changed. That's your fault, not ours. This rainbow of complexity is our best chance to support your crazy requirements.