BriForum Europe Presenters and Sessions Announced
Can you believe that BriForum Europe (Oct. 4-6) is less than two months away?
Can you believe that BriForum Europe (Oct. 4-6) is less than two months away?
This is our third BriForum and the sessions get better with each one! This time around we made a major change in the way that we pick the sessions. Instead of inviting certain speakers and then asking them what they would like to present, we opened up the process to everyone and invited anyone to submit session proposals. The result of this is the list below; a very diverse and technical set of 35 breakout sessions. As you can see, this is not a "replay" of BriForum 2006 in the US earlier this year. The top 4 or 5 sessions from BriForum in the US will be presented in Europe, but the other 30 are brand new sessions with all new content!

Download this free guide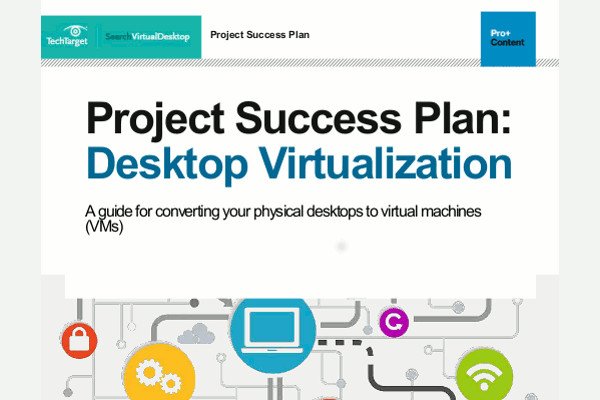 Instant Download: All-Inclusive 51-Page VDI Project Success Plan
When planning for VDI success, where do you begin? What options are available? What challenges might you run into? This expert all-inclusive VDI guide features 12 chapters to provide details on how to plan for a successful deployment, compare vendors and products, determine your ROI and much more.
By submitting your personal information, you agree that TechTarget and its partners may contact you regarding relevant content, products and special offers.
You also agree that your personal information may be transferred and processed in the United States, and that you have read and agree to the Terms of Use and the Privacy Policy.
We're compiling the session abstracts and speaker bios now, and we'll post the full details by next Wednesday.
Registration is now open for BriForum, although due to our venue this event is limited to only 200 attendees, and people are signing up fast. We highly recommend signing up soon if you want to attend.
And remember, attendees of BriForum 2006 in Washington DC this past April will get online access to all of these session videos for free. (And of course, attendees of BriForum Europe 2006 will get free online access to the videos from next year's BriForum 2007 in the US.)
| | |
| --- | --- |
| Session Title | Presenter(s) |
| Mission Impossible I & II - Printing | Bernd Hausmann, Charlotte Künzel |
| Terminal Server Internals | Bernhard Tritsch, Christa Anderson |
| Positioning SBC and Migration Project Best Practices | Jeroen van de Kamp, Bernhard Tritsch, Ron Ogelsby |
| An Introduction to Programming with MFCOM | Jason Conger |
| Managing Applications in a Terminal Services Environment | Rick Mack |
| Effective Change Management and the Modern Application Deployment System | Rick Dehlinger, Christa Anderson |
| Making real world use of the RMSummary database | Shawn Bass |
| What's Really in the Bubble (Softicity) | Anthony Kinney |
| Windows "Codename Longhorn" - What´s new in Roaming Profile Management and Active Directory Group Policy Management | Josef Zeiler |
| Terminal Server API Programming | Bernhard Tritsch |
| Terminal Server Licensing | Christa Anderson |
| Citrix Access Gateway product range – isn't it just CSG on a box? | Brian DaBinett, David Coombes |
| 64-bit Terminal Services and 64-bit Citrix | Katie Koepke |
| Extending Web-based Longhorn TS Access – The Final Frontier | Marc Freidhof, Daniel Winkler |
| Professional load and stress testing made easy with DeNamiK's LoadGen | Daniel Nikolic, Ruben Giaccotto |
| Managed Microsoft Office Installations for Windows Terminal Server | Patrick C. Rouse |
| Virtual Desktop Infrastructure, a study in how to implement VDI in a Citrix environment from the ground up | Ron Oglesby |
| How does Presentation Server work? | Simon Frost |
| Designing Citrix farms for high availability: Datastore availability concepts and replication with MSSQL2005 | Thorsten Rood |
| Citrix Web Interface 4.x customization | Thomas Kötzing |
| Managing Strategic Access Solutions | Shaun Attwood, Jonathan Allatt |
| Citrix Access Gateway and Advanced Access Control | Jeff Pitsch |
| Citrix, Citrix on VMware, XP Pro on VMware: A performance comparison, and when to use each | Ron Oglesby |
| Application Virtualization Strategy: When, How and What to virtualize? | Rodney Medina |
| What Resource Manager Knows But Won't Tell You | Jason Conger |
| Application Virtualization and Streaming | Kjetil Ermesjø |
| Streaming and virtualizing applications | Kim Øystein Næss |
| Show and Tell: Server Based Computing Performance Troubleshooting | Michel Roth |
| Inside the Microsoft OS - Bad apps, threading executive, and memory subsystems | Tim Mangan |
| The excruciating detail of the Citrix logon process | Brian Madden, Kevin Goodman |
| The excruciating detail of the Citrix logoff process | Brian Madden, Kevin Goodman |
| This is how we do it: Citrix recipes straight out of the Login Consultants secret kitchen … Part 2! | Jeroen van de Kamp, Dennis Damen, S. Barthel |
| Program Neighborhood Agent Client Architecture: Presentation Server and Application Streaming | Thorsten Rood |
| Bad Application Exposed | Rick Mack |
| What's new in CPS 4.5 and an introduction to Tarpon | Simon Frost |