BriForum 2016 Speaker's Reading List
You know BriForum speakers for their technical expertise—now, what are they reading?
"What book do you recommend?" This is the question I asked the BriForum 2016 Boston speakers (and their guests) at the pre-show speaker dinner. I figured that since I was leaving the IT industry for some unknown future adventure, I'd have more time for reading. This reading list came up in conversation a few times at BriForum last week, so we decided to publish the complete list here.

Download this free guide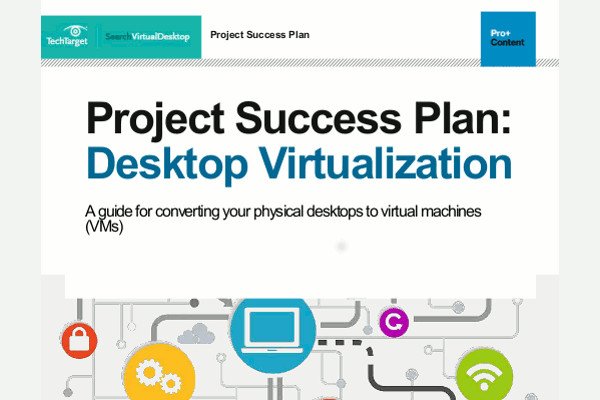 Instant Download: All-Inclusive 51-Page VDI Project Success Plan
When planning for VDI success, where do you begin? What options are available? What challenges might you run into? This expert all-inclusive VDI guide features 12 chapters to provide details on how to plan for a successful deployment, compare vendors and products, determine your ROI and much more.
By submitting your personal information, you agree that TechTarget and its partners may contact you regarding relevant content, products and special offers.
You also agree that your personal information may be transferred and processed in the United States, and that you have read and agree to the Terms of Use and the Privacy Policy.
I'm going to attempt to read everything on this list over the next few years. So far I have read four of them, so there are about 55 to go! What do you think? Anything more we should add? (Not just for me to read, but for everyone reading this site?)
Fiction / Novels
Back Bay, by William Martin
Meet the Pratt clas. Driven men. Determined women. Through six turbulent generations, they would pursue a lost Paul Revere treasure. And turn a family secret into an obsession that could destroy them.
Recommended by Tim Mangan
After I Do: A Novel, by Taylor Jenkins Reid
When Lauren and Ryan's marriage reaches the breaking point, they come up with an unconventional plan. They decide to take a year off in the hopes of finding a way to fall in love again. One year apart, and only one rule: they cannot contact each other. Aside from that, anything goes.
Recommended by Tina Tritsch
The Power of One: A Novel, by Bryce Courtenay
In 1939, as Hitler casts his enormous, cruel shadow across the world, the seeds of apartheid take root in South Africa. There, a boy called Peekay is born. His childhood is marked by humiliation and abandonment, yet he vows to survive and conceives heroic dreams–which are nothing compared to what life actually has in store for him. He embarks on an epic journey through a land of tribal superstition and modern prejudice where he will learn the power of words, the power to transform lives, and the power of one.
Recommended by Aaron Parker
Trojan Horse: A Jeff Aiken Novel, by Mark Russinovich
The West is under its greatest threat yet in Mark Russinovich's Trojan Horse. A revolutionary, invisible computer virus that alters data without leaving a trace―more sophisticated than any seen before―has been identified within the computers of the United Nations, roiling international politics. Cybersecurity analysts Jeff Aiken and Daryl Haugen are summoned to root it out and discover its source.
Recommended by Ruben Spruijt
The Phoenix Project: A Novel about IT, DevOps, and Helping Your Business Win, by Gene Kim, Kevin Behr, & George Spafford
Bill is an IT manager at Parts Unlimited. It's Tuesday morning and on his drive into the office, Bill gets a call from the CEO. The company's new IT initiative, code named Phoenix Project, is critical to the future of Parts Unlimited, but the project is massively over budget and very late. The CEO wants Bill to report directly to him and fix the mess in ninety days or else Bill's entire department will be outsourced.
Recommended by Ruben Spruijt
The Beast God Forgot to Invent, by Jim Harrison
Jim Harrison is an American master. The Beast God Forgot to Invent offers stories of culture and wildness, of men and beasts and where they overlap. A wealthy man retired to the Michigan woods narrates the tale of a younger man decivilized by brain damage. A Michigan Indian wanders Los Angeles, hobnobbing with starlets and screenwriters while he tracks an ersatz Native-American activist who stole his bearskin. An aging "alpha canine," the author of three dozen throwaway biographies, eats dinner with the ex-wife of his overheated youth, and must confront the man he used to be.
Recommended by Ian Parker
The Electric Kool-Aid Acid Test, by Tom Wolfe
Tom Wolfe's The Electric Kool-Aid Acid Test ushered in an era of New Journalism. "An American classic" (Newsweek) that defined a generation. "An astonishing book" (The New York Times Book Review) and an unflinching portrait of Ken Kesey, his Merry Pranksters, LSD, and the 1960s.
Recommended by Marya Lyons
Seveneves: A Novel, by Neal Stephenson
From the #1 New York Times bestselling author of Anathem, Reamde, and Cryptonomicon comes an exciting and thought-provoking science fiction epic—a grand story of annihilation and survival spanning five thousand years. What would happen if the world were ending?
Recommended by Helge Klein (also anything by Neal Stephenson)
The Lord of the Rings Trilogy, by J.R.R. Tolkien
One ring to rule them all.
Recommended by Ken Staples
Water for Elephants: A Novel, by Sara Gruen
Though he may not speak of them, the memories still dwell inside Jacob Jankowski's ninety-something-year-old mind. Memories of himself as a young man, tossed by fate onto a rickety train that was home to the Benzini Brothers Most Spectacular Show on Earth. Memories of a world filled with freaks and clowns, with wonder and pain and anger and passion; a world with its own narrow, irrational rules, its own way of life, and its own way of death. The world of the circus: to Jacob it was both salvation and a living hell.
Recommended by Theresa Miller
Generation "P", a.k.a. Homo Zapiens, by Viktor Pelevin
The collapse of the Soviet Union has opened up a huge consumer market, but how do you sell things to a generation that grew up with just one type of cola? When Tatarsky, a frustrated poet, takes a job as an advertising copywriter, he finds he has a talent for putting distinctively Russian twists on Western-style ads. But his success leads him into a surreal world of spin doctors, gangsters, drug trips, and the spirit of Che Guevera, who, by way of a Ouija board, communicates theories of consumer theology. A bestseller in Russia, Homo Zapiens displays the biting absurdist satire that has gained Victor Pelevin superstar status among today's Russian youth, disapproval from the conservative Moscow literary world, and critical acclaim worldwide.
Recommended by Denis Gundarev
The Name of the Wind: The Kingkiller Chronicle: Day One, by Patrick Rothfuss
The riveting first-person narrative of a young man who grows to be the most notorious magician his world has ever seen. From his childhood in a troupe of traveling players, to years spent as a near-feral orphan in a crime- ridden city, to his daringly brazen yet successful bid to enter a legendary school of magic, The Name of the Wind is a masterpiece that transports readers into the body and mind of a wizard. It is a high-action novel written with a poet's hand, a powerful coming-of-age story of a magically gifted young man, told through his eyes: to read this book is to be the hero.
Recommended by Kaitlin Herbert (Also recommends anything by Neil Gaiman)
The Bourne Identity: Jason Bourne Book #1, by Robert Ludlam
His memory is a blank. His bullet-ridden body was fished from the Mediterranean Sea. His face has been altered by plastic surgery. A frame of microfilm has been surgically implanted in his hip. Even his name is a mystery. Marked for death, he is racing for survival through a bizarre world of murderous conspirators—led by Carlos, the world's most dangerous assassin. Who is Jason Bourne? The answer may kill him.
Recommended by Brian Katz
Harry Potter, by J.K. Rowling
Probably you know what this is. I haven't read it, so it's on the list for sure!
Recommended by Patrick Mangan
Zero Day: A Jeff Aiken Novel, by Mark Russinovich
An airliner's controls abruptly fail mid-flight over the Atlantic. An oil tanker runs aground in Japan when its navigational system suddenly stops dead. Hospitals everywhere have to abandon their computer databases when patients die after being administered incorrect dosages of their medicine. In the Midwest, a nuclear power plant nearly becomes the next Chernobyl when its cooling systems malfunction. At first, these random computer failures seem like unrelated events. But Jeff Aiken, a former government analyst who quit in disgust after witnessing the gross errors that led up to 9/11, thinks otherwise. Jeff fears a more serious attack targeting the United States computer infrastructure is already under way. And as other menacing computer malfunctions pop up around the world, some with deadly results, he realizes that there isn't much time if he hopes to prevent an international catastrophe.
Recommended by Shawn Bass
The Map Thief, by Michael Blanding
The story of an infamous crime, a revered map dealer with an unsavory secret, and the ruthless subculture that consumed him
Recommended by Mary Jane Mangan
The Pillars of the Earth, by Ken Follett
The Pillars of the Earth tells the story of Philip, prior of Kingsbridge, a devout and resourceful monk driven to build the greatest Gothic cathedral the world has known…of Tom, the mason who becomes his architect—a man divided in his soul…of the beautiful, elusive Lady Aliena, haunted by a secret shame…and of a struggle between good and evil that will turn church against state, and brother against brother.
Recommended by Benny Tritsch
Sci-Fi
Dune, by Frank Herbert
Here is the novel that will be forever considered a triumph of the imagination. Set on the desert planet Arrakis, Dune is the story of the boy Paul Atreides, who would become the mysterious man known as Muad'Dib. He would avenge the traitorous plot against his noble family--and would bring to fruition humankind's most ancient and unattainable dream.
Recommended by Aaron Parker
Altered Carbon (Takeshi Kovacs Novels Book 1), by Richard K. Morgan
In the twenty-fifth century, humankind has spread throughout the galaxy, monitored by the watchful eye of the U.N. While divisions in race, religion, and class still exist, advances in technology have redefined life itself. Now, assuming one can afford the expensive procedure, a person's consciousness can be stored in a cortical stack at the base of the brain and easily downloaded into a new body (or "sleeve") making death nothing more than a minor blip on a screen.
Recommended by Ian Parker
Friday, by Robert A. Heinlein
Engineered from the finest genes, and trained to be a secret courier in a future world, Friday operates over a near-future Earth, where chaos reigns. Working at Boss's whimsical behest she travels from far north to deep south, finding quick, expeditious solutions as one calamity after another threatens to explode in her face...
Recommended by Tom Wilson
The Sirens of Titan, by Kurt Vonnegut
The Sirens of Titan is an outrageous romp through space, time, and morality. The richest, most depraved man on Earth, Malachi Constant, is offered a chance to take a space journey to distant worlds with a beautiful woman at his side. Of course there's a catch to the invitation–and a prophetic vision about the purpose of human life that only Vonnegut has the courage to tell.
Recommended by Tom Wilson
Ready Player One, by Ernest Klein
In the year 2044, reality is an ugly place. The only time teenage Wade Watts really feels alive is when he's jacked into the virtual utopia known as the OASIS. Wade's devoted his life to studying the puzzles hidden within this world's digital confines—puzzles that are based on their creator's obsession with the pop culture of decades past and that promise massive power and fortune to whoever can unlock them.
Recommended by both Brian Katz & Tim Mangan
I Am Legend, by Richard Matheson
Robert Neville has witnessed the end of the world. The entire population has been obliterated by a vampire virus. Somehow, Neville survived. He must now struggle to make sense of everything that has happened and learn to protect himself against the vampires who hunt him constantly. He must, because perhaps there is nothing else human left.
Recommended by Jarian Gibson
The Martian: A Novel, by Andy Weir
Six days ago, astronaut Mark Watney became one of the first people to walk on Mars. Now, he's sure he'll be the first person to die there. After a dust storm nearly kills him and forces his crew to evacuate while thinking him dead, Mark finds himself stranded and completely alone with no way to even signal Earth that he's alive—and even if he could get word out, his supplies would be gone long before a rescue could arrive.
Recommended by Sean Massey
The Foundation Trilogy, by Isaac Asimov
Foundation begins a new chapter in the story of man's future. As the Old Empire crumbles into barbarism throughout the million worlds of the galaxy, Hari Seldon and his band of psychologists must create a new entity, the Foundation-dedicated to art, science, and technology-as the beginning of a new empire. Foundation and Empire describes the mighty struggle for power amid the chaos of the stars in which man stands at the threshold of a new enlightened life which could easily be destroyed by the old forces of barbarism. Second Foundation follows the Seldon Plan after the First Empire's defeat and describes its greatest threat-a dangerous mutant strain gone wild, which produces a mind capable of bending men's wills, directing their thoughts, reshaping their desires, and destroying the universe.
Recommended by Randy Groves
Business
The Third Wave: An Entrepreneur's Vision of the Future, by Steve Case
One of America's most accomplished entrepreneurs—a pioneer who made the Internet part of everyday life and orchestrated the largest merger in the history of business—shares a roadmap for how anyone can succeed in a world of rapidly changing technology.
Recommended by Steve Greenberg
The VDI Delusion, by Brian Madden, Gabe Knuth, & Jack Madden
Hey, we wrote this one!
Recommended by Josh Garland
The Art of the Deal, by Donald J. Trump
Republican presidential nominee Donald J. Trump lays out his professional and personal worldview in this classic work—a firsthand account of the rise of America's foremost deal-maker.
Recommended by Kevin Goodman ("To explain current events," he said)
The E-Myth Revisited: Why Most Small Businesses Don't Work and What to Do About It, by Michael E. Gerber
An instant classic, this revised and updated edition of the phenomenal bestseller dispels the myths about starting your own business. Small business consultant and author Michael E. Gerber, with sharp insight gained from years of experience, points out how common assumptions, expectations, and even technical expertise can get in the way of running a successful business.
Recommended by Shane Kleinert
Life Advice
Quitter: Closing the Gap Between your Day Job & your Dream Job, by Jon Acuff
Have you ever felt caught between the tension of a day job and a dream job?
Recommended by Carl Webster
Start: Punch Fear in the Face, Escape Average and Do Work that Matters, by Jon Acuff
Wall Street Journal best-selling author Jon Acuff reveals the steps to getting unstuck and back onto the path of being awesome.
Recommended by Carl Webster
The Celestine Prophecy: An Adventure, by James Redfield
In the rain forests of Peru, an ancient manuscript has been discovered. Within its pages are 9 key insights into life itself -- insights each human being is predicted to grasp sequentially; one insight, then another, as we move toward a completely spiritual culture on Earth.
Recommended by Rick Dehlinger
The Allegory of the Cave, by Plato
The Allegory of the Cave was presented by the Greek philosopher Plato in his work the Republic (514a–520a) to compare "the effect of education and the lack of it on our nature". It is written as a dialogue between Plato's brother Glaucon and his mentor Socrates, narrated by the latter.
Recommended by Ron Oglesby
Discover Your True North, by Bill George
Discover Your True North is the best-selling leadership classic that enables you to become an authentic leader by discovering your True North. Originally based on first-person interviews with 125 leaders, this book instantly became a must-read business classic when it was introduced in 2007.
Recommended by Theresa Miller
How To Win Friends and Influence People, by Dale Carnegie
You can go after the job you want...and get it! You can take the job you have...and improve it! You can take any situation you're in...and make it work for you! Since its release in 1936, How to Win Friends and Influence People has sold more than 15 million copies. Dale Carnegie's first book is a timeless bestseller, packed with rock-solid advice that has carried thousands of now famous people up the ladder of success in their business and personal lives.
Recommended by Dan Allen
Thug Kitchen: The Official Cookbook: Eat Like You Give a F*ck
Thug Kitchen started their wildly popular website to inspire people to eatsome goddamn vegetables and adopt a healthier lifestyle. Beloved byGwyneth Paltrow ('This might be my favorite thing ever') and with half a million Facebook fans and counting, Thug Kitchen wants to show everyone how to take charge of their plates and cook up some real f*cking food.
Recommended by Mercedes Bass
History / Biography
Murrow: His Life and Times, by A. M. Sperber
Murrow is the biography of America's foremost broadcast journalist, Edward R. Murrow. At twenty-nine, he was the prototype of a species new to communications-an eyewitness to history with power to reach millions. His wartime radio reports from London rooftops brought the world into American homes for the first time. His legendary television documentary See It Now exposed us to the scandals and injustices within our own country. Friend of Presidents, conscience of the people, Murrow remained an enigma-idealistic, creative, self-destructive. In this portrait, based on twelve years of research, A. M. Sperber reveals the complexity and achievements of a man whose voice, intelligence, and honesty inspired a nation during its most profound and vulnerable times.
Recommended by Mike Nelson
The Buzzard: Inside the Glory Days of WMMS and Cleveland Rock Radio--A Memoir, by John Gorman
This rock and roll radio memoir takes you behind the scenes at the nation's hottest station during FM's heyday, from 1973 to 1986. Sex and drugs, music and merchandising―it was a wild time when the FM airwaves were wide open for creativity and innovation.
Recommended by Gabe Knuth (Gabe noted that he actually lent this book to me years ago and wants me to read it so he can get it back.)
Follow the Rabbit-Proof Fence, by Doris Pilkington
This extraordinary story of courage and faith is based on the actual experiences of three girls who fled from the repressive life of Moore River Native Settlement, following along the rabbit-proof fence back to their homelands. Assimilationist policy dictated that these girls be taken from their kin and their homes in order to be made white. Settlement life was unbearable with its chains and padlocks, barred windows, hard cold beds, and horrible food. Solitary confinement was doled out as regular punishment. The girls were not even allowed to speak their language. Of all the journeys made since white people set foot on Australian soil, the journey made by these girls born of Aboriginal mothers and white fathers speaks something to everyone.
Recommended by Peter Daalmans
I Am Malala, by Malala Yousafzai
Malala Yousafzai was only ten years old when the Taliban took control of her region. They said music was a crime. They said women weren't allowed to go to the market. They said girls couldn't go to school. Raised in a once-peaceful area of Pakistan transformed by terrorism, Malala was taught to stand up for what she believes. So she fought for her right to be educated. And on October 9, 2012, she nearly lost her life for the cause: She was shot point-blank while riding the bus on her way home from school.
Recommended by Alexis Bass
The Man Behind the Microchip: Robert Noyce and the Invention of Silicon Valley, by Leslie Berlin
Hailed as the Thomas Edison and Henry Ford of Silicon Valley, Robert Noyce was a brilliant inventor, a leading entrepreneur, and a daring risk taker who piloted his own jets and skied mountains accessible only by helicopter. Now, in The Man Behind the Microchip, Leslie Berlin captures not only this colorful individual but also the vibrant interplay of technology, business, money, politics, and culture that defines Silicon Valley.
Recommended by Jack Madden
Ten Feet Tall, Still: The Very Personal 70-Year Odyssey Of A Woman Who Still Pursues Her Childhood Passion, by Julie Suhr
This engaging story is not for horse lovers alone, but for all ages and all walks of life who have ever had dreams. It take you on one woman's journey from childhood to old age in a life of joy and passion. You will find her failures and her successes full of laughter and tears. Julie Suhr never wavered in the ardor she felt for riding horses and, with delight, she shares the experiences. Between the ears of good horses, she and her husband, Bob, have seen the world from the Siberian border and Outer Mongolia, to the Alaskan tundra, the Outback of Australia, South Africa, France and among the wild animals of Botswana. They have left their tracks on the Pony Express Trail, the Bitterroot Mountains and along the Mexican border and through the redwood forests of California, all on the horses who have shaped her life.
Recommended by Jo Harder
Kon-Tiki: Across the Pacific by Raft, by Thor Heyerdahl
Kon-Tiki is the record of an astonishing adventure—a journey of 4,300 nautical miles across the Pacific Ocean by raft. Intrigued by Polynesian folklore, biologist Thor Heyerdahl suspected that the South Sea Islands had been settled by an ancient race from thousands of miles to the east, led by a mythical hero, Kon-Tiki. He decided to prove his theory by duplicating the legendary voyage.
Recommended by Brian (that's me!)
The Wright Brothers, by David McCullough
The #1 New York Times bestseller from David McCullough, two-time winner of the Pulitzer Prize—the dramatic story-behind-the-story about the courageous brothers who taught the world how to fly—Wilbur and Orville Wright.
Recommended by Barbara from HPE
Disrupted: My Misadventure in the Start-Up Bubble, by Dan Lyons
For twenty-five years Dan Lyons was a magazine writer at the top of his profession--until one Friday morning when he received a phone call: Poof. His job no longer existed. "I think they just want to hire younger people," his boss at Newsweek told him. Fifty years old and with a wife and two young kids, Dan was, in a word, screwed. Then an idea hit. Dan had long reported on Silicon Valley and the tech explosion. Why not join it? HubSpot, a Boston start-up, was flush with $100 million in venture capital. They offered Dan a pile of stock options for the vague role of "marketing fellow." What could go wrong?
Recommended by Josh Garland
Neptune's Inferno: The U.S. Navy at Guadalcanal, by James D. Hornfischer
The Battle of Guadalcanal has long been heralded as a Marine victory. Now, with his powerful portrait of the Navy's sacrifice, James D. Hornfischer tells for the first time the full story of the men who fought in destroyers, cruisers, and battleships in the narrow, deadly waters of "Ironbottom Sound." Here, in stunning cinematic detail, are the seven major naval actions that began in August 1942, a time when the war seemed unwinnable and America fought on a shoestring, with the outcome always in doubt. Working from new interviews with survivors, unpublished eyewitness accounts, and newly available documents, Hornfischer paints a vivid picture of the officers and enlisted men who opposed the Japanese in America's hour of need.
Recommended by Sean Massey
Steve Jobs, by Walt Mossberg
Based on more than forty interviews with Jobs conducted over two years—as well as interviews with more than a hundred family members, friends, adversaries, competitors, and colleagues—Walter Isaacson has written a riveting story of the roller-coaster life and searingly intense personality of a creative entrepreneur whose passion for perfection and ferocious drive revolutionized six industries: personal computers, animated movies, music, phones, tablet computing, and digital publishing.
Recommended by Anton van Pelt
Travel
Lonely Planet Southeast Asia on a shoestring (Travel Guide)
Lonely Planet Southeast Asia on a Shoestring is your passport to the most relevant, up-to-date advice on what to skip, what hidden discoveries await you, and how to optimise your budget for an extended continental trip. Experience the magic of the temples of Angkor at dawn, experience Asia's colonial past in the steamy port island of Penang, or hang ten on classic Bali surf breaks; all with your trusted travel companion. Get to the heart of Southeast Asia and begin your journey now!
Recommended by Jeroen van de Kamp