A curated list of enterprise mobility articles and resources - April 2017 Edition
Want to get started in enterprise mobility? Trying to answer a question? Start with this curated list!
This Article Covers
RELATED TOPICS
The web has a lot of content about enterprise mobility management these days. (This is good news, because this wasn't always the case!) But eventually, all content grows to the point where it needs curation, hence this article.

Download this free guide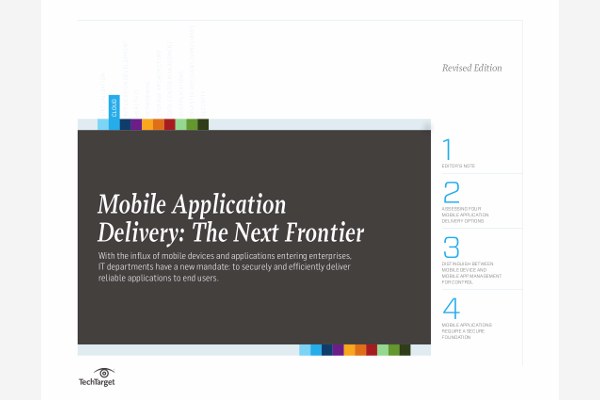 Download: Our 17-Page Mobile Application Management Report
Inside this exclusive report, industry experts reveal commonly overlooked best practices for mobile application delivery and management to help you tackle the influx of mobile devices, new applications and data security demands in your enterprise.
By submitting your personal information, you agree that TechTarget and its partners may contact you regarding relevant content, products and special offers.
You also agree that your personal information may be transferred and processed in the United States, and that you have read and agree to the Terms of Use and the Privacy Policy.
I have a few goals: First, this is a followup to my EMM book, since it's is a few years out of date (though it still makes a good introduction). Readers that are new to EMM should be able to find all they need to know about MDM, MAM, BYOD, and other related topics. For those that are already involved in EMM, this can serve as a bookmark for industry resources. For those that want to hear our opinions and worldviews, there's a lot of commentary (though it focuses on the industry in general, not on specific vendors).
This article gets updated every few months—the edition you're reading now is current as of April 18, 2017. For day to day news, head to the BrainMadden.com homepage, RSS feed, my Twitter account, or our Friday Notebook series.
Mobile security and identity
Identity and access management is the peer of EMM—since we're in the mobile/cloud era, it's what you need to deal with all those cloud apps. Here's a basic introduction. It's also getting much smarter, thanks to visibility into mobile devices, contextual/conditional access policies, and machine learning to look for anomalous user behavior. A newer related technology is cloud access security brokers (CASB). Also, it's important to ask: How will the rise of artificial intelligence affect EMM, desktop virtualization, and EUC?
Moving on to devices and OSes, it can be informative to read the security reports and resources directly from Apple and Google. Check out:
Mobile malware is indeed a threat, but it's much smaller than other threats. Here's my basic overview of mobile threat detection products; as well as the often-cited 2016 Verizon Data Breach Investigations Report, which identifies other much more pressing issues, including identity management.
Another mobile security product we've been following is virtual mobile infrastructure (VMI). It's like VDI, but with mobile OSes hosted in the data center and remoted to mobile app clients. We have an overview of what it is; the technical challenges; the potential use cases; a BriForum video about VMI; and other VMI content.
Apple and iOS mobile device management
Most of Apple's official iOS and macOS MDM documentation is pretty easy to find these days. Start with Apple Business Support or Education Support.
The most important places to dig in will be the iOS Deployment Reference and the macOS Deployment Reference. You'll also want to see the Apple device configuration profile key reference, and the over-the-air profile delivery and configuration in order to understand the concepts behind MDM.
Apple also has several special programs, including the Device Enrollment Program, the Volume Purchase Program, and Apple School Manager. If you're deploying enterprise-owned devices, you'll also want to learn about Apple Configurator. (It's only available for macOS, free in the Mac App Store.)
Apple recently expanded enterprise support in Apple TV, and here's the support info.
The OS X Server Profile Manager Role allows you to build MDM on your own. (It's a $20 download in the Mac App Store.)
iOS updates are usually announced in June and roll out in September with new iPhone models, but sometimes big updates with new EMM functionality come out in the spring. That happened in 2017—check out the updates in iOS 10.3, tvOS 10.2, and macOS 10.12.4, and then listen to this great podcast of the highlights, from Russ Mohr, of MobileIron, and Aaron Freimark, of EnterpriseiOS.com.
Google and Android mobile device management
We all know the Android MDM story: Originally, Android didn't have great MDM capabilities, so OEMs like Samsung added their own. Then in 2014/2015 Android for Work came along (and now it's just called Android enterprise). Google's Android enterprise site lists supporting EMM vendors, supporting devices, and basic features.
For more on specific versions of Android (since you're likely to have a mixture in your environment, see the enterprise features for: Android 5.0; Android 6.0; Android 7.0; and the preview features for Android O.
Samsung Knox is still providing EMM features that can be used alongside or instead of Android enterprise. See:
Windows 10 MDM and Unified Endpoint Management
Windows 10 brought many changes, and one of the most significant for us is support for MDM. Here are official materials from Microsoft:
And here's some of our commentary: