The best enterprise mobility management articles and resources - October 2017 Edition
Want to get started in enterprise mobility? Trying to answer a question? Start with this curated list!
This Article Covers
RELATED TOPICS
There's a lot of enterprise mobility documentation on the web these days—which is great, because this wasn't always the case. This article serves three purposes:

Download this free guide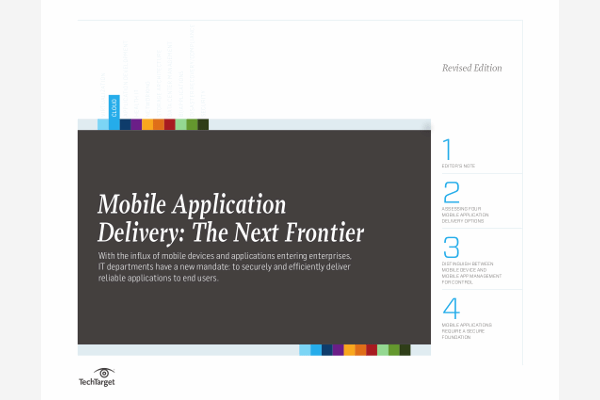 Download: Our 17-Page Mobile Application Management Report
Inside this exclusive report, industry experts reveal commonly overlooked best practices for mobile application delivery and management to help you tackle the influx of mobile devices, new applications and data security demands in your enterprise.
By submitting your personal information, you agree that TechTarget and its partners may contact you regarding relevant content, products and special offers.
You also agree that your personal information may be transferred and processed in the United States, and that you have read and agree to the Terms of Use and the Privacy Policy.
If you're new to EMM, you can learn the basics.
If you're already familiar, this can serve as a place to find key vendor resources.
If you want to hear our world-view on various topics, you can find some of our favorite articles in here.
This article gets updated every few months, most recently on October 17, 2017.
For day to day EMM news and opinions, head to the BrainMadden.com homepage, our RSS feed, my Twitter account, or our Friday Notebook series.
Essential EMM blog posts
What's EMM all about and why should you care? In the mobile/cloud era, it's just how we do things.
I wrote a whole book about EMM back in 2014, but it's out of date now. To get up to speed, check out this series on the current state of EMM. It's from last year, but it's still accurate.
This days, EMM, identity management, desktop management, desktop virtualization, and more are blending together into something people are starting to call "workspace" management.
Identity management
If EMM applies to the mobile part of the "mobile/cloud era," identity and access management is one of the most important technologies for dealing with the cloud part (at least from the end user perspective). See:
Understanding mobile app management
I often hear that mobile app management (MAM) is still a confusing topic for new EMM customers, and this has long been an important issue to me. For get a handle on MAM, see:
My three-part guide to mobile app management:
For more on MAM features that are built into iOS and Android, head to the AppConfig Community.
Thoughts on mobile apps
We don't cover app the nuts and bolts of native app development, but we have a lot of thoughts on apps, as well as a few specific technologies that can help convert legacy desktop apps to mobile:
Mobile security
Moving on to devices and OSes, it can be informative to read the security reports and resources directly from Apple and Google. Check out:
Mobile threat defense is a still-emerging technology, involving third-party security agents. I just recently wrote a complete guide:
Apple and iOS MDM resources
Most of Apple's official iOS and macOS MDM documentation is pretty easy to find these days:
iOS updates are usually announced in June and roll out in September with new iPhone models, but sometimes big updates with new EMM functionality come out in the spring. Here's the most recent information:
Google and Android MDM resources
We all know the Android MDM story: Originally, Android didn't have great MDM capabilities, so OEMs like Samsung added their own. Then in 2014 and 2015, Android for Work came along, and now it's just called Android enterprise. Here's all the basic information:
Samsung Knox is still providing EMM features that can be used alongside or instead of Android enterprise. See:
Windows 10 MDM and Unified Endpoint Management
Windows 10 brought Modern Management and support for MDM, and now a new trend (and confusing acronym): Unified Endpoint Management. Here are some recent blog posts:
And here are shortcuts to Microsoft's documentation: