A Look at the New Features of Citrix MetaFrame Presentation Server 4
In a much anticipated move, Citrix has made the Tech Preview (beta) version of MetaFrame Presentation Server 4.0 (MPS4) available to partners and iForum attendees.
This Article Covers
RELATED TOPICS
In a much anticipated move, Citrix has made the Tech Preview (beta) version of MetaFrame Presentation Server 4.0 (MPS4) available to partners and iForum attendees. MPS4 contains most (if not all) of the cool new "future technologies" that were previewed at iForum last week.

Download this free guide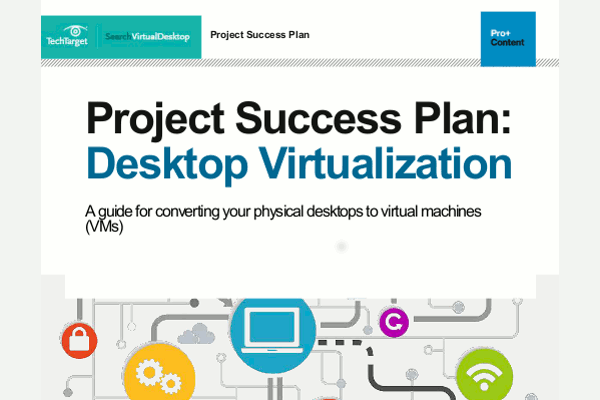 Download: All-Inclusive 51-Page VDI Project Success Plan
When planning for VDI success, where do you begin? What options are available? What challenges might you run into? This expert all-inclusive VDI guide features 12 chapters to provide details on how to plan for a successful deployment, compare vendors and products, determine your ROI and much more.
By submitting your personal information, you agree that TechTarget and its partners may contact you regarding relevant content, products and special offers.
You also agree that your personal information may be transferred and processed in the United States, and that you have read and agree to the Terms of Use and the Privacy Policy.
I've started writing about some of the new features, and I'll certainly write more as I work them out in my lab. In the meantime, I'd like to provide a quick "master list" of all the new features that are currently slated to be included in MPS4.
Before we look at the list, I'd like to mention two quick things:
This feature list is what's included in the current beta version. Some of these features might not actually make it into the final product.
Citrix has not announced an official release date for MPS4. I've heard they're shooting for first quarter of 2005, although several insiders have told me it will be more like summer 2005.
Now, on to the feature list. As of today, Citrix MetaFrame Presentation Server 4.0 is scheduled to include the following major new features: ("Major" in my opinion)
Application Isolation Environments (I'll discuss this more later this week)
Virtual IP addresses (This was covered last week)
EMF-based universal printing (also covered last week)
New print manager subsystem
The Citrix / FlexLM licensing service now supports Microsoft Clustering
CPU workload management (licensed from Aurema)
Virtual memory optimization management (licensed from RTO)
Smooth roaming will support smart cards
Web Interface customization and modification is now much easier (including custom branding, layout, ICA window options, and color schemes).
In addition, MPS 4 will include several "minor" new features:
Multi-monitor support has been improved and should behave as expected
Program Neighborhood is getting a Quick Launch bar
Windows key combinations can be transparently passed through to the remote server
One single instance of Web Interface can support multiple languages
Client file access (via ICA client drive mapping) now respects OS file locking rules
USB synchronization for PDAs via ICA with server-side ActiveSync
TWAIN imaging devices virtual channel
Logon speed increases
Faster remote file system browsing (via Citrix policy settings for asynchronous writes, read-ahead, and directory caching)
Smart cards no longer have to be configured on an application-by-application basis (no more SCConfig!)
Smart card PIN setting works via ICA passthrough
As I said, I'll be hitting the lab in the next few weeks and let you know what my experience is with these features.