53 reasons to be skeptical of enterprise mobility management. One reason to care about it.
I've heard people give a lot of reasons to be skeptical about enterprise mobility management: Vendor A is giving away seats. Vendor B isn't doing well financially.
This Article Covers
RELATED TOPICS
I've heard people give a lot of reasons to be skeptical about enterprise mobility management:
Vendor A is giving away seats.
Vendor B isn't doing well financially.
Vendor C is about to be acquired.
Vendor D got acquired but nothing happened.
Vendor E's product is unstable.
Vendor F's MAM didn't stand up to our penetration test.
Vendor G went out of business.
There are too many vendors in this space. (Though actually I don't hear this as much anymore.)
App wrapping breaks EULAs.
App wrapping breaks apps.
MAM SDKs are too hard.
There's no margin.
Microsoft will take all of the market.
Customers don't need best of breed.
Apple's iOS management improvements will kill EMM vendors and make EMM a commodity.
Android for Work will kill EMM vendors and make EMM a commodity.
Let's concentrate on data management instead. All we need is a DLP framework.
EMM vendors are too device-centric.
People just think EMM is MDM.
Businesses don't care about mobility.
Businesses will care about mobility, but not for a while.
Real work can't be done on mobile devices. Users need a big screen, mouse, and keyboard.
Just give everyone a Surface; it's like a mobile device but it runs all our old apps and we don't need MDM.
All IT really cares about are Windows apps and desktops.
We need to focus on identity instead.
We need to focus on a workspace instead.
Here, just use this remote desktop on an iPad.
We should just use an agent that controls devices via hidden/private APIs instead.
All that matters are the apps.
EMM vendors don't know squat about laptops.
Apple is too closed.
Apple doesn't care about the enterprise.
Apple doesn't understand the enterprise.
Google doesn't care about the enterprise.
Google doesn't understand the enterprise.
EMM only sells based on security FUD.
Users are too concerned about privacy and will never agree to MDM.
Users hate EMM vendors' apps.
Users will still FUIT, go rogue, and do shadow IT.
MDM doesn't actually make devices more secure.
Devices will always get rooted / jailbroken.
It's my right to use a device that's rooted / jailbroken / doesn't have a password.
Malware was found in the Apple App Store.
Malware was found in Google Play.
MDM drains batteries.
Mobile devices are too expensive.
EMM Vendor H's apps drain batteries.
Big legacy software and management vendors can't figure out how to make money off of it.
The iPhone has been around 9 years, and it's still missing a lot of enterprise apps.
Making native apps is expensive, but HTML5 apps suck and users won't like them.
EMM Vendors are just trying to redefine themselves to make themselves relevant.
Multi-tasking on a tablet still stinks.
Something about BYOD blah blah blah whatever...
Some of these are legitimate arguments and some of them aren't, but here's the thing: Today EUC involves mobile devices, mobile apps, and SaaS and cloud apps, no matter what. It's a lot more than just Windows desktops and applications and everything in the network being good and everything outside it being bad (as convenient as that model was).

Download this free guide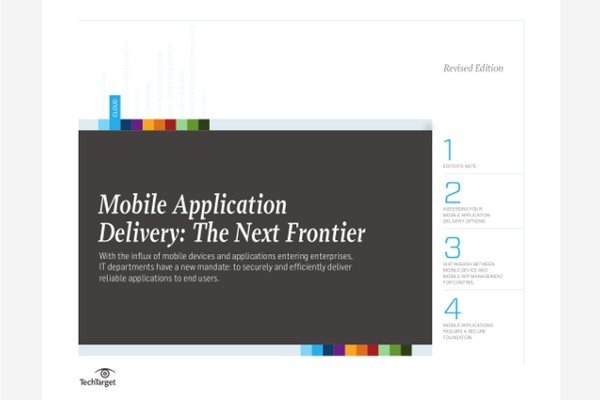 Download: Our 17-Page Mobile Application Management Report
Inside this exclusive report, industry experts reveal commonly overlooked best practices for mobile application delivery and management to help you tackle the influx of mobile devices, new applications and data security demands in your enterprise.
By submitting your personal information, you agree that TechTarget and its partners may contact you regarding relevant content, products and special offers.
You also agree that your personal information may be transferred and processed in the United States, and that you have read and agree to the Terms of Use and the Privacy Policy.
The question before us now is how will companies negotiate this next generation of technology? (And more specifically: how does IT manage and secure everything? Where do new apps come from? How does the nature of work change? How do we bridge from the previous generation to the next?)
These are the questions that I'm interested in. We don't know exactly what the answers are right now, but in the meantime I'm following enterprise mobility management very closely, along with identity management, "workspace" management, mobile apps (especially app transformation all the other practices represented by acronyms: RMAD, MADP, MBaaS, etc.), SaaS, desktop virtualization, devices, VMI, and more. I think these technologies are a good start.
If some of these things are new to you, or you want to learn more about EMM, head over this list of all our top articles and resources to get started.